Environmental Groups in Canada
Directory of green/environmental groups, organizations, networks and associations in Canada.
(1) Directories & Networks of Environmental Groups & Organizations in Canada
Canadian networks, associations, gateways, portals, and directories of environmental groups:
Ontario focus:
USA & Global: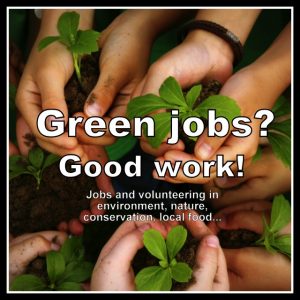 Face-to-face networking, training and support:
Environment-related themed networks:
Green Business & Environment Industry Associations:
Environmental Jobs, Internships, Volunteering in Canada
---
(2) Major Canadian Environmental Organizations
In addition to the networks and associations listed above, here are some of the larger and more influential environmental organizations in Canada:
Conservation Organizations
More: Wikipedia: Conservation | Open Directory
Don't see your group? Post a Job | Post a Volunteer Opportunity
For more, see the comprehensive environment directories maintained by the provincial environmental networks, above.
---
Eco-Job Search Tips | Hidden Eco-Jobs | Create Your own Green Job
What is a Green Job? | Green Jobs Campaigns, Strategy, Policy
Good Work: Environmental Jobs (2) (3) (4) (5) (6)...
Planet Volunteer: Environmental Volunteers
Home | Jobs | Board Positions | Volunteer | News