BOARD POSITION
Position: Member at Large, Board Member
Organization: The Learnary
Location: Preference to candidates living locally in our community (East Vancouver) or anywhere in the Lower Mainland
Type: nonprofit board of directors position / unpaid
Job Summary
We are a non-profit society dedicated to the promotion of curiosity, intergenerational learning, making, and community building. We run a social enterprise comprising of a retail storefront and a workshop space. We are seeking a new member to join our Board of Directors to act as an advisor for our non-profit society.
Primary Responsibilities
We are seeking a board member who:
Is able to attend at least one virtual two-hour board meeting a month;
Is able to commit to some (or all!) of the various ongoing projects undertaken by the Board throughout the year, including general organization oversight, fundraising efforts, implementation of our Strategic Plan, and occasional attendance at community events on behalf of the Learnary;
Is interested in supporting intergenerational community building and an alternative approach to lifelong learning;
Is located within the Lower Mainland of Vancouver; and
Is committed to truth and reconciliation and to embracing diversity and inclusion.
*If you happen to have financial expertise with non-profits and/or social enterprises and are willing to share this expertise with our Board, we also need you!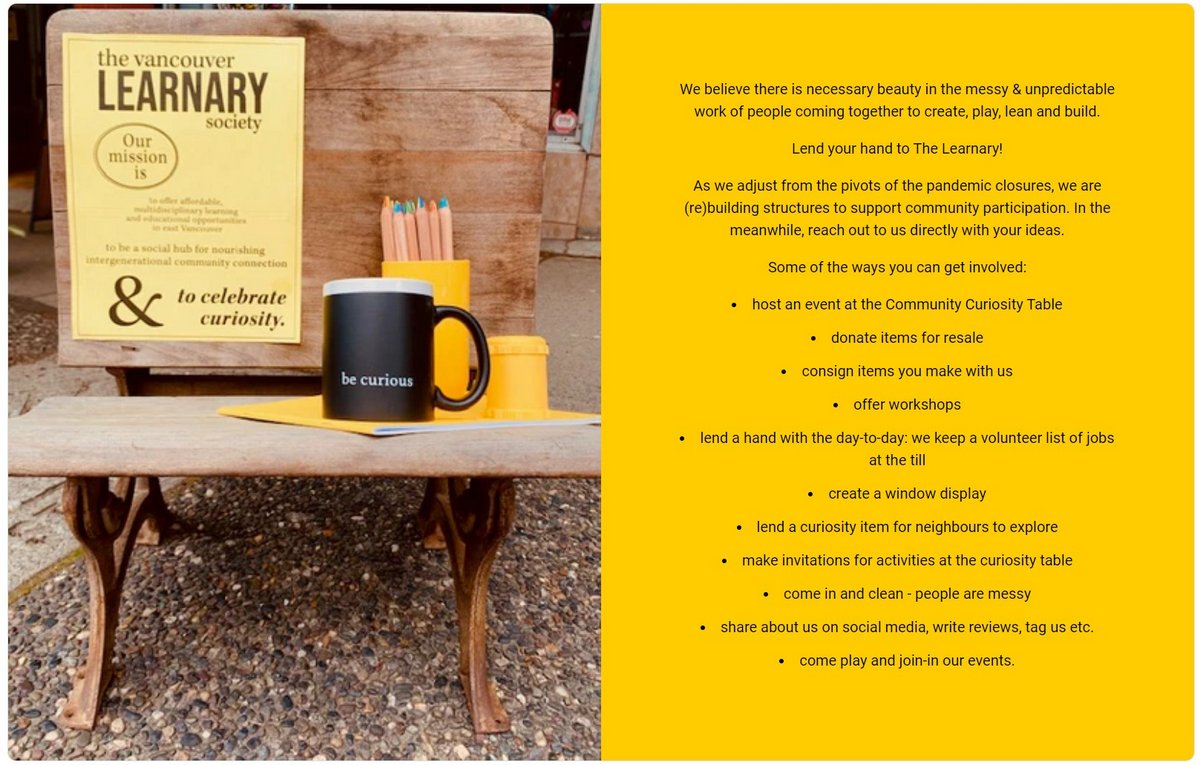 Experience
Previous experience as a board member for a non-profit organization is not required, but certainly appreciated.
Term
One year.
Benefits
This is a volunteer position. There is no financial remuneration. You will receive reimbursement of any expenses you incur on behalf of The Learnary (as pre-approved), and as a Director of the organization, you will be covered by the organization's liability insurance.
Commitment
Your commitment will include:
An initial term of one year;
Attending monthly Board meetings regularly;
Being aware of the day-to-day management of the organization, as is reasonable;
Participation in ongoing fundraising efforts;
Participation in decision making at the Board level;
Ensuring management and staff are qualified and well supported;
Participate in developing, approving, and monitoring where appropriate, policy and other recommendations received from the standing committees and senior staff;
On an ongoing basis: reviewing the by-laws and policy manual, recommending by-law changes to the membership, reviewing the Board's structure, approving changes, and participating in the development of the organizational plan and annual review; and
Approving the organization's budget, upon recommendation of senior staff.
Fiduciary Duties
Every Board director holds a position of trust vis-a-vis the Learnary as they have the power and obligation to act on behalf of the organization. This relationship is called a fiduciary relationship. A fiduciary is one that stands in a special relation of trust, confidence, or responsibility in his/her obligations to others. Regardless of the structure of an organization or its mandate, all directors have a fiduciary duty to perform with care, diligence, and skill. Boards of directors are expected to operate in good faith and with the best interests of an organization in mind.
How to Apply:
Please email board@thelearnary.ca and include a description of any relevant experience and why you are interested!
We gratefully acknowledge that The Learnary is located on the shared, ancestral and unceded territories of the x?m??k??y?m (Musqueam), S?wxwú7mesh Uxwumixw (Squamish Nation) and s?lilw?ta? (Tsleil-Waututh) Nations. We are committed to pursuing truth, reconciliation, anddecolonization in all that we do.
Please indicate you saw this posting at GoodWork.ca.