BE THE CHANGE !
Actions: Be the change
Type: daily actions, participation, volunteering, green jobs
Location: everywhere
Unless it changes, capitalism will starve humanity by 2050 — "Large corporations are engaging in increasingly exploitative behaviour by obscuring the link between endless economic growth and worsening environmental destruction." — Forbes (read more)
So what needs to change? What can you and I do to help? How can we get to work for a healthy world?
Just do it:
And for the policy-minded: 
If you and I don't act on this, this is a time of great dread for the future. But let's not let give in to our fears, fatalisms, self-defeat! Because if we get off our duffs and make all the positive change we can — then this is a time for hope, action and opportunity.
It's time for all of us to rethink our priorities, stop just blaming others, and refocus on doing the right thing.  Google "sustainable living", and wrap your life around it. Support environmental groups in more than token ways. Get involved in any way you can, before things get much worse.
At this pivotal time in human history, how will we look back at our actions and inactions? Don't wait for other people, God or the government to act first, to save us from ourselves. It's as much our job as anybody's — it's our fault in the first place, as tough as that may be to hear. Real change starts at home. 
If Hitler's forces were at our doorstep, would you stand idly by? Today, far more people could lose their lives, than all the wars in history combined. How can anyone stand by? What are you going to do to "raise the bar" this year?
Tell us your thoughts and ideas... please share and comment on facebook, twitter or Instagram. 
---
What kind of world ...will I grow up in? Do we really need to keep driving around in fossil-mobiles... buying stuff we don't need... wasting our time while the world rots away? What kind of world will I grow up in, if at all?
---
"The world is changed by your example, not your opinion." — Paulo Coelho
"The question is not, can you make a difference? You already do make a difference. It's just a matter of what kind of difference you want to make, during your life on this planet."  — Julia Butterfly Hill
"Darkness cannot drive out darkness; only light can do that." — Dr. Martin Luther King, Jr.
"If a path to the better there be, it begins with a full look at the worst." — Thomas Hardy
"Dump your fears and inadequacies and get to work on positive change! Don't ask whether or not we'll succeed in "saving the world". Nobody can answer that. Just do the right thing — for today and the future." — Peter Blanchard
"The function of leadership is to produce more leaders, not more followers." — Ralph Nader
"Be the change that you wish to see in the world." — Mahatma Gandhi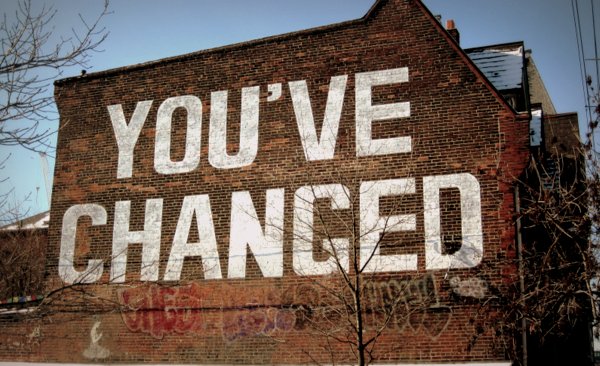 "Never doubt that a small group of thoughtful, committed citizens can change the world; indeed, it's the only thing that ever has." — Margaret Mead
"The future will be what you contribute to and create." — Greg
---