Peace, Nonviolence & Conflict Resolution
Work for peace and sustainability! Peace groups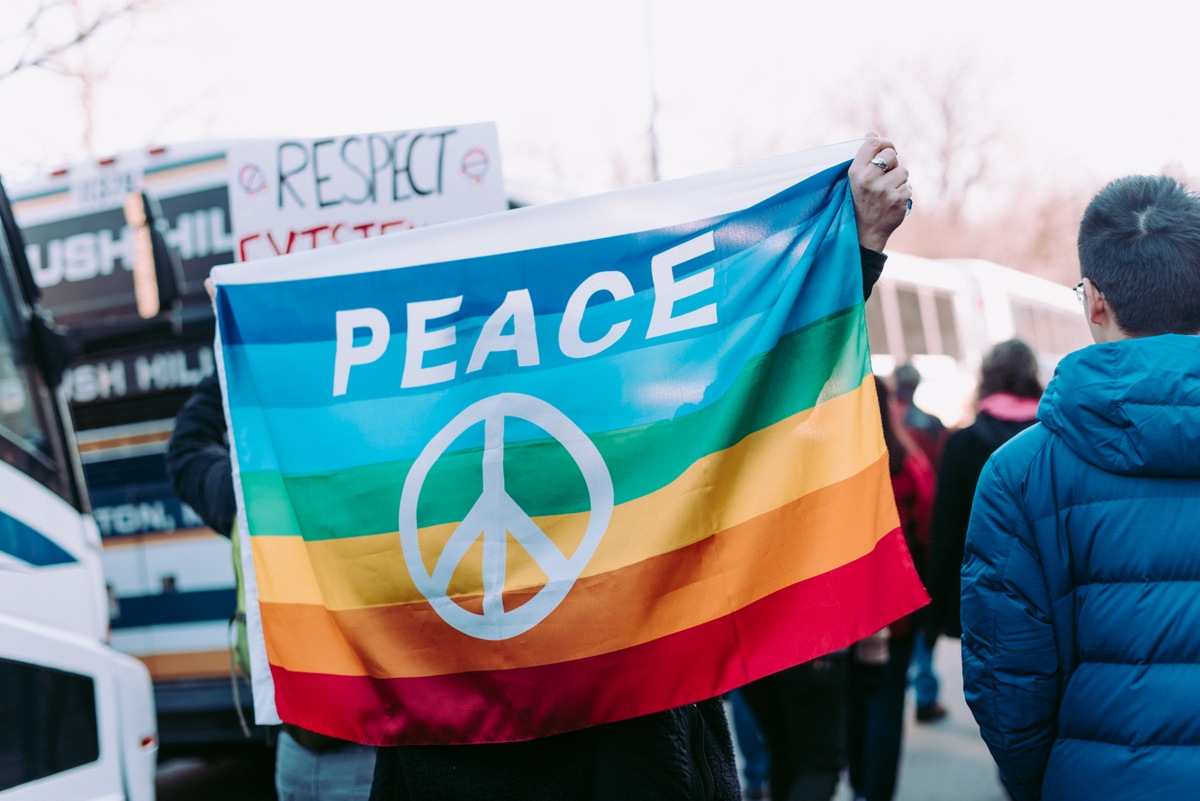 There have been calls to increase military spending. But is this really about 'defence'? Has the so-called 'War on Terror' become an even greater terror? Has out-of-control military spending become our greatest national security concern? Is the ever-hungry military-industrial complex scaring us into becoming our own worst enemy? 
In the age of climate disruption, floods, droughts and food shortages, we must not let violence overtake us. Can we learn how to resolve conflict without making excuses for war? For our children's sake?
---
What you can do
Peace does not mean inaction, simply avoiding conflict. Let's work together to build peace in our homes, our communities, our world... 
Propaganda & fake news — Immunize yourself as best you can. Not unlike some of the worst dictators in history, today's corporations and governments don't hesitate using propaganda to manipulate us. Learn to see through it — immunize yourself. Guardian | Wikipedia (more) | Google | Critical thinking (more) | Information literacy (more)
Conflict resolution — Brush up on your conflict resolution skills. Peace starts at home, at your workplace, in your community. Google | Wikipedia (more) | Peacemaking | Peacebuilding | Peace | Search for courses near you. 
Nonviolence — Peace is not just the absence of war. We need to use the power we have, but in peaceful ways. Learn and practice nonviolence. 
Live frugally and sustainably — Don't fall for fairytales of greed, craving, endless economic growth. Sustainable living (more) Simple living
Peace Groups — It's hard to work for peace alone. Join and participate in peace groups and organizations, listed in the next section. Your membership and support is vital.
Peace & Conflict Studies — Want to dig deeper? Go back to school for Peace & Conflict Studies. Part-time or full-time. It probably won't make you a million, but it may just save the world. Peace studies programmes in Canada
More: Top ten things you can do to promote peace: Google search
---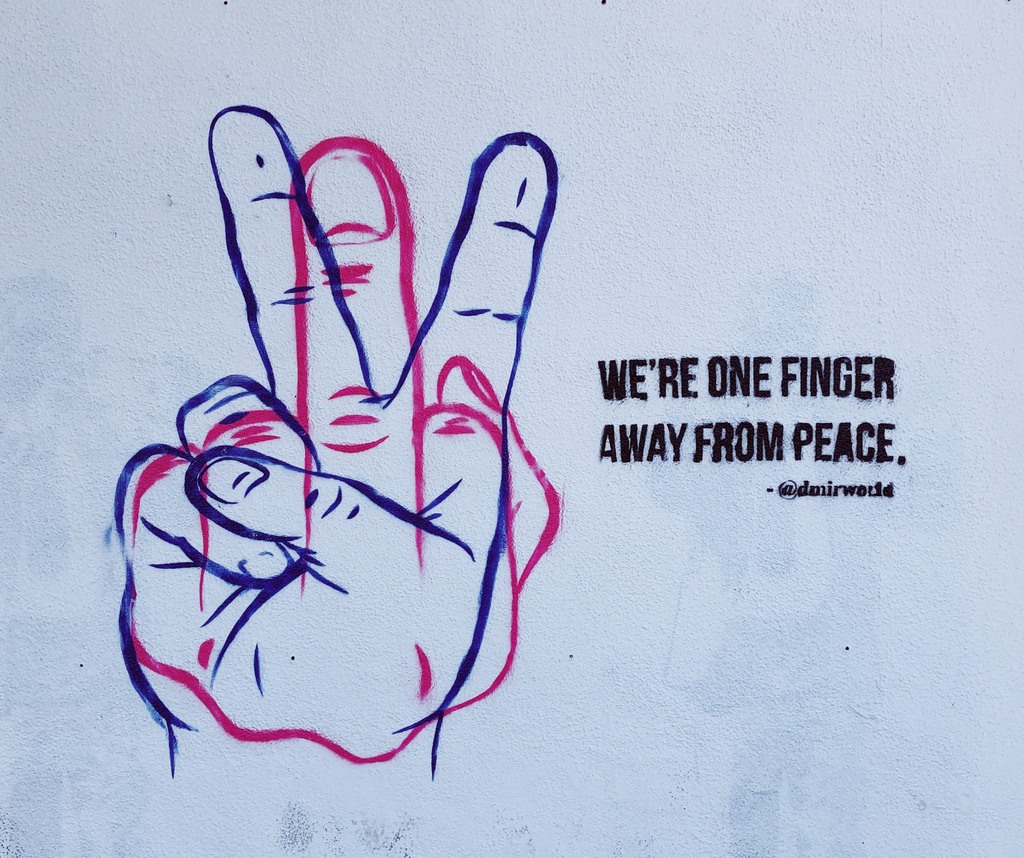 Peace Groups & Organizations in Canada
Don't want to repeat the horrors of wars, past and present? Please join and support the peace groups and organizations of your choosing:
Veterans for Peace "Exposing the true costs of militarism and war, since 1985" (USA) — VeteransforPeace.org
Films, Videos, Books
Learn more
---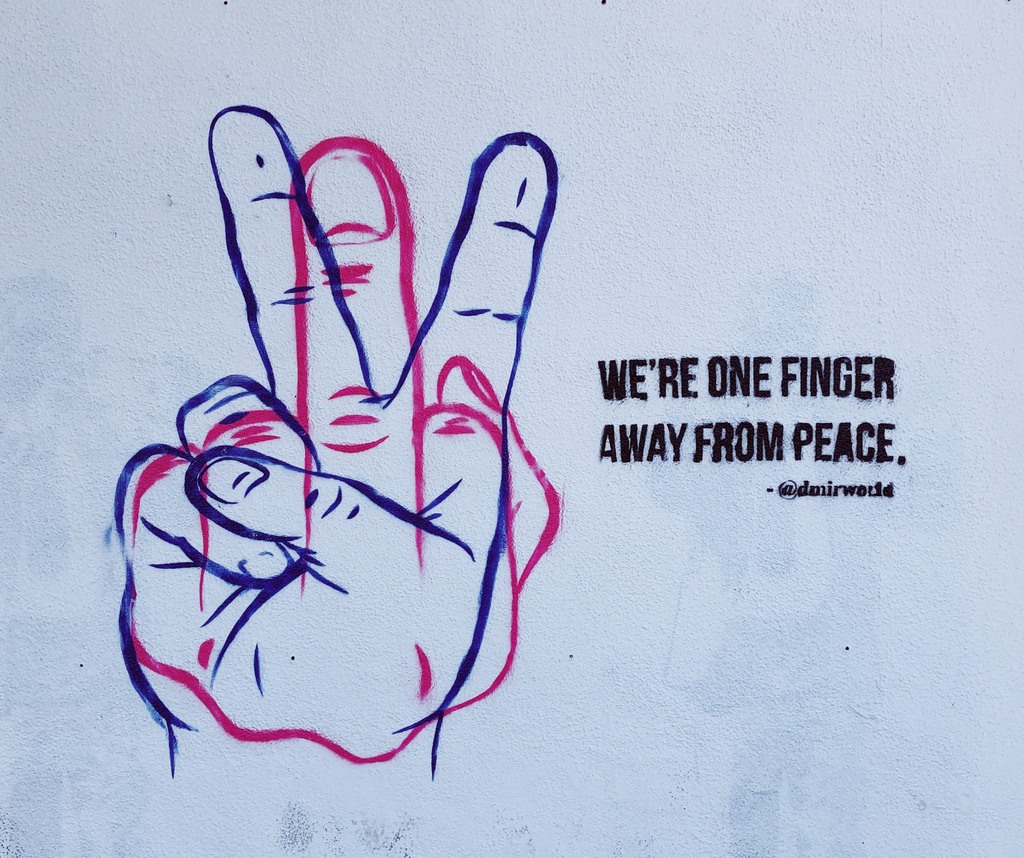 "We're one finger away from peace." — Rather than blaming others, can we change our own attitude?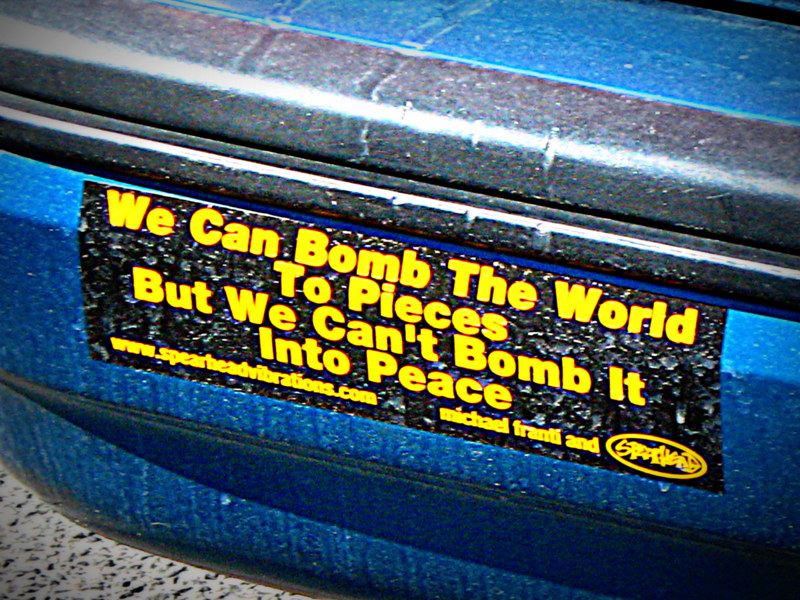 "We can bomb the world to pieces, but we can't bomb it into peace." — Michael Franti
"Work for peace, not war." Source: Wikimedia Commons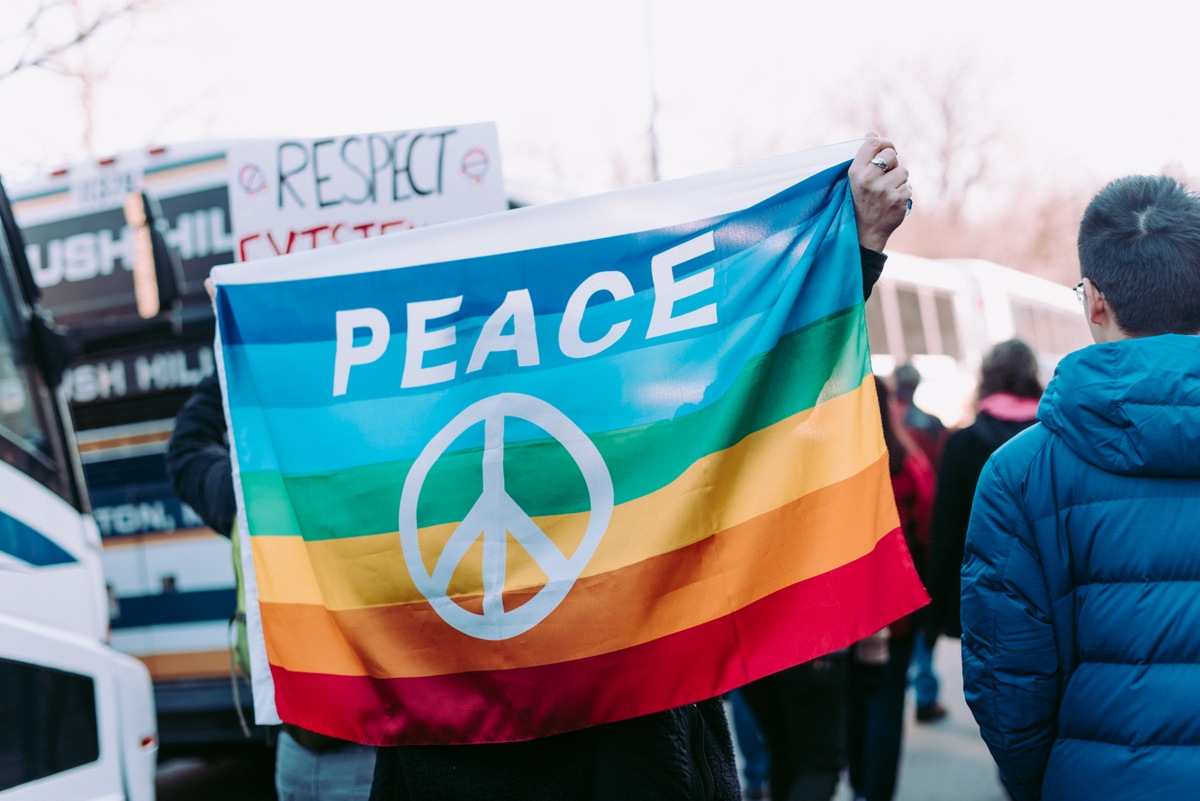 "Learn and speak up for peace. The more of us who do, the more it will happen."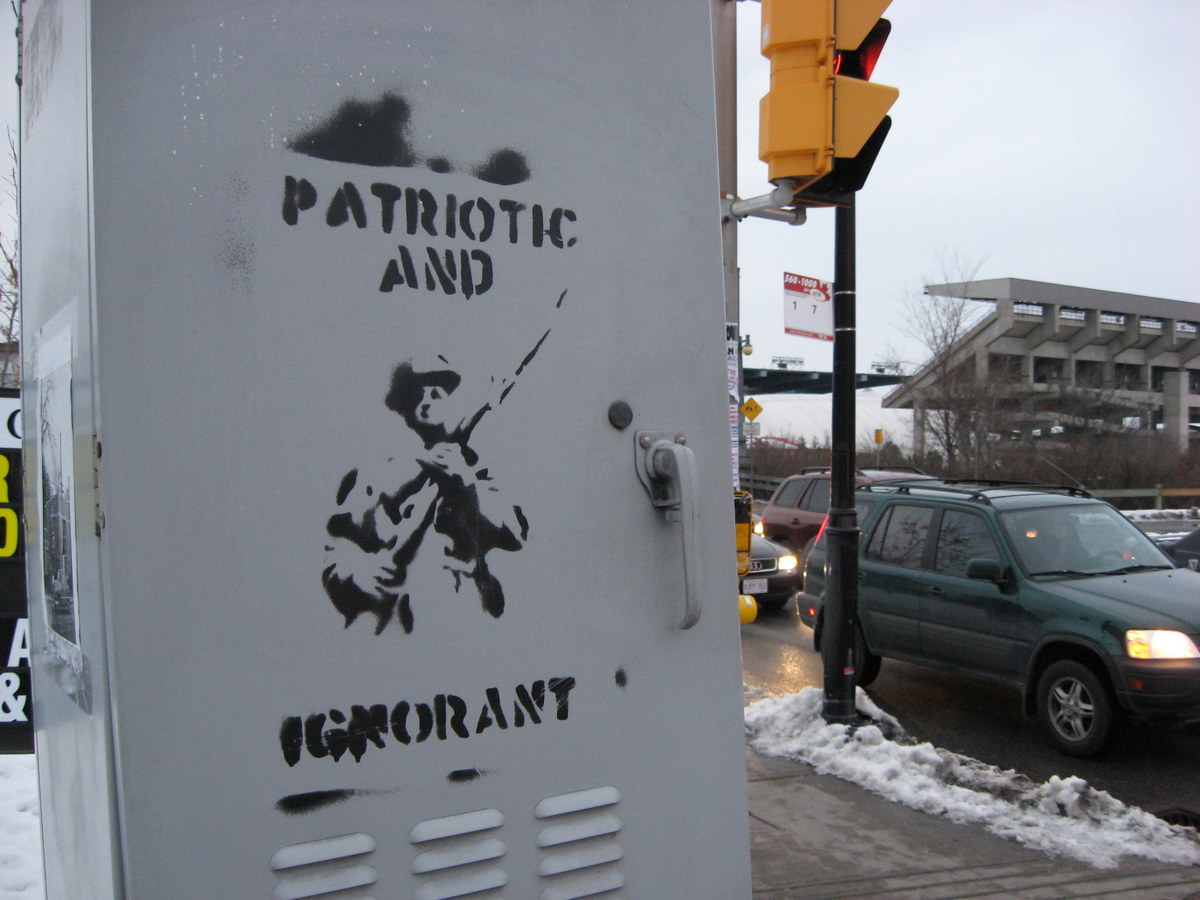 "Is it possible that we're being manipulated by our emotions? Like when we watch major league sports... it feels great to be part of the team. Except for here, it's far from fun and games. In our shrinking world, is war obsolete? Nationalism, ecocide, genocide... who is the real 'enemy'? Arms industry profiteering? Fear itself?   List of US wars | Canada wars | Addicted to War
"Does it respect the dead, to choose a path to perpetual war? How can we be the greatest nation on Earth? By leading to peace... "
"War, or civilization. Which will it be?"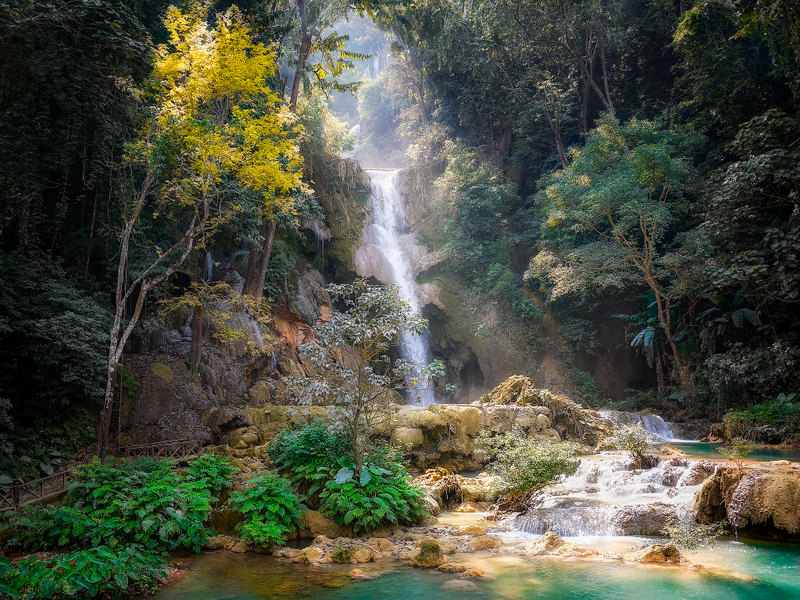 "Peace rests in yourself. Find this one place in your heart — so you can return anytime, if needed." — Simon Matzinger