ECOLOGICAL/PERMACULTURE GARDENER/INTERN
Position: Ecological/Permaculture Gardener with Potential Permaculture Internship Program
Type: full-time, some food, accommodations, more (see below)
Organization: Living Landscapes
Location: near Madoc, Ontario (east of Peterborough)
Housing provided: yes
Renum.: Not a paid job. Learning opportunity.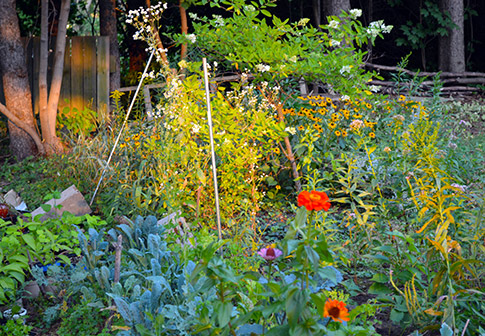 Living Landscapes is opening up existing and new market and educational garden spaces for 1-2 people to utilize for guided learning and to grow their own food.
This is a work trade internship Permaculture Design Course opportunity (not a paid job). There is potential for ongoing involvement, an expanding role, and on-site or remote (after coming here) landscaping partnership opportunities.
Role and Responsibilities
Learning or expanding holistic ecology-based garden and farm design skills and applying them.
Implementing and maintaining perennial and annual edible and medicinal educational gardens.
Collaboratively implementing soil building programs in existing and new gardens.
Collaboratively implementing gardens around existing trees and shrubs.
Planting trees, shrubs, herbs and other plants.
Propagating and caring for plants for plant nursery (entitles you to ongoing plants — see more in "Opportunities" below).
You must be willing to work independently. I currently work fulltime and will mostly be available during breaks, after work, and on weekends.
Other opportunities for off-hour off-site jobs in landscaping and garden maintenance may also be available for interested candidates. Inquire if interested.
Minimum 30 hours/week of work required (e.g. 6 hours/day 5 days/week), with flexibility on the days.
Required Skills and Experience
Ability to work unsupervised required. You must be able to take responsibility for your work, and proactively seek out guidance if you need help, with the goal of becoming increasingly independent and self-sufficient (though there will be ongoing guidance and collaboration and time working together).
Highly motivated and self-directed (after becoming aware of responsibilities).
Gardening, farming and/or ecology related experience an asset.
Location Info

We are located in a small, budding off-grid community. Our farm is located north of Madoc, Ontario (between Ottawa and Toronto just off Highway 7, north of Belleville about 45 minutes).
When
The start time is any time in the growing season (April to November roughly depending on the year), pending space availability or willingness to glamp if the cabin is full. 
Learning and Other Opportunities

Permaculture designer and teacher Trent Rhode will work directly with you, facilitate your stay, and support your ongoing learning by supplying basic to advanced learning resources and guidance as required. Trent has 16+ years of experience in permaculture/ecological design that includes a permaculture teacher training, 2 design courses (including one as part of teaching team), mentorship by experienced regenerative farmers, gardeners and restoration ecologists, training through the University of Guelph and University of Victoria, and experience running his own permaculture design company since 2012. Trent is currently a member of the Permaculture Institute of North America (PINA). 2023 will be his fifth season facilitating the PDC internship program.

Anyone who contributes 4 weeks or more to regenerating the land and caretaking the plant nursery will be entitled to extra plants grown at the nursery in perpetuity, as they are available (usually in the spring). We often grow too many tiny sprouting seedlings and other plants that can't be planted due to space, resources and time constraints (we have to overplant seeds, as germination rates and available labour are unpredictable). You will have access to these plants each year (e.g. walnuts, aronia, fruit rootstock, hazelnut, veggies, medicinal herbs, etc.).
Permaculture Design Interns will work through a self-study (with availability for discussions, questions, etc.) permaculture/forest garden-based structured internship program during the growing season and will earn a PDC, while helping with and learning about setting up a permaculture homestead and perennial polyculture based forest garden and nursery. Shorter work-exchange opportunities are also available – please inquire.

Permaculture Design Internships are a minimum of 30 hours/week of hands on work for 1 month, but the program can extend to 6+ months, with evening times for studying and at the end of the 1 month study period (or this can be extended) doing a design project. Working out other time frames (e.g. 1 month here, 1 month away, 1 month here) is possible - please inquire.

Internships are structured by skillset topics and seasonal necessity-based learning, but a core curriculum required for a PDC will be the foundation, particularly in the first month (or longer if you choose to extend this and take it slower). The PDC core curriculum is based on PINA's core curriculum.

The spring work will be tree, herb and vegetable planting, seed starting and planting, nursery care that will involve learning about plants, as well as co-designing and planting new gardens, and caring for already planted plants.

Summer is mostly maintenance, harvest, design, nursery and plant care, and preparing new garden areas.

Fall will involve more tree planting, preparing new garden areas for spring, more design, and of course harvest, as well as potentially food and medicine preservation and processing, including canning, drying and making tinctures (depending on the year).

Regardless of time of year, the program will involve reading books and multi-media course materials in your own time, doing exercises and activities, and partaking in discussions with Trent. The longer you stay, the more things you will learn about.

We also sometimes have an option for house sitting in July or August some years. Inquire if interested. In 2023 we may be leaving for a few weeks in August.

Other work exchanges are also possible for shorter periods, though you will not be able to earn a PDC (requires 1 month minimum commitment, though again, this can be over a longer period).
Accommodation Details
Our guest cabin may be available. Please inquire. There is additional space for "glamping" as well, with access to a screened-in kitchen, water, electricity to charge devices, and Internet. We also have winter sleeping bags you can use if needed if camping but you will have to bring a tent and other bedding, though if you don't have one, for the right candidate we may be able to supply a tent and bedding.
We will supply staple bulk food items in the kitchen including different types of nuts and seeds, flour, rice, legumes, and oats.
You will also be entitled to food from what we grow, which will provide all or a significant portion of your vegetables when they are in season, and some fruit. This is not a WWOOF opportunity, however, and we will not provide for all of your food needs beyond the aforementioned items. These items can supply most of your food potentially, however.
You will have access to a large cooler that you can keep stocked with rotating ice containers from our freezer.
TO APPLY
To apply, please send an email to:
trent@livinglandscapes.design
briefly explaining why you'd like to do this internship, how long of a commitment you are interested in, possible start and end dates, and your experience with permaculture, ecology, organic gardening/farming, or agriculture in general. You may also call 705-313-4769 for more information.
Please indicate you saw this posting at GoodWork.ca.