WILDFIRES — SMOKE — CLIMATE ACTION

Unprecedented times call for unprecedented action.
Canada is burning. The skies turn brown, our lungs fill with smoke. There's nowhere to escape... an impending sense of doom.
But if you step outside, everyone's acting like nothing has changed. The streets are filled with cars — positively belching climate change. Shiny, mostly empty F150's parade back and forth, each the size of a Sherman tank — a shameful waste of carbon.
Do we want to make it even worse? Is this the best we can do?
By early June, a portion of Canada the size of the entire country of Switzerland had burned. Lives uprooted, unspeakable destruction. For the rest of 'fire season', it's not looking good. Fires, droughts, floods, windstorms — mostly caused by the climate crisis.
We have a choice. Either: (1) Change our ways and build a world where our kids can thrive, or (2) Keep driving, flying and consuming like there's no tomorrow — literally kill ourselves and our world.
Yes, that's where we're at. Some are still in denial with various conspiracy theories. The reality is that the tinder dry conditions fuelling these fires — is human-caused, anthropogenic climate change. The same with most of the floods, droughts, tornadoes, famine and even war that seem to be spiralling out of control, threatening our very existence.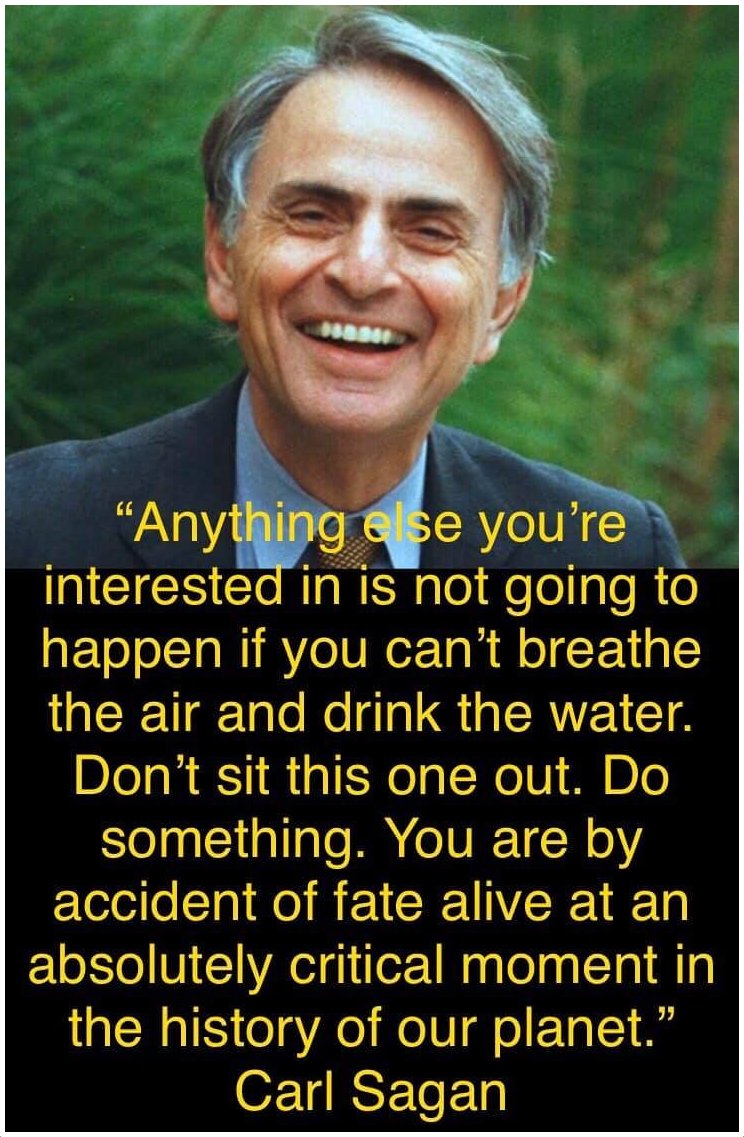 Whether we like it or not, much more massive change is coming. But it's up to us: Will the changes be planned, managed and thoughtful? Or a succession of disasters, spiralling out of control?
"We are the first generation to feel the impact of climate change, and the last that can do something about it."
– Barack Obama
Scientists around the world are saying that if we don't change, the climate crisis will grow beyond our worst nightmare. (See: Oxford University)
---
What can you do?
(1) Immediate health & safety
Obviously, protect yourself as best you can from smoke and extreme weather. When air quality is low, don't exercise, stay indoors if possible, keep windows shut. If you must go out, wear an N95 mask or better. Smoke tips: CDC | Canada | WHO | Air Quality (or go to your local forecast, check for any alerts, and click Air Quality).
(2) Climate Action
Live sustainably — Try to minimize your climate impacts / ecological footprint. Drive less, fly less, Act at home. Once you realize that each time you fly you're destroying our lives — will you cancel your air travel? Will you leave the car at home and find another way? Will you turn down the heat or A/C and find a better option? These are just some of the changes we can all make. | Sustainable living
Join climate groups & organizations — they are our voice for change. When you become a member, you join the team that is making a difference. Find one or more groups that interest you, and sign up! Climate Groups & Organizations | Volunteer
Change at work — Is your employer part of the solution? What can you do to help green your workplace? Or better yet, go further...
Make it your career — If your current employer isn't part of the solution, why are you giving them your time and energy? Is there something better you could be doing with your life? There are more opportunities than ever to make the leap to meaningful, life-changing work... many thousands of green jobs and careers with business, government and nonprofits. | Climate action jobs
---
Avoidance & denial
When you chose "the blame game", we have only ourselves to blame.
It can feel soothing to avoid these issues. The hope that somebody else will solve our problems — the government, the wealthy, fate? But the longer we delay, the more it spirals out of control. If we choose to avoid, we make the world a much worse place.
"Anything else you're interested in is not going to happen if you can't breathe the air and drink the water. Don't sit this one out. Do something. You are by accident of fate alive at an absolutely critical moment in the history of our planet." – Carl Sagan
---
Our past and future
It is interesting and controversial to make comparisons between now, and one of the darkest times in history: Nazi Germany. Then, it was normal not to stick your neck out — because if you did, you would be killed. Fast forward 80 years. Now there are many times more lives at stake, more than all wars combined. But there is no dictator who would kill you if you speak out and make positive change. We are free to change if we want to. We are free to rise above our thoughtless, instinctive, force of habit. We can change!
The future is what we create. How can you look your family in the eye and say, "I love you", and then press the gas pedal? How can you destroy their lives, their world? Once you realize that for each km you fly — you are killing your own children, will you cancel your air travel? Will you park the car and find another way? Will you turn down the heat or air conditioning, and find a better option? These are just some of the changes we can all make.
Let's change our priorities, find the positive, make the change!
#climatechange #climatecrisis #climateemergency #climateaction #degrowth
BC... Alberta... Ontario... Quebec... Nova Scotia. Every province is having an unprecedented scale of wildfires.
Track wildfire smoke, active fires and air quality across Canada:
Cbc.ca/climate | Firesmoke.ca/forecasts/current/