VOLUNTEER POSITIONS
Gain skills for your resume while protecting Canada's Ecosystems
Program: Invasive Species Youth Volunteer Program
Commitment: Flexible
Cost: Free
Location: anywhere in Canada
Eligibility: Canadians 15-30 years of age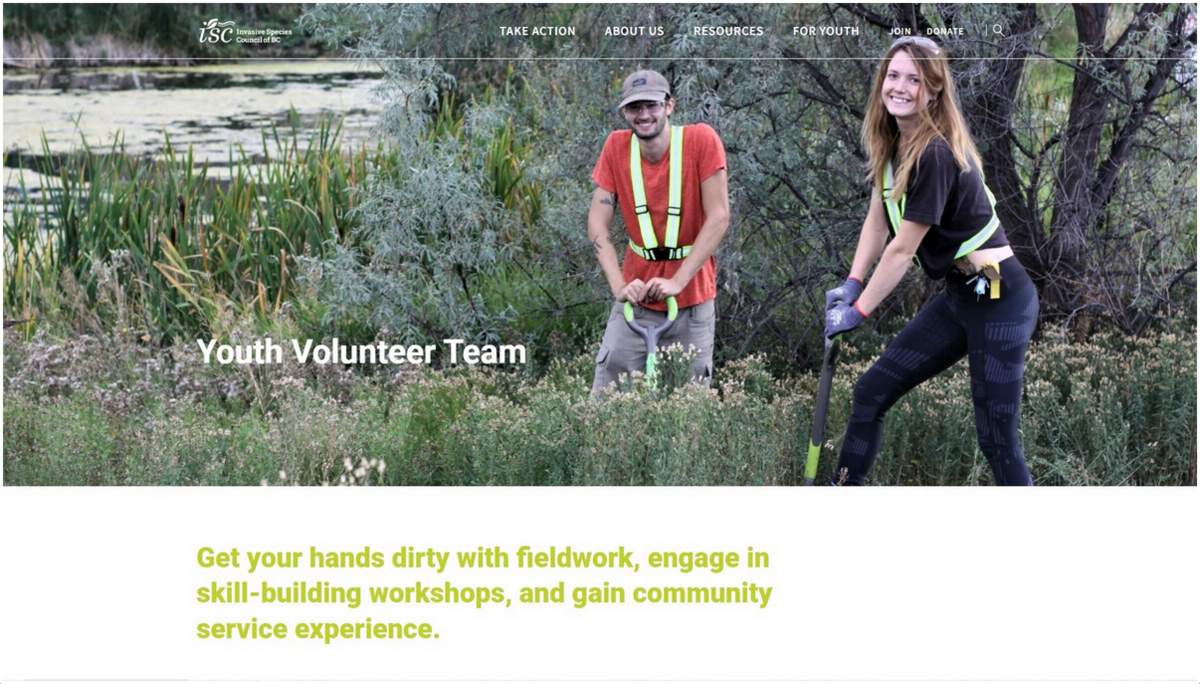 Do you want to gain new skills, connect with inspiring youth across Canada, and gain experiences in environmental stewardship? Join the ISCBC in an exciting new national volunteer program!
About the Invasive Species Council of BC (ISCBC)
Invasive species significantly negatively impact Indigenous culture, environment, economy, and health. After leading a successful provincial volunteer program, ISCBC is partnering with our parent organization, CCIS (Canadian Council on Invasive Species), to pilot a national program to empower youth to make positive contributions in their communities while gaining environmental and project management experience. Both organizations are action-oriented non-profits that help protect our ecosystems from invasive species through prevention and management.
Program Description:
Grow your experience by taking on your community service project and making meaningful connections to last you a lifetime.
Support our goal of preserving healthy ecosystems and communities by preventing the spread of invasive species.
Make it your own! The program is designed to suit individual needs and interests. Talk to your regional Coordinator about how to get the most out of the program to support your goals. There is no minimum commitment. It is up to you how many hours you'd like to contribute!
Benefits of Volunteering with Us:
Help prevent the spread of invasive species and help keep ecosystems healthy.
Design and lead your community project or join another one (ex: weed pull, restoration, garbage clean-up)
Gain practical, hands-on work experience.
Gain project management & planning, budget management, public engagement, teamwork, communication, leadership, and facilitation skills.
Training in habitat restoration, invasive plant management, leadership, public engagement and more
A safe and inclusive space to feel welcomed, supported and valued
Volunteer/ service hours
Professional references
Connect with other Canadians and share project ideas and stories
Engage in professional development while volunteering to conserve Canada's ecosystems
Connect with other youth across Canada and help conserve Canada's biodiversity together!
Eligibility
No experience is needed!
Due to funding requirements, our volunteers must:
Hold Canadian citizenship, Permanent residency status, or refugee status; and
Be 15-30 years of age.
Volunteer Activities and Projects:
Youth Engagement Coordinators will work to mentor you to develop a project idea that will benefit your community. Gain project management skills by leading your project yourself or with other volunteers.
Attend community-enhancing events organized by your coordinator or other volunteers, such as weed pulls, ecosystem restoration, garbage clean-ups, and more!
Check out some of the previous projects volunteers have done: Volunteer Projects - Invasive Species Council of British Columbia (bcinvasives.ca)
Attend FREE training, courses, workshops, and presentations on various topics! Examples of past training opportunities include Eco Canada courses, Indigenous engagement, gardening, invasive species management, managing climate grief, and more!
Attend outreach events and help educate the public about invasive species' environmental, cultural, economic, and health impacts.
Connect, network, and share stories with other youth volunteers across Canada during conferences, virtual dialogue sessions, youth summits, and more!
Register as a volunteer today! Make a difference in your community today: Become a volunteer with us.
Youth Team - Invasive Species Council of British Columbia (bcinvasives.ca)
ISCBC is committed to equality, diversity, and inclusion in the workplace and all our programs. All qualified participants interested in the Youth Volunteer program will receive consideration without regard to race, colour, religion, gender, gender identity or expression, or disability. Our programs and resources must be accessible to people living in all parts of Canada, and we strive to offer accessible programming both virtually and in person.
Please indicate you saw this posting at GoodWork.ca.
Email lbosch@bcinvasives.ca if you have any questions about the program.
The Invasive Species Youth Program is partly funded by the Government of Canada and the Canada Service Corps. It is a national movement that empowers youth aged 15–30 to gain experience and build essential skills while giving back to their community. Learn more at Canada.ca/CanadaServiceCorps.
Please indicate you saw this posting at GoodWork.ca.