INTERNSHIP POSITIONS
BLUE MOUNTAIN BIODYNAMIC FARMS
2018 INTERN POSITIONS
Position: Organic/Biodynamic Mixed Farm Interns
Terms: May 1 - Nov 1 2018; Room & Board + Monthly Stipend
Organization: Blue Mountain Biodynamic Farms
Location: Carstairs, near Calgary, Alberta
Summary
Blue Mountain Biodynamic Farms is a 160 acre, certified organic and certified biodynamic farm located 65km NW of Calgary Alberta. We are seeking full time interns to help run our 6 acre garden which feeds: Community Supported Agriculture (CSA) program, retail stores, home delivery services, a farmers' market and select restaurants.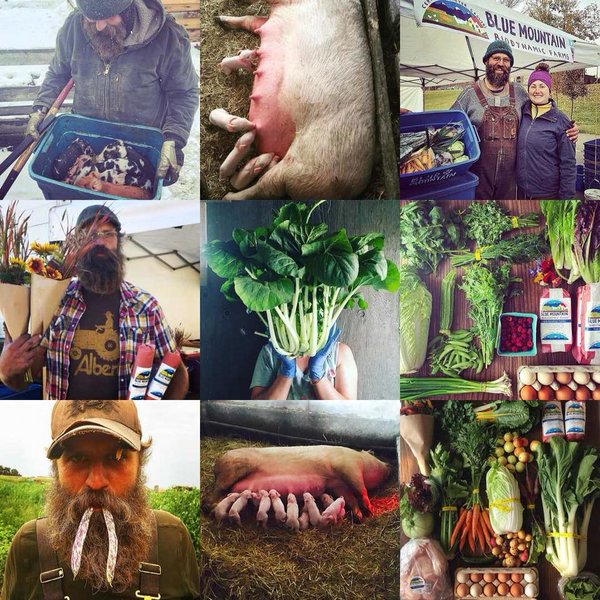 Interns are involved in all aspects of the farm's vegetable and livestock production. Interns will work alongside our experienced Managers to complete weekly tasks that include: seeding, weeding, transplanting, harvesting, processing & packaging, animal care and record keeping. We do much of our work with hand tools and use tractors for larger tasks. Interns will have the opportunity to be involved at weekly farmers' market throughout the season. We aim to cover all the basics about running mixed organic farm. This includes soil basics, crop planning, produce preparation, packaging and proper storage, weed identification, greenhouse management and more. We encourage interns to consider return for a second season to further develop their skill set. This is an excellent opportunity for someone looking for an experience on a mixed biodynamic & organic farm with so many diverse learning opportunities offered.
An Ideal Intern
Has a desire to learn about sustainable agriculture & direct market food systems
Enjoys working hard in all types of weather
Can take direction and be self-motivated to complete tasks
Flexibility with changing plans
Is a team player, likes to have fun and has a sense of humor
Has good communication skills and is able to receive and give feedback
Is physically fit and able to carry out tasks that involve bending, squatting and lifting
Details
May 1st, 2018 - November 1st, 2018
While the hours will vary throughout the season, one can expect to work 40-55 hours per week, 5 days a week.
A modest monthly stipend
Room & Board
How to Apply
Email your resume and cover letter to Tamara Vester: blumtbiodynamic@gmail.com that includes the following:
Why you would like to intern at Blue Mountain Biodynamic Farms
Other farm experience you may have
What areas of farming interest you
When applying, please indicate that you saw this posting at GoodWork.ca.