VOLUNTEER POSITIONS
(le français suit)
Position: Youth Advisory Board Members - The Great Waters Challenge
Organization: Waterlution
Location: from home, anywhere in Canada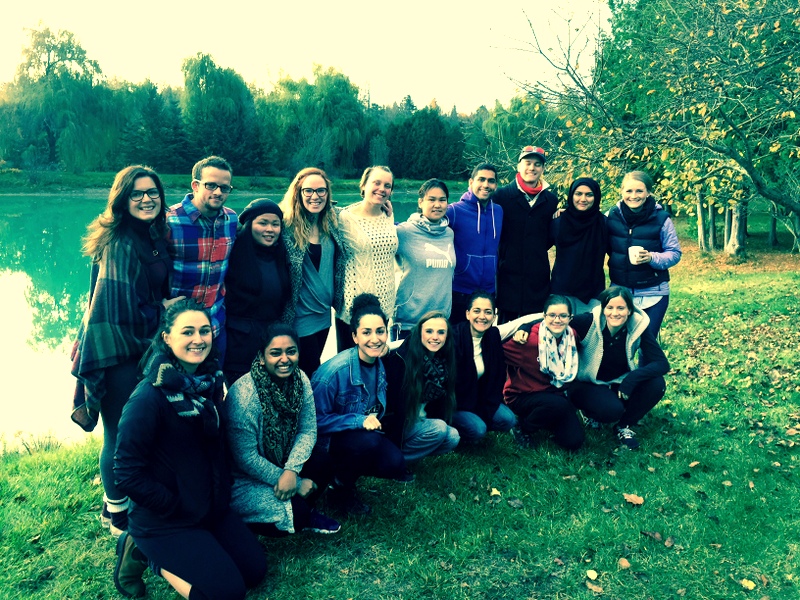 Waterlution is seeking youth advisory board (YAB) members for the Great Waters Challenge. Waterlution is looking for young leaders from across Canada to join this youth-led water initiative for its second year (Term : July 2017 - March 2018)
Questions we are focused on in our search for YAB members:
How can we transform the way youth engage with their water?
What are creative ways in which youth can be drivers of increasing the water I.Q. of Canadians?
How can we best showcase and celebrate diverse stories about our the role our "great waters" have played in shaping our personal identity and community's history?
How can you push yourself to further develop your leadership capacities?
Waterlution is selecting our second cohort of Youth Advisory Board (YAB) members for the Great Waters Challenge (GWC) in stage II, to build on the work that was accomplished in 2016-2017. We are excited to have new young leaders join our team over the next 8 months!
We know a few things about you already:
You believe solving water challenges is in the hands of young Canadians and that they should be supported through education and access to a collaborative network.

You have energy and ideas relating to water systems in your community, province or territory.

You have proven experience with mobilizing and inspiring youth.

You are fearless in seeking out new partnerships and collaborations (you have connections with water NGOs, artists/placemakers and schools/youth groups in your region).

You have the confidence and/or skills to mentor youth and lead/facilitate workshops.

You are comfortable with public speaking.

You are a team player, a good listener and a keen learner.
Bonus: Experience working with children and youth in an educational or recreational setting, and with school curriculum would be a strong asset!
If this sounds like you, and you are interested in applying, please continue reading.
What's the Youth Advisory Board (YAB)?
The YAB is a volunteer group composed of young Canadian leaders (between the ages of 18-29) with proven leadership experience in their community. These leaders are passionate about water, and are adept at mobilizing their peers to get involved and make a difference. The YAB is unique because members will have the opportunity to develop their water leadership capacity through a workshop facilitation training retreat (hosted by Waterlution in the Greater Toronto Area, October 13-15, 2017) and additionally through outreach and in-school workshop delivery related to the Great Waters Challenge.
What is the Great Waters Challenge?
The Great Waters Challenge is a project funded by Canadian Heritage and delivered by Waterlution, that launched in June 2016 and is running in stages until March 2018. Designed by youth and for youth, the Great Waters Challenge is now focused on offering water workshops in schools (Grade 4-12) across Canada.
Timeline Snapshot: How will the Great Waters Challenge roll out?
Youth Advisory Board (YAB) Selection by July 17, 201

Great Waters Challenge Starts: October 16, 2017

Classes receive an in-person or virtual introductory workshop from a YAB member (October/November 2017 and January/February 2018, based on demand)The classes will complete two challenges by: December 22, 2017

Participating schools complete challenge #3 (organizing a water-celebration) by March 22, 2018 (World Water Day).

All classes who successfully complete all three challenges will be evaluated, winning classes will be selected by YAB. Top teams and prize winners will be announced by March 31, 2018.
Who is eligible to be on the Great Waters Challenge Youth Advisory Board?
We are looking for diversity! Outstanding young leaders (18-29 years of age), representing diverse communities from across Canada that have a background in and passion for water, the environment and mobilizing youth are welcome to apply. We highly encourage candidates from northern communities to apply. Water Innovation Labs (WIL) are a signature program of Waterlution and we are working towards a WILArctic focused on how northern communities would like to lead knowledge transfer on water with the rest of Canada. Waterlution sees its YAB members from northern territories taking a leadership role on this.
What is the commitment required?
Commitment to this role is from July 29, 2017 to March 31, 2018 (an 8 month commitment). This means you will be based in your community/region for this duration with exception of holidays.

You commit to a mandatory 2hr "congratulations + welcome" call on Saturday July 29, 2017 at 1:00PM ET (Time zone converter). You will meet your AB team members on the call and learn more about Waterlution, the Great Waters Challenge and your role.

You commit to mandatory leadership and facilitation training retreat hosted by Waterlution October 13-15, 2017 (in the Greater Toronto Area details TBA).

You commit YAB to attending a minimum of 10 team calls over the 8 month period (calls are 30-45 min long and fall on Tuesday evenings, typically every 2-3 weeks).

You commit to be the enabler and proponent of the Great Waters Challenge in your region. You will deliver a minimum of 4 workshops (during school hours) at schools in your community and deliver virtual workshops/meet and greets with classes as needed.

On average your time commitment will total 10-15 hours a month, (varying depending on the stage and needs of GWC; i.e some weeks 1 hr, others up to 8 hrs).

You will be open to "emergence" - whereby you are flexible and willing to adapt to the needs that emerge throughout the process. We strongly encourage our YAB members to step into their leadership in every given opportunity.
What will you gain in return?
You are showcased among a select group of prominent young leaders, featured on Waterlution's website and through our social media! All YAB members will be announced on July 17, 2017.

You attend a required Waterlution Leadership Training Retreat in the Greater Toronto Area (details TBA) to develop your facilitation and leadership skill-set.

You receive a FourSight evaluation - this is an insightful tool to help you understand the value you bring to a team.

You receive a letter of recommendation from Waterlution acknowledging your work upon completion of the program.

You experience the "behind-the-scenes" work of a national challenge that will engage a wide array of youth in an exciting "gamified" process.

You are one of our main youth sources for decision-making, hence this experience will help you build your leadership skills.

You expand your network in your region and across Canada as one of Waterlution's Youth Advisors.
Note: If an opportunity arises to work for Waterlution, the YAB member will be asked to step down from this YAB role.
Are you ready for the #challenge? Important Information:
If you said "yes", then we invite you to fill out the application form so we can learn more about you! Direct link to form:
English: https://goo.gl/forms/hlHK98MoY7VwWzHA3
French: https://goo.gl/forms/X6BOWkeDju8ZlqU72
The deadline to apply is June 29, 2017. The number of Youth Advisory Board members to be selected is between 10-20 depending on quality of applications and geographic representation. All applicants notified of outcome: July 17th 2017
Questions? Please contact Dona Geagea, Great Waters Challenge Project Lead at dona

waterlution.org* .
---
POSSIBILITE DE BENEVOLAT
Waterlution est à la recherche de membres pour le conseil consultatif jeunesse (CCJ)
Tout le Canada
Waterlution recherche des jeunes leaders canadiens qui souhaitent se joindre à la deuxième année de cette initiative de l'eau menée par des jeunes !
Période : Juillet 2017 - Mars 2018
Déposez votre candidature :cliquer ici !
Échéance pour les soumissions : 9 juin 2017 23h59 (HNE).
Êtes-vous la bonne personne?
Voici les questions sur lesquelles se base notre recherche
Comment pouvons-nous modifier la relation des jeunes avec leurs bassins versants ?
Comment les jeunes peuvent-ils accroître les connaissances hydrographiques des canadiens de façon créative ?
Comment pouvons-nous présenter au mieux et célébrer différentes histoires sur le rôle des eaux canadiennes dans notre identité personnelle et l'histoire de notre communauté ?
Comment pouvez-vous vous surpasser pour développer vos aptitudes de leader ?
Waterlution effectue la sélection des membres de son deuxième Conseil consultatif jeunesse (CCJ) pour la deuxième version du Défi des eaux canadiennes, afin de continuer le travail effectué en 2016-2017. Nous sommes très enthousiastes d'accueillir de nouveaux jeunes leaders dans notre équipe pour les 8 prochains mois !
Nous savons déjà plusieurs choses à votre sujet :
Vous pensez que les enjeux de l'eau sont entre les mains des jeunes canadiens et qu'ils devraient être soutenus par de l'éducation et l'accès à un réseau collaboratif.
Vous avez de l'énergie et des idées concernant des systèmes d'eau dans votre communauté, province ou territoire.
Vous avez de l'expérience reconnue en mobilisation et motivation des jeunes.
Vous n'avez pas peur de rechercher de nouveaux partenariats et collaborations (vous avez des connexions avec des ONGs sur l'eau, des artistes/aménagistes, des groupes scolaires ou de jeunes dans votre région).
Vous vous sentez à l'aise et/ou vous avez des compétences dans le parrainage de jeunes et l'animation d'ateliers.
Vous êtes à l'aise pour parler en public.
Vous avez un esprit d'équipe, êtes une personne attentive et aimez apprendre.
Bonus : Expérience de travail avec les enfants et les jeunes dans un environnement éducatif ou récréatif, ainsi qu'une connaissance des programmes scolaires seraient de forts atouts.
Si vous vous reconnaissez et que vous êtes intéressé à déposer votre candidature, veuillez continuer de lire.
Qu'est-ce que le conseil consultatif jeunesse (CCJ)?
Le CCJ est un groupe de bénévoles composé de jeunes leaders canadiens (18 à 29 ans) possédant de l'expérience reconnue en leadership au sein de leur communauté. Ces leaders sont passionnés par l'eau et sont facilement capables de mobiliser leurs pairs afin de les faire participer à des initiatives visant à faire une différence. Le CCJ est unique parce que les membres auront l'opportunité de développer leurs aptitudes de leader en eau grâce à une retraite de formation pour l'animation d'ateliers (organisée par Waterlution dans le Grand Toronto, 13-15 octobre 2017) et l'organisation d'ateliers scolaires en lien avec le Défi des eaux canadiennes.
Qu'est-ce que le Défi des eaux canadiennes ?
Le Défi des eaux canadiennes est un projet financé par Patrimoine canadien et réalisé par Waterlution, qui a été lancé en juin 2016 et qui se déroulera en étapes jusqu'en mars 2018. Conçu par des jeunes pour des jeunes, le Défi des eaux canadiennes se focalise maintenant à offrir des ateliers sur l'eau dans les écoles (Niveaux 4-12) du Canada.
Pourquoi ? Waterlution souhaite augmenter les connaissances hydrographiques des Canadiens. Plus il y aura de jeunes canadiens s'impliquant dans ce défi et plus nous pourrons démontrer le profond lien qui existe d'un océan à l'autre entre nos ressources en eau et notre identité en tant que canadiens, et ce en passant du savoir autochtone traditionnel aux récentes découvertes scientifiques. Consultez ici notre carte du Défi des eaux canadiennes pour voir ce qu'ont fait les joueurs passés !
Aperçu du déroulement des activités : Comment se déroulera le Défi des eaux canadiennes ?
Conseil consultatif jeunesse (CCJ). La sélection sera effectuée d'ici le 17 juillet 2017
Inscription en ligne au Défi des eaux canadiennes. Les inscriptions seront ouvertes le 4 septembre 2017. Waterlution et l'équipe du CCJ chercheront activement des enseignants voulant inscrire leur classe.
Défi des eaux canadiennes. Lancement : 16 octobre 2017
Les classes reçoivent un atelier d'introduction en personne ou virtuel d'un membre du CCJ (octobre/novembre 2017 et janvier/février 2018 en fonction de la demande)
Les classes devront compléter deux défis d'ici le 22 décembre 2017.
Les classes participantes devront compléter le défi #3 (organiser une célébration de l'eau) d'ici le 22 mars 2018 (Journée mondiale de l'eau)
Toutes les classes qui auront complété les trois défis seront évaluées et les gagnants sélectionnés par le CCJ. Les meilleures équipes et les prix reçus seront annoncés d'ici le 31 mars 2018.
Qui peut siéger au CCJ du Défi des eaux canadiennes ?
Nous recherchons une grande diversité ! Nous encourageons les jeunes leaders remarquables (18 à 29 ans), représentant diverses communautés de partout au Canada, avec de l'expérience ou une passion pour l'eau, l'environnement et la mobilisation de jeunes, à déposer leur candidature.
Nous encourageons fortement les candidats des communautés du Nord à déposer leur candidature. Les labos d'innovation en eau (Water Innovation Labs, WIL) font partie du programme phare de Waterlution et nous travaillons à développer un WILArctique qui sera focalisé sur la façon dont les communautés du Nord aimeraient mener le transfert de leur savoir sur l'eau vers le reste du Canada. Waterlution voit les membres du CCJ venant des territoires du Nord agir comme leader à ce niveau-là.
Quel est l'engagement demandé ?
Vous vous engagez à participer à un appel obligatoire de 2h de « félicitations et bienvenue » le samedi 29 juillet 2017 à 13h (HNE) (Convertisseur d'heure de zone). Vous ferez la connaissance des autres membres de l'équipe du CCJ pendant l'appel et en apprendrez plus sur Waterlution, le Défi des eaux canadiennes et votre rôle.
Vous vous engagez à participer à une retraite de formation en leadership et animation d'ateliers organisé par Waterlution les 13-15 octobre 2017 (dans le Grand Toronto, détails à venir).
Vous vous engagez à participer à un minimum de 10 appels d'équipesur la période de 8 mois (les appels durent 30-45 minutes et ont lieu les mardis soirs, généralement toutes les 2-3 semaines).
Vous vous engagez à être un acteur et défenseur du Défi des eaux canadiennes dans votre région. Vous animerez un minimum de 4 ateliers (pendant les heures scolaires) dans des écoles de votre communauté et animerez au besoin des ateliers/réunions virtuels avec des classes.
Votre temps moyen d'engagement sera d'un total de 10-15h par mois (dépendamment du niveau et des besoins du Défi, cad certaines semaine 1h et d'autres jusqu'à 8h).
Vous serez ouvert aux imprévus – vous serez donc flexible et prêt à vous adapter aux besoins qui surviennent au cours du processus. Nous encourageons fortement les membres du CCJ à prendre en main leur leadership lors des opportunités qui se présentent.
Qu'obtiendrez-vous en retour ?
Vous occuperez une place importante au sein d'un groupe choisi de jeunes leaders de premier plan, vous apparaîtrez sur le site Web de Waterlution et dans nos médias sociaux ! Tous les membres du CCJ seront annoncés le 17 juillet 2017.
Vous participerez à une retraite de formation requise organisée par Waterlution dans le Grand Toronto (détails à venir) pour développer et renforcer vos aptitudes d'animation et de leadership.
Vous recevrez une évaluation FourSight – il s'agit d'un outil incroyable pour vous permettre de comprendre la valeur que vous apportez à l'équipe.
Vous recevez une lettre de recommandation de la part de Waterlution à la fin du programme reconnaissant votre travail.
Vous vivrez l'expérience de la création en coulisses d'un défi d'envergure nationale qui regroupera un vaste éventail de jeunes dans le cadre d'une initiative stimulante basée sur le jeu.
Vous serez l'un des principaux jeunes que nous consulterons lors de la prise de décisions, une expérience qui vous aidera à renforcer vos compétences en leadership.
En tant que membre du CCJ de Waterlution, vous élargirez votre réseau dans votre région et partout au Canada.
Remarque : Si un poste s'ouvre chez Waterlution, le membre du CCJ devra renoncer à son rôle au sein du CCJ.
Êtes-vous prêt à relever le #défi?
Informations importantes :
Si votre réponse est « oui », nous vous invitons à remplir un formulaire de demande de participation afin que nous puissions en apprendre davantage sur vous !
Le nombre de membres du CCJ à sélectionner est de 10 à 20, en fonction de la qualité des candidatures reçues et de la représentation géographique. Tous les candidats seront avisés de la décision rendue le 17 juillet 2017.
Vous avez des questions ? Veuillez communiquer avec Dona Geagea, Chef de projet du Défi des eaux canadiennes à dona

waterlution.org* .
Déposez votre candidature dès maintenant : cliquer ici !
Date limite de soumission : 9 juin 2017 à 23h59 (HNE).
When applying, please indicate that you saw this posting at GoodWork.ca.

*Note: The e-mail address above has been masked to help prevent spam. Please copy the address and replace "mask" with @ .
Note: This posting is provided on an "As Is" basis and for general informational purposes only. People and Planet (also known as "GoodWork") is not responsible for the content, accuracy, timeliness, completeness, legality, reliability, quality or suitability of this posting. We do not screen or endorse the organizations or individuals involved. If you decide to accept an offer of employment, volunteering or any other arrangement, you do so at your own risk and it is your responsibility to take all protective measures to guard against injury, abuse, non-payment or any other loss. Please read our full Terms & Conditions.