WORK-TRADE / BENEVOLAT / VOLUNTEER
Position: Help in kitchen and housekeeping
Type: volunteer in exchange for room and board, yoga, more
Dates: minimum one month commitment
Retreat Center: Yoga Salamandre
Location: Lac Brome, Eastern Townships, Quebec
Haven of peace in the heart of nature, Yoga Salamander is a place of healing and discovery facilitating the opening of the heart and mind in conscience, to anchor beautiful transformations in our daily lives. An eco-friendly community, it's a space for sharing and meeting where yoga, the awakening of the senses and creativity are at the center of your stay.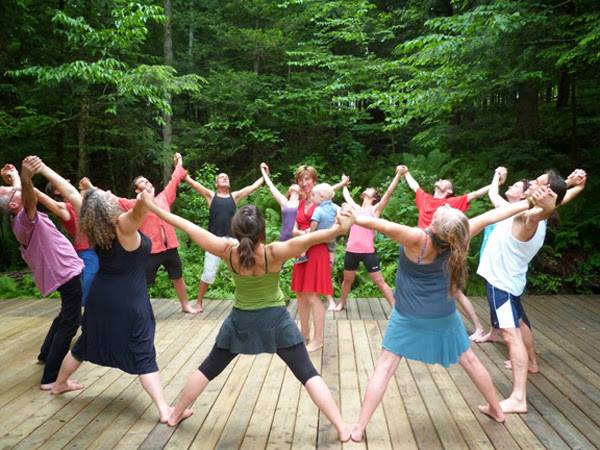 URGENT Need from now and for winter (from January 2019). We are looking for 2 or 3 persons who would have the impetus to engage in a place that combines introspection, healing, selfless work, the beautiful nature and a true exchange with beautiful people.
We are looking for volunteers who wants to stay for the one month at least, 3 people who like to work outside, gardening, cook vegan food and who have an interest in yoga and meditation. We wish to form a team of 3 volunteers who do a bit of everything (gardening, cooking, maintenance, welcome of participants ...)
Welcome to you nature lovers, life, good biological cooking, yoga and personal growth. La Salamandre is a French speaking environnement.
I own a beautiful yoga center in the Eastern Townships. Land filled with trees, flowers and hammocks, a beautiful organic garden in shape of heart Mandala, all surrounded by an inspiring river.
We are looking for honest and genuine people who can stay from one to tree months and more. Welcome to people with manual skils, to build a sauna, for gardening and cooking for a group.
Yoga Salamander is a smoke-free, alcohol-free, Internet free and vegetarian place to live!
Just one hour from Montreal, experience nature in its purest form, without alcohol, smoke and without Internet.
The kind of assistance we need varies with the seasons:
During the high season (May to September) we are looking for help with the coordination during the yoga retreats and arms to assist in the maintenance of the place both inside and outside. Various tasks, such as making vegetarian food in large quantities, spring cleaning, garden and flower`s planting bed maintenance. And even more if you have special skills related to the center's needs (carpentry, construction...).
During the low season (October to April) our needs are slightly different and include more indoor works: coordination helper during the retreats (cleaning, meal preparation and support for people), assistance for the household and welcome for yoga classes, help with the organization in the house ... And a little of outdoor with the shovelling of snow.
The place is very quiet with a great understanding with the neighbors. We are in search for engaged people, people engaged in a personal growth strategy, quiet and harmonious, loving contact with others. Responsible people with initiative having at heart the respect for the place and individuals. Yoga Salamandre is a french speaking environment, most of the activities are in french, you are welcome but must be prepare to be in immersion :)
35 hours a week is requested in exchange for being housed un a tent (bring your own equipment) (or in a dorm if it is too cold), fed, including Yoga classes and retreats.
Interested? Please send a motivation letter at:
yogasalamandre@gmail.com
Looking forward to share and vibrate life with you!
Please indicate you saw this posting at GoodWork.ca.