VOLUNTEER POSITION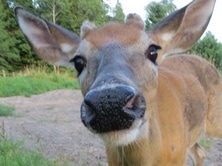 Position: Wildlife Animal Care Volunteer
Type: Volunteer opportunity with free accommodation, minimum 4 weeks / 8 weeks preferred (see below)
Organization: Aspen Valley Wildlife Sanctuary
Location: Rosseau, Muskoka, Ontario
Aspen Valley Wildlife Sanctuary is a non profit, registered charity located in Rosseau, Ontario. For the last 41 years, we have dedicated ourselves to the rescue, rehabilitation and release of the province's ill, orphaned and injured native wildlife. We receive no government funding and rely solely on the generosity of the public for financial support. We rely on a large and diverse team of volunteers, whom are passionately committed to the care of the wildlife we save, for our existence.
We are afforded the unique opportunity of rehabilitating various animal species from moose, bear, deer and wolves to raccoons, squirrels and chipmunks. We are one of the few facilities in the country equipped to accommodate semi-aquatic species such as beavers and otters. Our facilities are purpose built, in a natural setting to accommodate the biological and behavioural needs of the animals in our care. Once treated and rehabilitated, the animals are released back into the wild. Over the years, various animals have become permanent residents at the Sanctuary. These are the unreleasable animals due to prior human intervention. These animals are the voice for sharing our world in a healthier, more responsible way.
We offer free, shared accommodation to our volunteers. The role of the Animal Care volunteer is:
to care for orphaned and injured native Ontario wildlife including hand and tube feeding
to assist with capture, rehabilitation and release of Ontario wildlife
maintain records for rehabilitation animals regarding health and feeding schedules
food preparation and feeding of rehabilitation animals and permanent residents of the sanctuary. Note: this may require handling of animal carcass and meat
clean and maintain animal enclosures
assist with guiding and educating tourists on visiting days
We offer internship / co-op opportunities. We request a minimum 4 week service. To maximize your learnings, we recommend a stay of at least 2 months.
We rehabilitate rabies vector species; therefore rabies vaccines are mandatory if volunteering in the months of April through October.  The vaccines are highly recommended if volunteering in the months of November through to March.  Tetanus vaccines are highly recommended.
You can visit our web site to get more information regarding Aspen Valley Wildlife Sanctuary.
http://aspenvalley.ca
If you are interested in volunteering, please submit an email request to:
volunteer

aspenvalley.org*
Thank you!
Please indicate you saw this posting at jobs.rcen.ca.
*Email: The e-mail address above has been masked to prevent spam. Please copy the address or type it manually, add the @ sign, remove "mask" and any spaces.