VOLUNTEER POSITION
Position: INTERNS: Wild Parrots Conservation Center (CREA)
Type: volunteer; weekly fee covers food & accom.; minimum 2 months
Organization: Foundation for the Conservation of Bolivian Parrots (CLB)
Location: Santa Cruz de la Sierra, Bolivia, South America
The Wild Parrots Conservation Center (CREA), located in the city of Santa Cruz de la Sierra, Bolivia, needs interns from September 2017 for an ongoing project. The Center aims to rehabilitate rescued parrots from the wildlife trade, to release them back into the wild, as well as to develop environmental education with local childrens and research studies with wild parrots in captivity.
Interns will live at the city of Santa Cruz. Duties include introducing the rehabilitated parrots to a native diet, monitoring their feeding behavior, diet and training, receiving and examining new patients, preparing food and feed parrot´s chicks, calculating and administering medications, cleaning cages and facilities, collecting data for research studies with the captive parrots, environmental enrichment, collecting their native food at the field to prepare their diets, support to the educational program and release the animals back into the wild.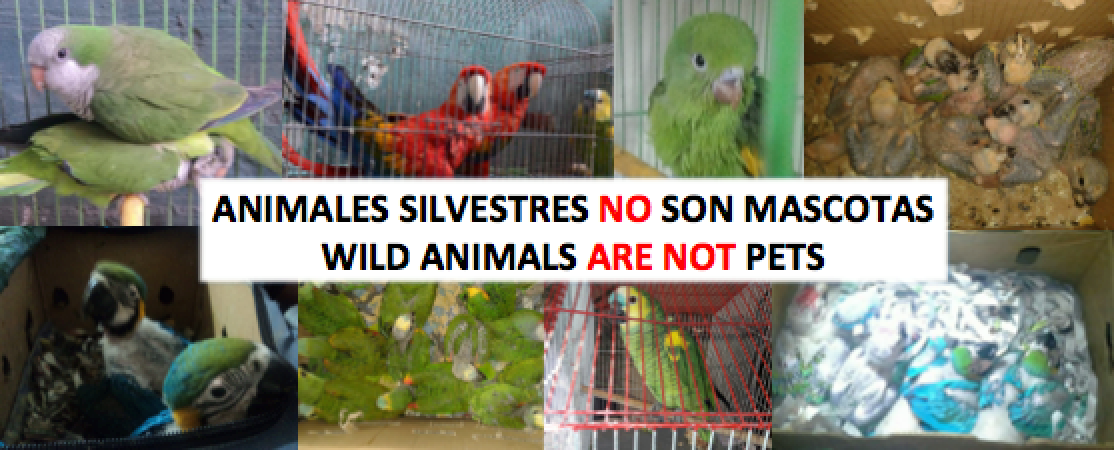 Also, interns collaborate with the basic care of mammals (jaguars, pumas, pecaries and more), reptiles (tortoises, caimans) and other bird species (raptors) of rescued animals at a local Rescue Center.
Applicants also have the oportunity to combine the time at the CREA with others research, conservation and environmental education projects with endangered parrots in the Amazon and Pantanal region. Activities for those projects can include checking cavities for potential nests, mist netting, population census, behavioral observations, collecting general data about their biology, nest protection, environmental education activities and others.
Applicants must be responsible, enthusiastic, self-disciplined, hard working, self-motivated, tolerant of tropical weather and biting insects (mosquitoes, sunfly, ticks, flies), willing to work in a group and a good sense of humor is always appreciated. Applicants with Spanish language and previous rehabilitation/fieldwork experience is an asset but not required. This is a great opportunity for someone with basic or intermediate Spanish skills to immerse in the language. A minimum stay of two (2) month is required, but longer stays are preferable. Interns must be a minimum of 18 years old. We provide all necessary equipment for the center and fieldwork activities at the projects.
Applicants must arrange their own transportation to Santa Cruz, Bolivia. We charge a fee (USD 100 per week) to cover their cost of food and accommodation at the CREA and projects.
TO APPLY:
Please provide a covering letter, a resume and two references to EM:
training

fclbolivia.org*
In the cover letter indicate why you are interest to participate with us, what you hope to gain from an internship, how you will contribute to our team, your available dates and your interest to combine time at the CREA and other projects. Individuals interested in applying to this position are strongly advised to check the cost of flights from their native country to Bolivia prior to applying to the position. Feel free to email for further information.
Close Date: until filled.
When applying, please indicate that you saw this posting at GoodWork.ca.

*Note: The e-mail address above has been masked to help prevent spam. Please copy the address and replace "mask" with @ .
Note: This posting is provided on an "As Is" basis and for general informational purposes only. People and Planet (also known as "GoodWork") is not responsible for the content, accuracy, timeliness, completeness, legality, reliability, quality or suitability of this posting. We do not screen or endorse the organizations or individuals involved. If you decide to accept an offer of employment, volunteering or any other arrangement, you do so at your own risk and it is your responsibility to take all protective measures to guard against injury, abuse, non-payment or any other loss. Please read our full Terms & Conditions.