WILDERNESS WORK-STAY / VOLUNTEER
Position: Wilderness HandyPerson
Type: volunteer position with housing (log cabin), one-month minimum
Location: Nemiah Valley, BC Interior, British Columbia
I am seeking a volunteer to help assist in completing a wooden cabin and for my new project of building a green house. You will also be helping in the everyday life chores, such as carrying water and gathering and sawing firewood, cooking, also in basic construction and garden work. No electric or gas-powered tools are used on this site.
I am living in a wild and very remote setting, with no vehicle access and limited solar and wind power. I am building an eight-sided log cabin on a scenic lakeside site. All of the logs used in the construction of this building are salvaged driftwood from the beach. This is the third log cabin I have constructed in this fashion on this site in the forty years I have lived here. I am growing a home garden and keep winter stores in a log root cellar.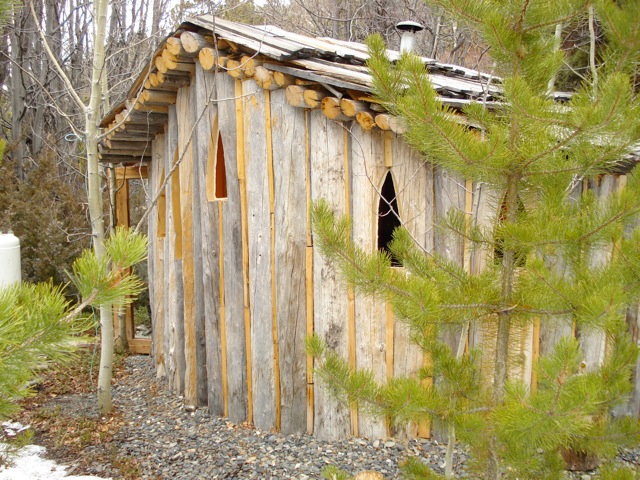 Volunteers sleep in simple and old log cabin, carry water, use outhouse and abolutely gorgeous bath house as well as theunderground sweat house.
The lifestyle I live has a strong First Nations influence. I am caretaking reserve land and have longstanding close relations with the local community.
This is a very difficult and isolated lifestyle, requiring volunteers to be physically fit. The wind is quite intense for much of the year. It is also as majestic a place as you ever will see.
Kayaks are available with access to pristine wilderness, hiking, rowboat, fishing, gathering wild roots and hunting or snaring. Most diets can be accommodated. Absolutely no alcohol or drugs are allowed on site.
I am fairly serious as a yoga practitioner and would prefer someone with some kind of practice or open to learning. I have no religious leanings. No English required. I would prefer if volunteers could stay a minimum of one month. This is a VERY remote location and access is difficult.
I will provide experience and mentorship in survival skills including gardening, hunting, trapping and wildcrafting.
Volunteers must travel to central BC and a ride will be arranged to the community. At that point, I will meet you and we can travel by foot or boat to my residence.
If your are interested in this lifestyle, please send email outlining your interests and experience to:
88chendi

gmail.com*
When applying, please indicate that you saw this posting at GoodWork.ca.
*Email: The e-mail address above has been masked to prevent spam. Please copy the address or type it manually, add the @ sign, remove "mask" and any spaces.