VOLUNTEER SCARBOROUGH
Position: Program Development, Public Relations and Social Media Officers
Organization: Halt on Hunger
Location: Guildwood/ Scarborough/ GTA/ Toronto, Ontario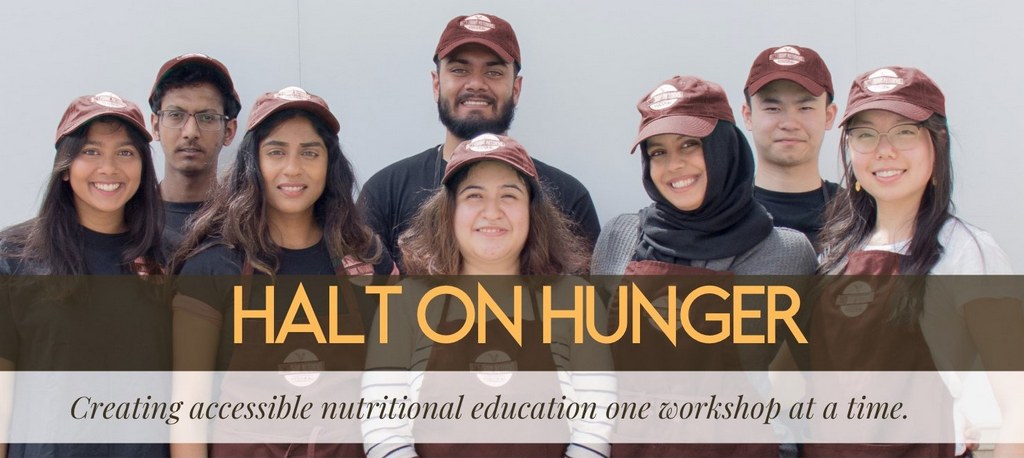 OVERVIEW
At Halt on Hunger our mission is to provide accessible nutritional education for youth in the Scarborough-Guildwood area. We are a youth non-profit supported by a registered charitable organization 5n2 Kitchens. We use organic, sustainable and healthy food options in our workshops. We also aim to be environmentally friendly by using the food products from Second Harvest and Mama Organics to curb food waste.
This fall, we will be hosting educational workshops to mitigate the food insecurity problem in Scarborough-Guildwood. We are in need of a team of volunteers to effectively plan and execute these programs for its duration of 8 weeks (September 1- October 31). The time commitment is expected to be 3-5 hours/week for 8 weeks.
---
PROGRAM DEVELOPMENT OFFICER
ROLES AND RESPONSIBILITIES
Work on the development of the Halt on Hunger Food for All Workshops

Conduct research on content for educational tools including a handbook, recipe guides, and google slide presentations

Assist in the creation and development of a handbook and google slide presentations

Find more information regarding financial literacy, healthy food recipes, and nutritional facts labelling to implement in workshops

Lead and facilitate Food for All Workshops

Must comply with organization's policies and regulations at all times
---
PUBLIC RELATIONS OFFICER
ROLES AND RESPONSIBILITIES
Contact local partners to create educational content for workshops

Contact potential speakers (professors, educators, nutritionists) to help facilitate workshop

Write and distribute press releases

Contact the media to attend/cover events

Serve as Halt on Hunger's spokesperson

Address inquiries from the media and other parties

Must comply with organization's policies and regulations at all times
---
SOCIAL MEDIA OFFICER
ROLES AND RESPONSIBILITIES
Take video footage and pictures for our social media accounts

Update channel on Youtube to upload videos and imbed videos from Youtube to website, FaceBook and other social media platforms

Update website section to include Halt on Hunger page

Design social media posts with Halt on Hunger's branding

Prepare content uploads to social media platforms for workshops

Schedule social media posts on Facebook and Buffer channel

Create and publish content for blog

Must comply with organization's policies and regulations at all times
QUALIFICATIONS
Preference will be given to candidates who can dedicate more than 4 hours of their time a week for this position

We accept candidates who are in high school or older (14-29 inclusive)
---
VOLUNTEER BENEFITS AND SUPPORT
Mandatory orientation and training session will be provided

Refreshments will be provided at the orientation and training session

If you volunteer for 100+ hours you will receive a letter of recognition
TO APPLY
Submit your resume to haltonhunger@gmail.com and fill out this form: https://forms.gle/ZjSBHFZ6LeP6xrvL9 by August 31 at 11:59 EST. Thank you for all that have taken the time to apply, only successful candidates will be contacted for an interview.
Please indicate you saw this posting at GoodWork.ca.