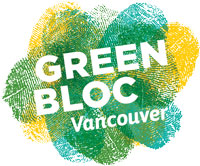 VOLUNTEER POSITIONS
Position: Green Bloc Volunteer Assistant
Organization: Evergreen
Location: Vancouver BC
Use your passion for sustainability to help plan, organize, and coordinate Green Bloc Neighbourhood events and programming.
Be a part of Green Bloc Neighbourhoods, a partnership between Evergreen, Vancity, and the City of Vancouver. 40+ households in two Vancouver neighbourhoods have committed to lower their ecological footprint by 15% over one year. GBN will be hosting a series of workshops, activities, and meetings for GBN residents that are designed to reduce the ecological footprint of the neighbourhoods, and support individual behaviour change. Workshop and activity topics may include: reducing red meat consumption, reducing food waste, composting, active transportation, etc. We will also be looking for people to support data analysis from the Ecological Footprint Survey, infographic production of results, and event support and logistics.
What you bring: You're organized, motivated by sustainability, and like meeting new people. You're comfortable working in a team and independently. You have strong communication skills, and can resolve problems and issues quickly. Knowledge of urban sustainability and the ecological footprint is an asset.
When and where: The position will begin in June 2018 and end in March 2019. Volunteers commit to 5-10 hours per month, including 3-hour events + prep and coordination, or data entry and infographic production, depending on interest and availability.
How we'll support you: Volunteer will receive an orientation to Evergreen and Green Bloc Neighbourhoods. For each event, you will get a briefing from staff, and will have ongoing training and mentorship opportunities.
Good to know: Events take place in the evenings or on weekends. A full schedule will be provided. Remote work will be possible for survey analysis and infographic production.
Perks: Gain practical experience organizing and managing events. Learn relevant information that will help you reduce your own ecological footprint. Be a part of a national environmental organization, and get to know interesting and engaged community members and experts.
Sign up here:
http://bttr.im/0zhu3
When applying, please indicate that you saw this posting at GoodWork.ca.