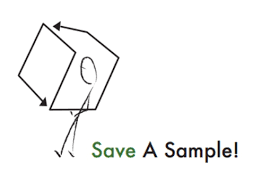 VOLUNTEER OPPORTUNITIES
Position: Save A Sample! Volunteer
Organization: Save A Sample! Canada
Locations: Montreal, Ottawa, Toronto, Vancouver, and Winnipeg
We are a non-profit organization, running recycling drives in both the US and Canada.
We divert architectural and design materials (samples) from landfill by having design firms donate their samples to design schools so students can have a richer experience.
Here is what we need help with:
1. Passing out Save A Sample! postcards to design schools, furniture dealers, and design firms in the following locations (Montreal, Ottawa, Toronto, Vancouver, and Winnipeg - within 60 minutes of the city center).
2. On September 19 or 20, picking up boxes of samples from design firms and dropping those boxes off at design schools.
How to apply:
Email sas2018@specsimple.com and let us know which opportunity you would like to help out with.
Check out our website for more information about our recycling drive.
Save A Sample! by SpecSimple.com
When applying, please indicate that you saw this posting at GoodWork.ca.