VOLUNTEER OPPORTUNITIES
Position: Volunteer
Organization: East Village Animal Hospital
Location: Kitchener, Ontario
Volunteers needed for in-clinic positions at Kitchener's only non-profit veterinary clinic. East Village Animal Hospital provides vital vet care to low income families, rural communities and rescue groups, and relies on its volunteer workforce to keep the clinic running at low cost.
Volunteer positions range from animal care, to instrument prep, to admin and cleaning. This is an excellent opportunity for students looking to gain experience in a busy work environment, those interested in a career in animal care, retirees who wish to make an impactful difference in their community, or anyone with a few hours to spare to help animals in need. Volunteers may volunteer as little or as much as they like; shift times run through business hours (M-F, 8-6) and are usually 2-3 hours each. No experience is necessary and all appropriate training will be provided.
Please email if you are interested in learning more!
volunteeringwithpawskw@gmail.com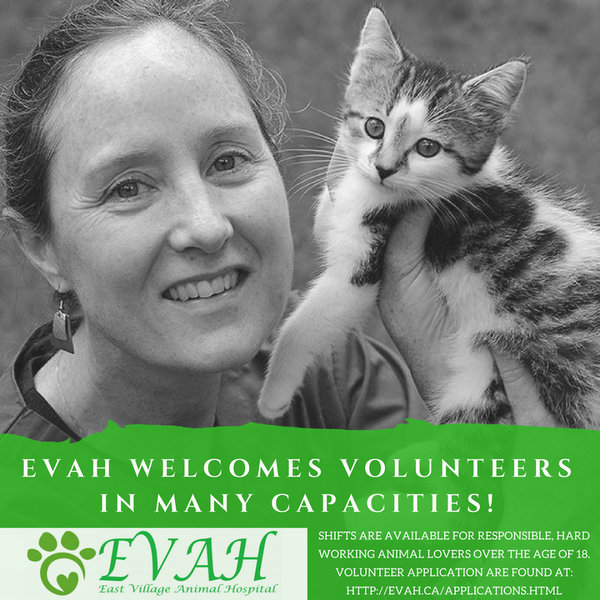 About Us
East Village Animal Hospital is a Humane Alliance-partnered 'High Volume Spay/Neuter Clinic' dedicated to providing comprehensive preventative medicine services, including spay/neuter/vaccination/micro-chipping/anti-parasite treatments, as well as general out-patient medical & surgical services for pets cared for by low-income individuals and those on social assistance, animal rescue groups, humane societies and municipal shelters in a 12-county region surrounding London and Kitchener-Waterloo Region, Ontario.
We welcome volunteers in many capacities, with help from "PAWS" Progressive Animal Welfare Services. PAWS is dedicated to enriching the lives of companion animals and their guardians. Together with EVAH we assist Community Agencies trying to help pets of vulnerable clients during times of transition.

East Village Animal Hospital  supports a Humane Alliance campaign that encourages all pet owners to spay/neuter their pets before 4 months of age, to assist in the reduction of pet over-population and high kill rates in regional shelters. Check out: whentospay.org



When applying, please indicate that you saw this posting at GoodWork.ca.