VOLUNTEER OPPORTUNITIES
Position: Event Volunteer
Organization: Leading Change Canada
Location: Vancouver BC
About Leading Change Canada
Leading Change is a Canada-wide movement for us, by us — a group of young environmental leaders and sustainability professionals working to accelerate action on environmental, social, and economic issues that are critical to attaining a sustainable future for Canada and the world.
We bring together sustainability and innovation leaders, aged 19-35 from across Canada, to build skills, form partnerships, and take action in the following areas:
Climate Change Adaptation & Resilience (including GHG Reduction)
Connected & Thriving Communities
Entrepreneurship & Innovation
Commercialization & Scalability
Leading Change is a volunteer partnership led by Connecting Environmental Professionals (CEP) Canada, a not-for-profit network of young leaders across Canada with chapters in Vancouver, Calgary, Toronto, and Ottawa. Strategy and advisory support is provided by the Delphi Group, a Canadian leader in strategic sustainability consulting, providing innovative solutions in climate change and corporate sustainability.
Applications are now open for five volunteer spots at the next Leading Change Forum, taking place on and around March 13, 2018 in Vancouver, BC. Applicants must be between 19-35 years of age at the time of the forum.
If you have any issues completing your volunteer application, please contact our Venues and Logistics Coordinator, Sara Fralin at sara

leadingchangecanada.com*
For any questions, please visit the FAQ section of our website: http://leadingchangecanada.com/faq/
Roles and Responsibilities
All volunteers must be at least 19 years old, have a cell phone, and be available on all three days (March 11-13):
March 11, 12-4pm: volunteer orientation and preparation of delegate packages;
March 12: various pre-events 9am-4pm (UBC tour, ski, yoga, EYA tour, CoV waste management) and Opening Ceremony 6pm-9pm (evening at the Vancouver Aquarium);
March 13, 7am-7pm: LC Forum (set up, during, clean up).
All volunteers are expected to assist with preparation and pre-events; support the Event Manager and Organizing Committee on March 12, 2017; attend one pre-event activity as the liaison for Leading Change (UBC sustainability tour, EYA garden tour or CoV waste tour); have a cell phone in case of emergency; help delegates use the transportation provided or public bus/sky train and provide directions to events; oversee delegates attending pre-events/ tours and support the tour guide as needed. Additional opportunity March 14-16 to assist at the GLOBE Innovation Expo.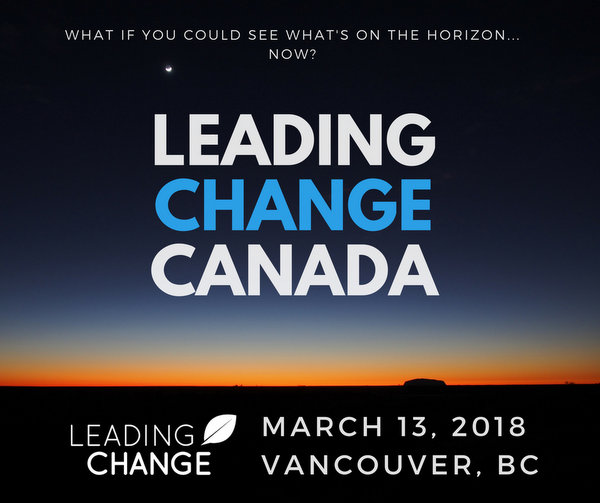 Volunteer Positions
1. Reg Table: Registration table management and Greeter (two positions)
Specific time commitment: 7am-7pm March 13, 2017;
Setup registration table before event starts;
Help manage registration table;
Hand out Lanyards;
Greet and register delegates as they arrive;
Assist in navigating facilities (know where washrooms, water, emergency exits, etc. are located);
Help accommodate any special needs or abilities;
Manage entrance and provide program and general information.
2. Runner: Set up, support and runner for speakers (one position)
Specific time commitment: 7am-7pm March 13, 2017;
Work with Logistics coordinator and AV staff to ensure all AV requirements are met for each speaker on March 13, 2017;
Support speakers needs during panels (water, pens/paper, laptop setup, ppt set up);
Let speakers know you are there to support them;
Role is focused on the breakout sessions and rooms;
Timekeeper for speakers including time remaining reminders.
3. Managers assistant: Assist Director of Speakers and Event Management (one position)
Specific time commitment: 7am-7pm March 13, 2017;
Support the director of speakers (Ahsan Syed) and Event Manager (Janessa Grossett) in their tasks on March 13, 2017.
4. Innovation Expo support: LC Pitch and job fair at the Globe Innovation expo
Specific time commitment: 10am-6pm March 14-16, 2018;
Support the Event Manager and Globe liaison with the Leading Change Youth Innovation program.
Volunteer benefits
Attend LC pre-events and opening ceremony.
Attend LC forum.
Reference for future job or volunteer endeavors by the Venues and Logistics Coordinator, Sara Fralin.
Qualifications
All volunteers must be between 19-35 years of age at the time of the forum, have a cell phone, and be available on all three days (March 11-13).
Apply Online:
http://leadingchangecanada.com/
or https://goo.gl/WXo3w7
When applying, please indicate that you saw this posting at GoodWork.ca.
*Email: The e-mail address above has been masked to prevent spam. Please copy the address or type it manually, add the @ sign, remove "mask" and any spaces.

Note: This posting is provided on an "As Is" basis and for general informational purposes only. People and Planet (also known as "GoodWork") is not responsible for the content, accuracy, timeliness, completeness, legality, reliability, quality or suitability of this posting. We do not screen or endorse the organizations or individuals involved. If you decide to accept an offer of employment, volunteering or any other arrangement, you do so at your own risk and it is your responsibility to take all protective measures to guard against injury, abuse, non-payment or any other loss. Please read our full Terms & Conditions.