SUSTAINABILITY VOLUNTEERS
Wanted: Sustainability Demonstration Center Volunteers
Type: international volunteer position with lodging, training, more, 3 months minimum (see below)
Organization: Sustainability Demonstration Center
Location: Guacimal near Monteverde, Puntarenas, Costa Rica, Central America / Latin America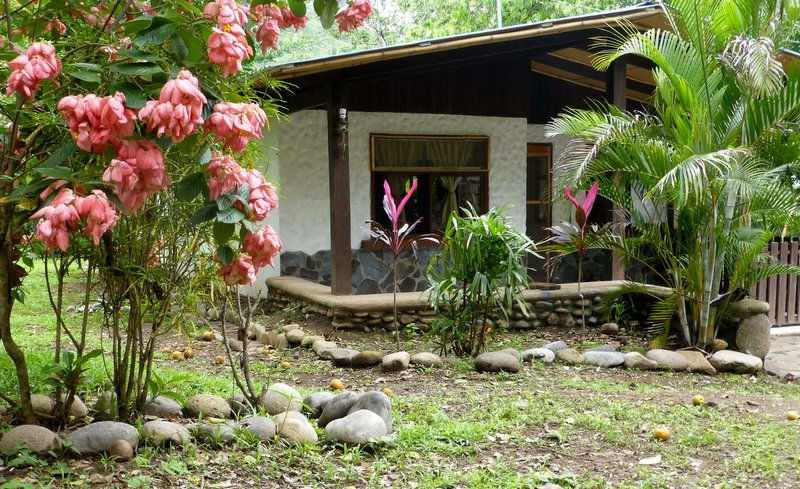 At the Sustainability Demonstration Center, we aim to demonstrate different environmentally-friendly ways of reducing the footprints we leave behind each day by leading Environmental Protection, Social and Economic Justice, and Animal Welfare programs.

The Center is a great place for volunteers to get hands-on experience in sustainability projects and make a difference in a rural Costa Rican community.
NEW Long-Term Available Positions:
1) Sustainability Demonstration Center Grant Writer/Project Manager — You will help with grant writing to develop and manage sustainability projects such as environmentally friendly energy production, food processing and marketing, economic development, etc.
2) Food Security and Development Volunteer — You will have a key role in helping to develop locally-produced food products with the local community by contributing your experience and skills in food processing and preparation, as well as food packaging and marketing. You will also help to support and innovate strategies for developing the Women's Farmer's Market, the Center's most successful Economic and Social Justice initiative. We would love someone with BAKING experience or someone without experience, but who would love to learn to bake.
3) Sustainability Support Volunteer — You will be involved in most aspects of the project, ranging from office work and giving educational tours to caring for plants and animals.
For all volunteer positions, we welcome you to get involved in any or all projects that are going on at the Center, whether with animal welfare, social and economic justice, or environmental protection – delve into your interests and passions! We can also personalize your experience by combining elements of different positions to find the best fit for you.  
We Are Looking For…
People who are passionate about sustainability, community-based projects, animals and/or the environment! We want mature volunteers who are eager to make a difference and come with the intention to give of their skills and talents to make a better world. We need someone to really get involved and become part of this developing intentional community.
This is the perfect opportunity for either individuals, couples, or a family unit (including furry four-legged members), as we welcome diverse sets of talents and we are looking to fully integrate them into all aspects of daily living.
We want people who choose love vs. fear and understanding vs. judgment, and who are willing to try their best living this way.
What You Get:
You will receive free lodging at the Sustainability Demonstration Center for the duration of your stay. Depending on availability, you could have a single or shared room and all bathrooms and showers are shared. You would pay a monthly fee to cover food and associated costs.
You will also get hands-on training and experience with community-based sustainability programs, a chance to learn Spanish, live in a lush, tropical paradise right by a river, and immerse yourself in Costa Rican culture! Time off would also be agreed upon prior to arrival. You can hike through the forest by the Center, swim in the river to relax and connect with the natural world, participate in cultural activities and make new friends, and visit the cloud forests of Monteverde and other nearby attractions.
We will accept long-term volunteers for a minimum of 3 months, but our preference is a longer time commitment.
We do accept short-term volunteers.  However, because we do take a great deal of time training and orienting each volunteer, we charge a small fee, and these volunteers have to pay for their own room and board.  Ask us for more details about the various projects or tasks that short-term volunteers are typically engaged in.
To Apply:
We have openings all year round so please let us know when you are hoping to join us! Happy to answer any questions – email us at:
monteverdecc@gmail.com
Please send Veronica and Alex, the co-founders of the Sustainability Demonstration Center, an email to tell us about yourself, why you are interested in volunteering with us, any experiences and/or interests that are relevant to the position.
More Information About Us:
Website: sustainablecostarica.org
Blog: sustainablecostarica.blogspot.com
Video about the Center: https://www.youtube.com/watch?v=BN3SdOncMTU&feature=youtu.be
Look us up on Facebook as the Sustainability Demonstration Center.
Alexander and Veronica are dedicated to making the world a better place and expect those who come to embrace the same value of Service.  They run the Center using their own funds from cabin rental income. Volunteers are responsible for their financial needs other than their lodging, which will be provided. Volunteers are encouraged to view this as an opportunity to give back to the world.
When applying, please indicate that you saw this posting at GoodWork.ca.