VOLUNTEER CALGARY
Position: Social Media Manager
Organization: Connecting Environmental Professionals (CEP) Calgary
Location: Calgary, Alberta
About CEP Calgary
Creating opportunities for young & emerging environmental & sustainability professionals.
Social Media Manager, CEP Calgary (volunteer)
In this position, you will be responsible for engaging our CEP online community with our social media tools — Twitter, Facebook and LinkedIn — as well as continuing to develop our Instagram presence.
Purpose of the position:
Use social media tools effectively to engage with the CEP community.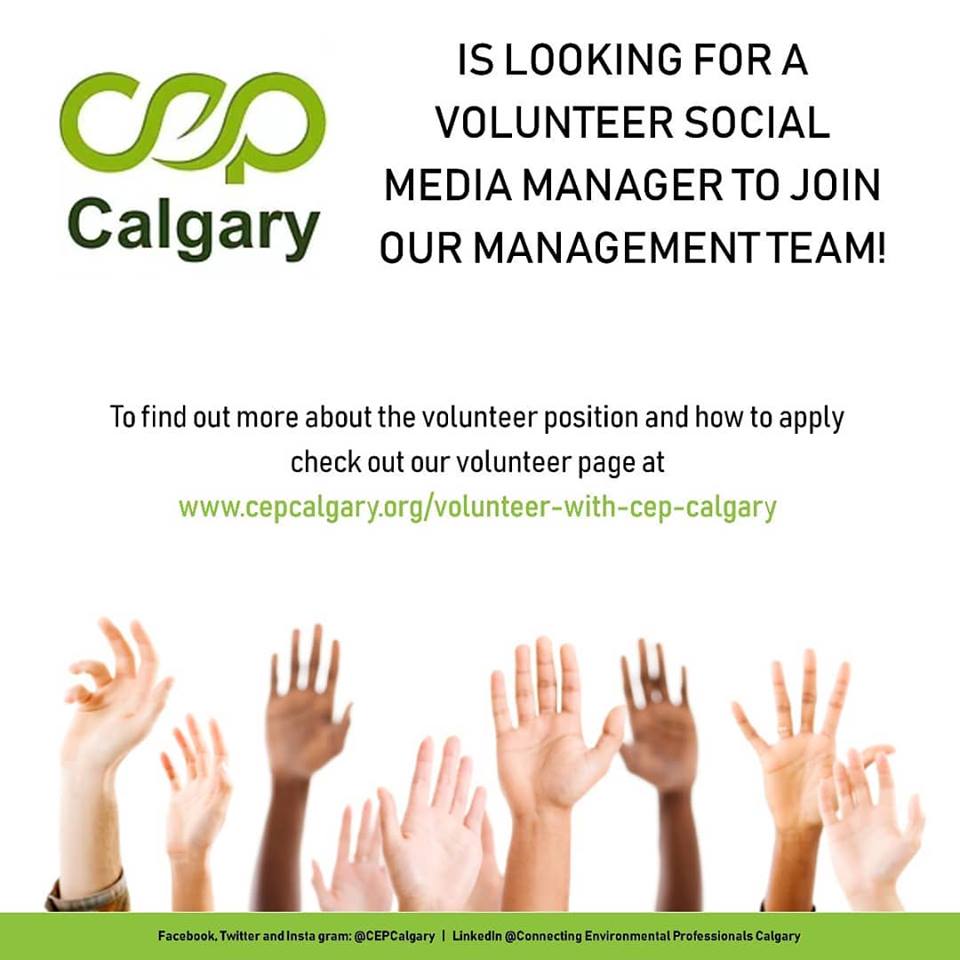 Duties and Responsibilities:
Use and maintain CEP's Facebook, Twitter and Instagram accounts.

Identify and/or write effective content, messages and/or notices to be used in CEP's social media.

Back-up support for LinkedIn page to Website and Communications Manager.

Attend monthly CEP events.

Attend Board meetings, on request of the Board.

Instigate initiatives through social media for collaboration and increased online organizational awareness

Work closely with other Management Team members to ensure duties and responsibilities are fulfilled.
Time Requirement:
1 – 1.5 hours/week for social media updates plus 3 hours/month for attendance at CEP monthly event.
Orientation and Training:
Current knowledge of social media and/or use of Twitter, Facebook and Instagram is preferred.
Support from the CEP Management Team and Communications Manager.
CEP Team:
The successful applicant will work most directly with the other Events Manager and Chapter Lead. The CEP Board is also available for overall guidance and governance.
Benefits to Volunteer:
The volunteer will be able to connect with a wide network or environmental professionals and leaders, work with a dynamic and interdisciplinary team of volunteers, and strengthen his/her social media skills.
How to apply:
Email your resume and a short motivation with the subject line "Social Media Manager Volunteer Position" to:
Please indicate you saw this posting at GoodWork.ca.