NATURAL HEALTH APPRENTICES
Positions: Apprentices and Work Exchange Students
Company: Anarres Natural Health Apothecary
Location: Toronto, Ontario
WANTED NOW: People who want to Apprentice or exchange work for workshops! Interns welcome.
POSITIONS available:
1. WORK EXCHANGE
OFFICE SET UP & FILING Any Day: 4 hours or more
SOCIAL MEDIA MARKETING. Any Day: 4 hours per week
POSTERING. Any Day: 4 hours per month
INVENTORY Any Day: 4 hours or more
STORAGE & SHELVING PROJECT Any Day: 4 hours or more
2. APPRENTICESHIPS
Apprentices will take a 4-hour shift per week and contribute 2+ hours a month in Community Outreach.
Earn your Aromatherapy Certification tuition-FREE by committing 4 hours per week in the store. *In-store days are Tuesday, Wednesday, Thursday, Friday or Saturday from 11:30 am to 7:30 pm with two 15 minute and one 30 minute self-regulated breaks per 8-hour shift. Apprentices typically work an 11:30 to 3:30 or a 3:30 to 7:30 pm shift in which you can take a 15-minute break at a good time. You'll start by cleaning and packaging natural ingredients (we all do this) and learn by doing, listening in and later joining in on serving customers and creating custom orders. You'll sign up for workshops FREE and help out by setting up, helping out during the workshops, or clearing up afterwards.
I, Tracey TieF, offer a unique style of hands-on learning that blends scientific with traditional healing expertise. My students call me a mentor, "funny", "riveting" and "unforgettable".
PLEASE EMAIL THE APPLICATION THINGS I ASK FOR BELOW BUT READ THE PAGE FIRST! Your incomplete application WILL BE IGNORED on principle. Please do not telephone, email or text me about the info I have given below, and kindly follow the instructions.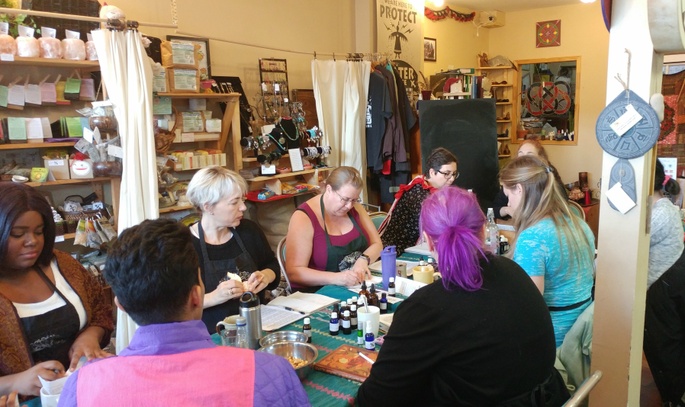 Current ongoing learning opportunities:
APPRENTICESHIP:
Want to learn how to make all sorts of lotions, potions and creams at a professional level?
Want to make a career or living from making and selling natural handmade local and fairly traded body care products?
If you are motivated and want a hands-on, personalized education, let's talk.
Apprenticeship:
Is a contract with me for at least 1 year.
Includes participation and certificates in all introductory and professional level workshops, which are offered several times per month year-round. Value up to $1000 plus HST/month
Includes custom one-to-one product development sessions as needed. Value $240 plus HST per month
Includes an apothecary style business experience, where you learn about sales, inventory, customizing, tincturing, stocking, labelling, packaging, research, ordering, cash-flow etc by working in the store and kitchen/lab.
Starts with mundane tasks like opening & closing routines,
WHAT I OFFER YOU AS AN APPRENTICE
As an Apprentice, you pay no tuition or materials fees.
I offer you pre-registered spots in all of the workshops I teach at Anarres and elsewhere, at no cost to you.
I offer you the opportunity to host and therefore attend workshops held here, but instructed by others. You must apply for this opportunity and I will select among interested apprentices.
You will receive certificates for workshops and modules completed, ultimately leading to Aromatherapy Certification through Preventative Health Services Group, where you will qualify for insurance as a practitioner anywhere in Canada.
I will give you written and/or verbal references that are honest, thorough, appropriate, and quite likely enthusiastic, as you need them, until the day I die.
I will mentor you and help you achieve your socially responsible dreams and goals to the best of my ability.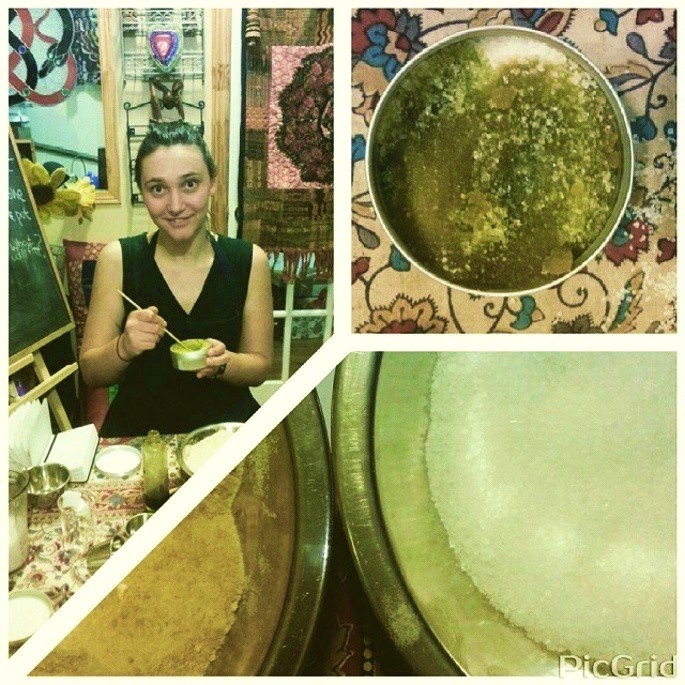 To apply for Apprenticeship, WWOOFing or Work Exchange, please:
1. Complete the Application Form here
https://forms.gle/9NX8z5gVjVsvPsjy5
2. Send by email a recent 4 x 6 photo.
Once I receive your Application and emailed photo, I will contact you to book you for a tour of Anarres Apothecary, mutual interview and Orientation session (@2 hours).
PLEASE SUBMIT YOUR APPLICATION AND PHOTO THE SAME DAY.
I consider Apprenticeships as learning partnerships that are mutually beneficial. As an Apprentice, I expect you to be keen to learn, reliable, and serious about carrying on this work. You can expect from me a comprehensive education in the natural, ethical, traditional medicine that I practice, attention to your learning goals, and investment in your skills and product/business development.
For WORK Exchange, please go to learn more here http://www.anarreshealth.ca/content/apprenticeship-and-work-exchange-application
Please indicate you saw this posting at GoodWork.ca.