WORK-TRADE / BARTER
Wanted: Singles, couples or family to build a cabin that will be your home for at least two years
Type: volunteer/work-trade with accom., more (see below)
Company: MareGold
Location: Victoria Beach, Annapolis Royal / Bay of Fundy, Nova Scotia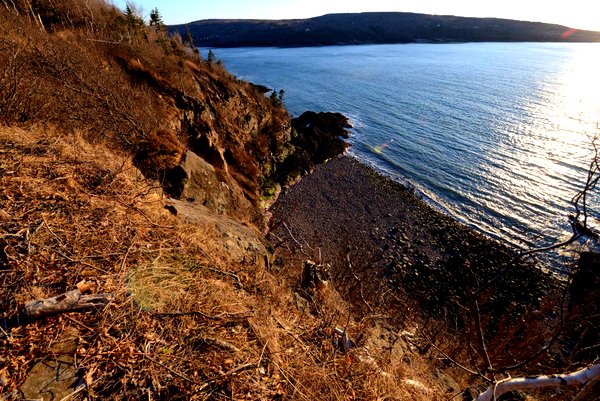 Nova Scotia Dreaming.
Rare opportunity to live by the ocean in nature. Free.
The location:
Are you a creative builder interested in using reclaimed materials? Do you want to build structures with your mark on it? Do you love to garden and be in nature?
We are building a retreat centre on the ocean in Nova Scotia and are at the very starting point. We will be developing a stimulating variety of settings: from an oceanfront of private coves, cobbled beaches and waterfalls – to an old-growth beech forest. The work will be creative and diverse building cabins, gardens, hot tubs, lookout towers and trails. Each structure will be individually designed to align with the natural environment, whether situated on a cliff to take advantage of the ocean view or nestled in a wilderness sanctuary. In addition to the wilderness and field cabins, there will be a gypsy-style caravan, as well as luxury shelters and walled tents. There is also an old farmhouse that we are restoring. In addition to building, the gardening and landscaping are central to our project with large vegetable gardens, herbal fields, ponds and an earth-sheltered greenhouse. All this needs to be planned and developed and plants need to be loved.cliffside
The opportunity:
Come be part of this new creation. We are looking for people with the right energy who want to be part of something beautiful. Singles, couples or family are welcome who would like to work and live on this site. We will provide you with all materials and property for you to build a cabin that will be your home for at least two years. After that time a lease is negotiated. You will assist with building the property including gardening, building and even planning events.
About us:
We are a couple with multicultural background from Canada, Ukraine, the UK, Germany and Italy. We speak English, Russian, Ukrainian and a little German and Italian. Our passion for healthy living is connected closely with nature and the local community. We love meeting like-minded, open, positive and hard-working people from all over the world. Professionally, we are a Medical Herbalist, trained in London, UK and a documentary filmmaker, who produced films about Canadian history.
Something to mention:
Our goal is to build a unique space for people to develop themselves through connection with nature, spirituality and education. We have started with ourselves and we ask everyone who comes to our place to be conscious and mindful about other people, nature and animals, an environment and your impact of the stay in a new place.
Location:
The property is 28 acres of stunning oceanfront property in the village of Victoria Beach, 30 km from the town of Annapolis Royal, in the southern Annapolis Valley, Nova Scotia, Canada. We are located on the Atlantic Ocean's Bay of Fundy which has the highest tides in the world. You will get a chance to see much wildlife: deer, owls, porcupines, seals and the occasional whale from our clifftop property.
On the weekend you can join us at the farmers market in the historical town of Annapolis Royal. Further afield there is the Kejimkujik National Park and the city of Halifax just a two-hour drive away with its international airport.
This area is a very special region with residents from all over the world who are creative and progressive.
It is all very exciting and fun. Join our team. In addition to the live in opportunity we have volunteer and paid positions available for carpenters, gardeners, artists, designers, labourers, engineers and.
Contact us to start the conversation.
Email:
info

maregold.com*
When applying, please indicate that you saw this posting at GoodWork.ca.
*Email: The e-mail address above has been masked to prevent spam. Please copy the address or type it manually, add the @ sign, remove "mask" and any spaces.