VOLUNTEER POSITIONS
Position: Sea Turtle Conservation Volunteers
Term: minimum 1 week; $40/night covers accom. + three meals per day, training and orientation (see below)
Organization: Tambor Bay Turtles
Location: Costa Rica, Central America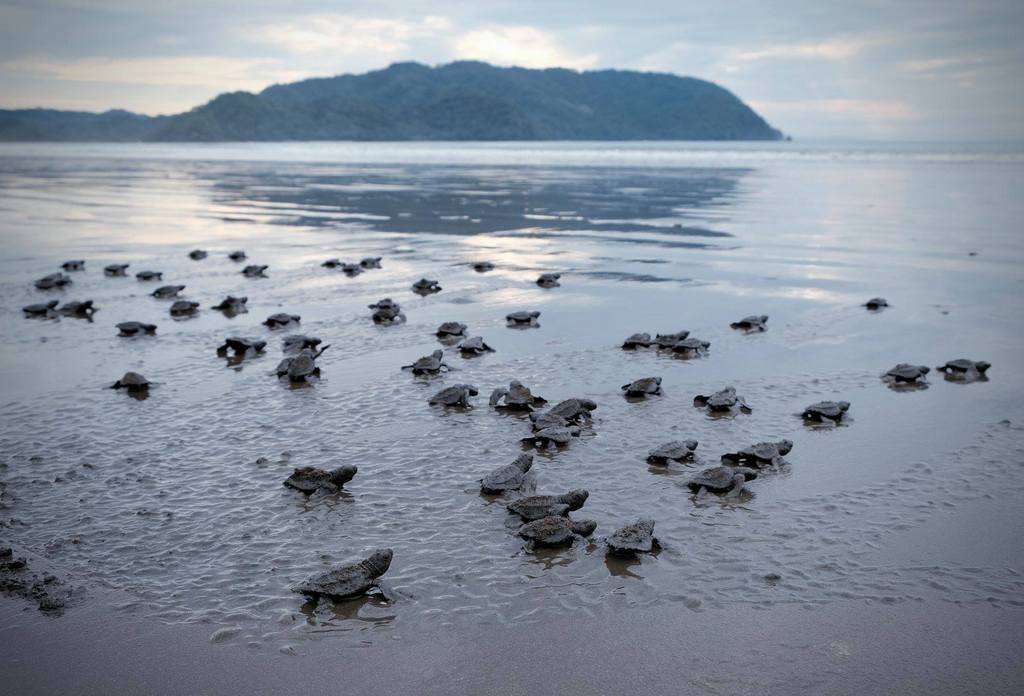 Background info:
Tambor Bay Turtles (TBT) was founded in 2015 as an initiative of a group of people who live here and want to protect the remaining Olive Ridley sea turtle that lay their eggs on the beaches around Tambor Bay.
TBT's mission is to reduce threats to the sea turtles still coming to the beaches of Tambor Bay, so, we will produce enough hatchlings to actually grow the population, so that in 20-25 years, there will once again be enough adult Olive Ridley sea turtles to sustain the local population naturally.
TBT operates under the direction of a qualified biologist, and our project coordinator is a marine biologist with several years of related experience. It operates under a Scientific License and Hatchery Permit issued annually by the government of Costa Rica. TBT enjoys having a very strong support base in the local community. TBT has a very high-quality hatchery facility, one of the finest in Costa Rica.
TBT is also involved in the community here, supporting several related environmentally initiative (such as an annual Tambor Nature Festival, trail development, beach clean-ups, recycling initiatives, etc.). TBT is dedicated to fostering environmental education and to assisting with the development of sustainable ecotourism opportunities.
Location:
The program's sea turtle conservation site is located in Tambor Bay, in the south of the Nicoya Peninsula, Costa Rica. The hatchery where we protect the eggs is in the property of Tambor Tropical hotel, and the volunteer house is in Los Delfines Golf and Country club. This bay receives the Olive Ridley (Lepidochelis olivacea) sea turtles each year, and the area is a pristine and remote wilderness paradise!
Accommodation:
Accommodation is at Los Delfines Golf and Country Club, in Tambor Bay, Nicoya Peninsula. Volunteers stay in a fully equipped house with shared rooms and bathrooms. Wi-Fi, tv, washing machine and ceiling fans are available. We have a swimming pool available. 
The house is just 50m from the beach.
Tours and Free Time:
We know that volunteers come not only to work but also to discover the incredible nature of Costa Rica, and the program offers unforgettable tours and activities. In Tambor Bay you can enjoy kayak tours, boat tours on the bay, horseback riding, bird watching tours…, and volunteers are free to trek around the trails surrounding the site.
Costs:
The cost for volunteering at the program is $40 per night or $35 per night for volunteers staying 2 weeks or more. The cost covers accommodation with three meals per day, training and orientation. It does not cover snack food, or transportation to and from the program upon your arrival or departure.
Arrivals and Departures:
All volunteers must make their own arrangements to arrive to the project, and for training purposes new volunteers are only received on Monday. We will meet at Los Delfines Golf and Country Club on Mondays.
Placements are available: from 27th July 2020 – mid December 2020
Minimum stay: One week.
Duties:
As a volunteer you will take part in various conservation activities, including night and morning patrols, relocating nests, recording scientific data, nest exhumations, liberation of hatchlings, construction activities, beach clean ups, environmental education and ecotourism activities.
Requirements:
We are looking for volunteers aged 18 or over, in good physical condition, with a basic knowledge of Spanish or English. Volunteers need to be friendly, communicative and able to work in extreme weather conditions for 6-8 hours per day.
Volunteers must have their own travel medical insurance policy for the duration of their stay at the program.
How to apply:
In order to participate in our volunteer program, please send an email at least 1 month before the start of your participation.
To find out more about the program keep up to date with the daily progress on our social media pages;
http://www.tamborturtlerescue.org
https://www.facebook.com/Tortugas-Bah%C3%ADa-Tambor-120575518588150/
https://www.instagram.com/tamborbayturtles/
Email: tamborturtlerescue@gmail.com
Please indicate you saw this posting at GoodWork.ca.