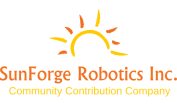 BOARD POSITIONS
Wanted: Board Members 
Type: board of directors, unpaid/volunteer
Organization: Sunforge Robotics Humanities Society
Location: anywhere in Canada
Sunforge Robotics Humanities Society is looking for new Voting Board Members. Your time will be respected, all board business can be done via email and teleconferencing.
We are a Clean Technology Catalyst for developing technology components for small tech companies providing resources and training initiatives. In return we receive hands-on traing from our tech partners for the successful participants and utilize the technology developments to offer Clean Tech solutions for under developed and under represented communities.
A basic knowledge of non profit societes is appreciated but not required. An agreement that any resignation will be delayed until a replacement board member is found is mandatory.
Sunforge Robotics Humanities Society looks forward to hearing from you. Please contact: 
sunforgeroboticshumanities@gmail.com
James Hong
Founder / Chairman
Sunforge Robotics Humanities Society
- a non profit company -
Please indicate you saw this posting at GoodWork.ca.