BOARD POSITIONS
Role: Board members
Type: board of directors (unpaid/ volunteer)
Organization: HUB Cycling
Location: Metro Vancouver, BC
Term: 2 years, roughly Sept - Sept. A portion of the Directors are elected each alternating year.
Composition: 13 Directors, elected by members at AGM
Executive Officers: President, Vice-President, Secretary, Treasurer, Members at Large
Oversee specific areas of the organization via work on Board Committees (Regional Advisory; Operations; Board Development), and support local committees that deal with issues specific to each Metro Vancouver municipality by attending different local committee meetings from time to time. All Directors are actively involved in at least one Board Committee; attendance at two is encouraged to cover Board duties. Board Meetings are chaired by the President or VP in case of the President's absence.
Collective Board Skills Required:
Finance, fundraising, operations management, business skills, non-profit/charity governance, IT governance, organizational development, legal, knowledge of the cycling community, cycling advocacy, leading change, marketing, communications, member/stakeholder engagement, human resource management.
Skills & Experience Sought for 2022 Board:
The HUB Cycling Board of Directors welcomes anyone to apply for the board of directors. We are particularly looking for people with the following skills and experiences:
previous board experience
fundraising
human resources
legal
accounting/financial reporting
data governance
marketing/marketing research
cycling advocacy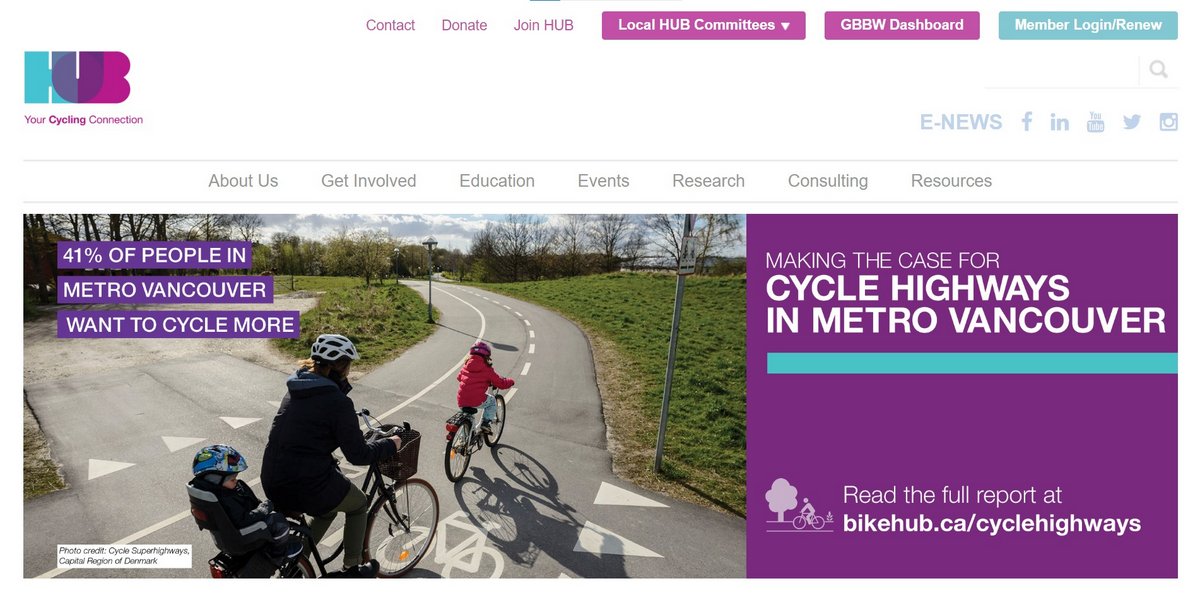 Recommended Candidates:
To help drive business success in this rapidly changing, digital world, we need guidance from capable experts and passionate people who share HUB's values – people who collectively have the desired criteria based on the Board's required skills in the coming years. These needs are determined by an assessment of the current Board composite.
In keeping with the organization's bylaws, the Board must indicate to members which election candidates most closely fulfill the Board's identified needs.
The Board will be able to indicate to members the candidates who would be best equipped to contribute to the overall composition and abilities of the Board most effectively. Members, however, will be able to choose between all eligible candidates on the ballot.
Diversity and Inclusion:
We particularly encourage candidates from Metro Vancouver municipalities outside Vancouver itself - although Vancouver candidates are also welcome.
We strive to further diversify the Board through a wide range of ethnicities, ages, genders, and backgrounds. HUB Cycling is committed to creating a welcoming, inclusive organization and to working with people and communities to support them to thrive and prosper. Diversity is integral to this commitment. Diversity among our members, volunteers, staff and Board of Directors allows us to better understand, connect to, and respond to the needs of HUB members and communities.
Please learn more about HUB's Diversity Policy: bikehub.ca/diversity
Regular Board Meetings:
2nd Wednesday of each month, 6:30-9:00 pm. Please ensure you are generally available to meet at this time in person or via teleconferencing.
Location: HUB Cycling, 312 Main Street (2nd floor), Vancouver BC V6A 2T2
Time Commitment:
Board Directors spend a minimum of 10 hours per month on HUB Cycling work, including:
preparation for and attending Board meetings
corresponding by email and voting in electronic motions
fulfilling Action Items from Board meetings, and taking an active role in at least one Board Committee
Committees generally meet on a monthly basis. During Bike to Work Week and other events, Board members may participate in additional events. Depending on the individual level of involvement and commitment, this time may increase. It is also recommended that Board Directors visit (or regularly attend) a Local Advocacy Committee meeting in their municipality and/or adjoining municipalities.
Roles and Responsibilities of the Board:
The HUB Board of Directors is a Working Board and a Governance/ Policy Board. In addition to setting policies and approving the annual budget, the Board sets short- and long-term goals for the Society, guides the Society's programs and services, ensures funding is secured, oversees the Society's human resources through the placement and overview of the Executive Director, and directs communications with external stakeholders.
Responsibilities of the Board Jointly:
Represents, and is responsible to, the community
Provides leadership by setting goals, objectives, and priorities for the Society
Establishes and oversees the policies of the Society
Follows the Constitution and By-laws which govern the Society's organization and activities
Ensures the Society has the funds and facilities to operate
Ensures the Society is operating according to the Society Act
Informs the community about the Society and our work
Advocates for the needs of our constituents
Works with other societies, agencies, and services
Responsibilities of Individual Board Members:
Attend all Board meetings in person or by teleconference
Phone or email if you must be late or absent
Take an active part in Board and Society activities
Participate in Committee work
Respect the confidentiality of sensitive information
Review reports and minutes and be prepared to discuss them
Share responsibility for all projects undertaken by the Board on behalf of the Society (fundraising, special events, etc.)
Recruit Board and Committee members
Actively represent HUB in the community as ambassadors
Make a charitable donation to HUB (according to own ability)
Commit and be accountable to playing a role in new fundraising activities (e.g. make introductions, open doors, enlist new donors, etc)
Learn as much as possible about: HUB, cycling issues in Metro Vancouver, and other related agencies and organizations in the community
Board of Directors' Liability:
A Board of Directors is the legal entity for a non-profit organization. Board members are legally responsible for the activities of the Board. HUB maintains a comprehensive insurance policy with a $5 million limit for commercial general liability (including directors) and a $2 million limit for other director liability. For more general information, one resource is the Volunteer Canada paper entitled Directors' Liability: A Discussion Paper on Legal Liability, Risk Management and the Role Of Directors in Non-Profit Organizations
To learn more or Apply:
https://bikehub.ca/about-us/annual-general-meeting/join-the-board
Please indicate you saw this posting at GoodWork.ca.