SUSTAINABLE FARMING, FOOD JUSTICE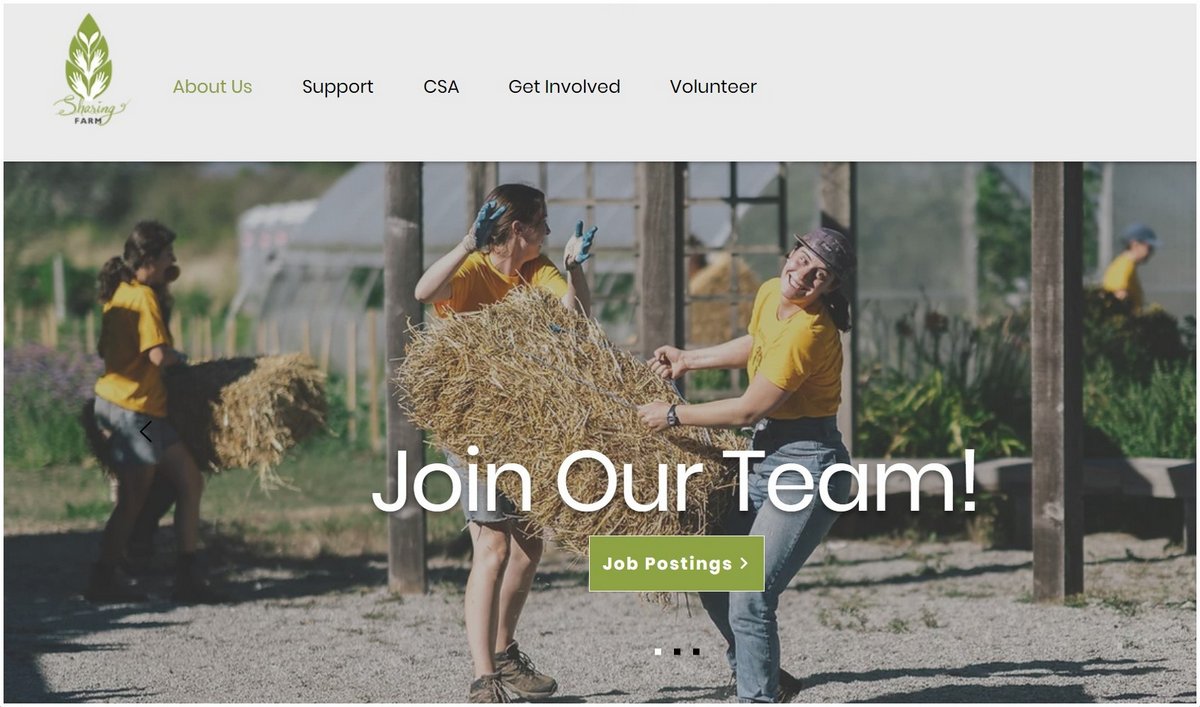 Hiring: Marketing & Volunteer Coordinator
Organization: The Sharing Farm
Location: Richmond, Greater Vancouver BC
This position is being reposted due to incorrect contact information in the earlier posting — please re-apply to: admin@sharingfarm.ca 
The Sharing Farm is an urban community farm combining the practice of sustainable farming set within a framework of food justice and food security in the region. We are a not-for-profit organization that grows produce on donated city lands for the Richmond Food Bank and other community agencies. We also sell our produce via a CSA (community supported agriculture) program, a Farm Stand, an online store, farmers markets and our annual Richmond Garlic Fest.
The Sharing Farm is located on the south bank of the Fraser River, on the unceded territory of the Musqueam people. The four-acre farm is situated within Richmond's Terra Nova Rural Park, located at the west end of Westminster Highway, alongside the West Dyke, in Richmond BC. It is accessible by bus, skytrain, car, or bicycle.
For more information about the Sharing Farm please visit sharingfarm.ca
Primary Duties and Responsibilities:
Lead 2-3 regular drop-in volunteering sessions per week
Lead Corporate Volunteering sessions
Coordinate Volunteers for the Richmond Garlic Festival, our annual fundraiser (August 20)
Participate as needed in running weekly Farm Stand and/ or CSA pick up
Organize volunteer appreciation event in October
Organize two weekend Cobb Oven events
Prepare a snack (salad, crackers, cookies etc.) at the end of two of the weekly volunteer sessions
Clean and maintain farm and community kitchen spaces after volunteer use
Keep records of volunteer hours and corporate group activities; acknowledge volunteers and volunteer groups on social media and through email
Garlic Fest preparation as needed
Post regularly to Instagram and Facebook about farm activities
Occasional administrative tasks as needed
Reports to Executive Director
Qualifications:
Be comfortable working with people from all kinds of backgrounds and abilities
Flexible, patient, able to hustle when necessary, good sense of humor, passionate about growing both food and community
Experience in sustainable farming, gardening or other related work
Willingness to jump in where needed, enjoys a fast-paced environment
Self-motivated, willing to take initiative, work well independently and in a team environment, excellent communication skills
Be physically fit and enjoy working outside in all kinds of weather, ability to multi-task and occasionally lift up to 20 kg
Proven ability in working effectively with volunteers and/or co-workers
Well-organized with good record-keeping skills
Valid driver's license (preferred)
Food Safe certification, (or willingness to acquire Food Safe certification)
Be available on Thursday evenings and Saturdays
The ideal candidate will have a strong interest in food security and sustainable agriculture. There is room to grow in our organization and we are looking for someone who will build this position and return for future seasons.
Compensation: Depending on experience and/or skills, $22-$24 per hour, plus access to Farm produce, and 4% vacation on top of pay.
Schedule: Wednesdays-Saturdays, 20-30 hour work week, averaging 25 hours/ week. (Hours will be fewer at the start of the season, peak in August, and reduce again in fall.) May-October.
Be available for 2 Sunday Cobb Oven events, (June and September, TBC.)
Must be able to work approximately 40 hours the week of Aug 14th, including Aug 19 & 20 (Richmond Garlic Fest).
Application deadline: March 31st, 2023
Please submit resume and a cover letter to:
Leslie Williams, Executive Director
admin@sharingfarm.ca
Please indicate you saw this posting at GoodWork.ca.