SUMMER JOBS
Hiring: Wildlife Rehabilitation Shift Leader
Type: age 30 & under / summer
Organization: Rideau Valley Wildlife Sanctuary
Location: North Gower, near Ottawa ON 
See also: Other positions at RVWS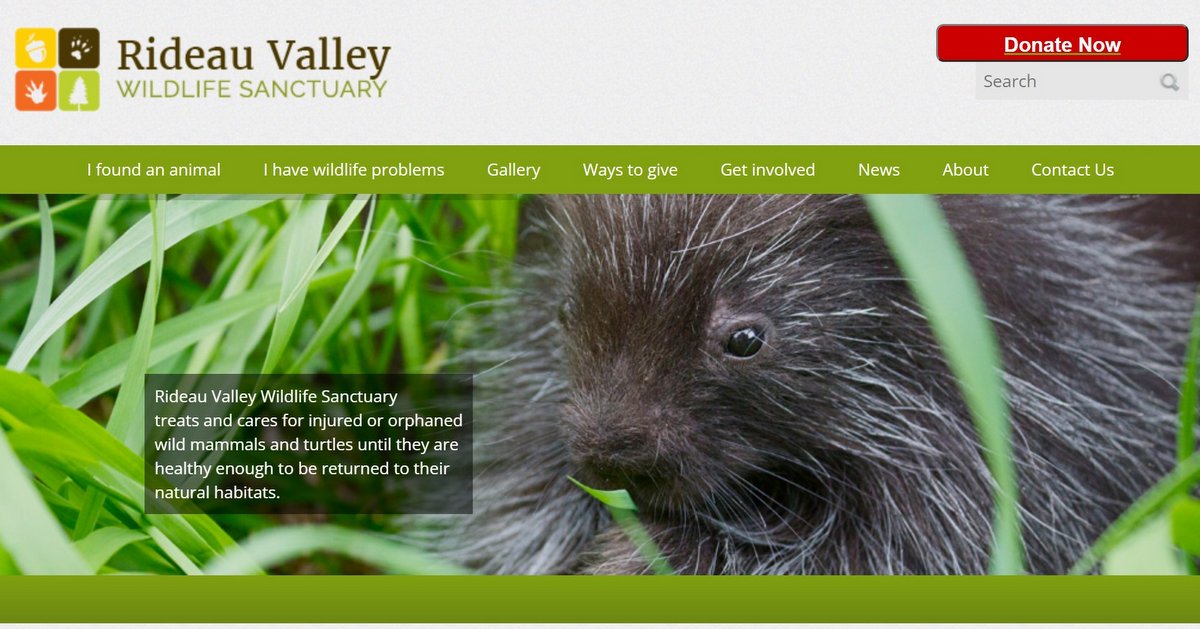 The Rideau Valley Wildlife Sanctuary (RVWS) is a registered charity located in North Gower, Ontario. RVWS rehabilitates about 1,000 injured, sick or orphaned wild mammals and reptiles annually with the goal of returning them to the wild. RVWS also provides advice to the public on co-existing peacefully with wildlife, and preventing and solving wildlife problems.
Job Duties
Leadership
assist with maintaining a positive, healthy and safe work environment
assist with upholding organizational policies, procedures and practices to ensure high quality animal care standards
assist with overseeing wildlife rehabilitation interns and volunteers, and other staff
collaborate and coordinate with other wildlife rehabilitation shift leaders and supervisors
Assist with coordinating wildlife rehabilitation operations
assist with coordinating wildlife rehabilitation operations to ensure that patient welfare meets the highest standards
prepare daily assignments for volunteers
greet, brief and oversee daily interns and volunteers
help train and mentor new volunteers
communicate issues or concerns to supervisors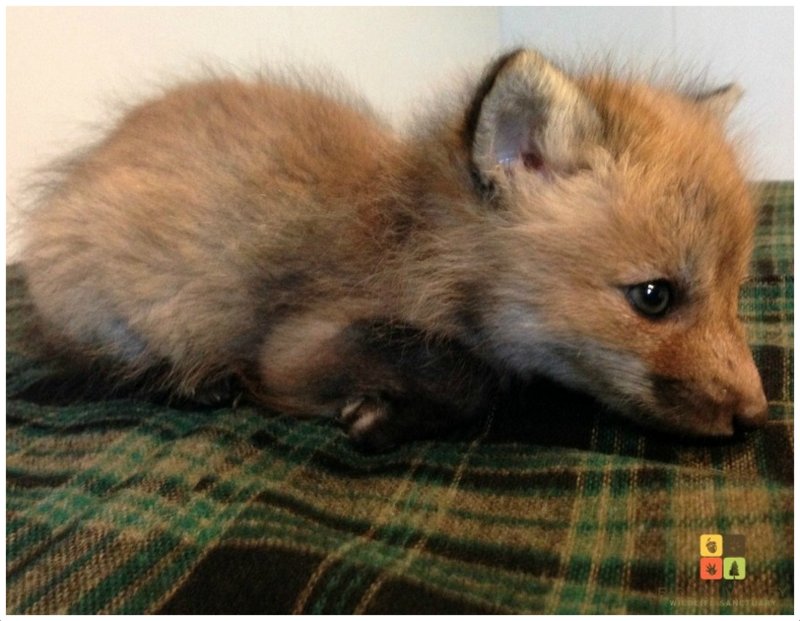 Monitor animal health
monitor animal health
update medical, diet and other treatment plans
ensure treatment plans are being administered properly
respond to animal emergencies
communicate issues or concerns to supervisors
Provide advanced animal care
admit and assess new cases
develop treatment plans for new patients
administer medications and other treatments
attend to sick or priority cases
assist at veterinary appointments
assist in providing animal care and cleaning as required
Monitor clients and inquiries
respond to client and public inquiries as required
maintain records
Other related duties as required
Eligibility
This job is made possible under the Canada Summer Jobs program. To be eligible under the program, youth must:
be between 15 and 30 years of age at the start of the employment;
be a Canadian citizen, permanent resident, or person to whom refugee protection has been conferred under the Immigration and Refugee Protection Act for the duration of the employment; and
have a valid Social Insurance Number at the start of employment and be legally entitled to work in Canada in accordance with relevant provincial or territorial legislation and regulations.
International students are not eligible participants.
Qualifications
at least three months experience in wildlife rehabilitation preferred
reliable transportation to our facility in North Gower (there is no public transit)
proof of Covid vaccination, tetanus vaccination within the last 10 years, and rabies vaccination within the past 2 years or proof of adequate titre levels*
enrollment in a post-secondary institution in veterinary, biology or animal-related studies
previous leadership experience
proven verbal and written English communications skills, including telephone skills
exceptional planning, organization, time management and problem-solving skills
exceptional interpersonal and teamwork skills, and the ability to motivate others
ability to thrive and remain calm in a high-energy, challenging environment
ability to meet physical demands of the job, such as heavy lifting and working outdoors in all kinds of weather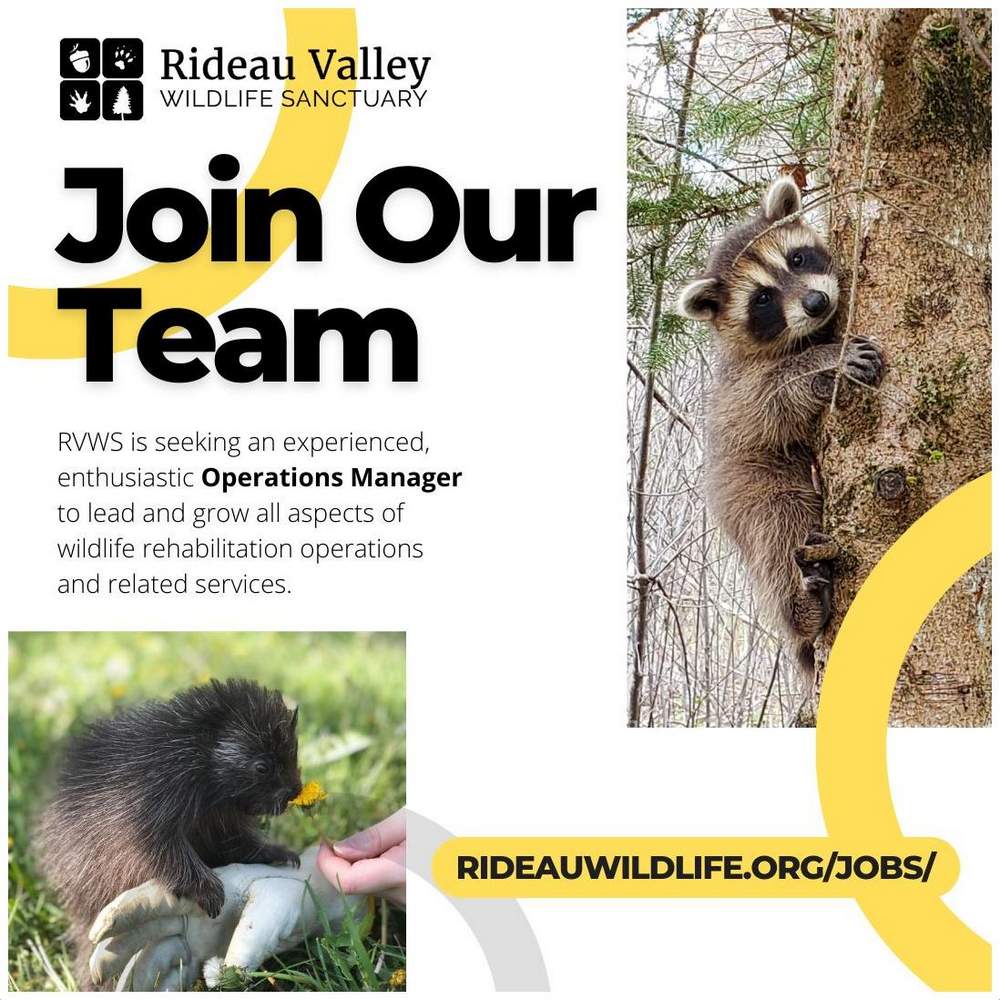 Term and Compensation
This is a 40 hr/wk position to begin as early as April 25 until September 3. Wages are $18.00/hr. Some shift work, weekends and evenings are required. This is an essential on-site position.
A limited number of shared, on-site accommodations are available for out of town applicants.
Application Instructions
To apply, send your resume, cover letter (including your availability and eligibility under the Canada Summer Jobs program), and two references by email to info@rideauwildlife.org . Please indicate you saw this posting at GoodWork.
* Rabies Vaccine Information
The rabies pre-exposure vaccine is a series of three injections given in your arm on days 0, 7 and 21. You are able to start working with rabies-vector species after your 2nd vaccine on day 7. You can obtain a prescription and get your injections from your family doctor, and order the vaccine from any pharmacy. You can also obtain the vaccines from a travel clinic without a doctor's prescription. Most health plans cover such vaccinations. If not, the cost is about $700. To check if your health plan covers the vaccine, you will need the following Drug Identification Numbers: RabAvert – DIN 02267667; Imovax – DIN 01908286. If you have had the rabies vaccine in the past, you need to provide proof of protective titre levels (blood test for levels of antibodies) every two years, which you can obtain from your family doctor.