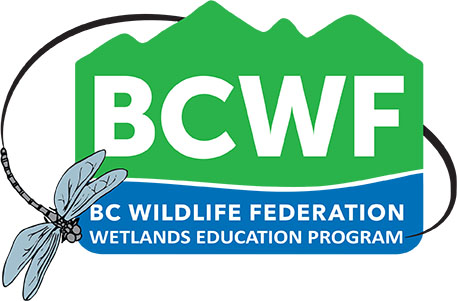 WETLANDS CONSERVATION JOBS
Position: Wetlands Research Coordinator
Organization: BC Wildlife Federation
Location: anywhere in BC
About BCWF and Wetlands Workforce (WW)
The B.C. Wildlife Federation is British Columbia's leading conservation organization. As a province-wide member-driven charitable organization, with over 43,000 members and more than 100 member clubs, our organization represents the interests of all British Columbians who aim to protect, enhance and promote the wise use of the environment for the benefit of present and future generations.
We are pleased to announce this exciting opportunity for you to join the Wetlands Workforce (WW) team and make a BIG impact on watershed and wetland health in B.C. The BCWF, as well as partnering organizations of the Wetlands Workforce, have invested in numerous wetland restoration projects around the Province of BC. BCWF will be deploying field crews who, with some training, will be able to gather data as part of their responsibilities in 2021. This position would both develop an effectiveness monitoring design and oversee the implementation of this study design, in order to provide wetland restoration practitioners around the Province with an opportunity to learn from past restoration projects and develop best management prescriptions for future works or for making improvements to existing restoration sites. The WW Project is supported through the Province of BC's economic stimulus fund to provide temporary employment for a minimum of 100 people. Work pod activities will be supported in part by direct employment as well as multiple sub-contracts provided to partnering conservation organizations across the Province.
The BCWF is hiring several positions for the Wetlands Workforce project. Other positions include:
Field Crew Supervisor
Field Crew Technician
Other positions may also come open throughout early 2021. Interested parties can see all openings at https://bcwf.bc.ca/current-opportunities/.
Please indicate you saw this posting at GoodWork.
Applicants will first be considered for the position for which they have applied. If the applicant's experience is suitable for one of the above roles, they may be invited to interview for this role in addition to or in lieu of the role applied for.
Role Details
Reporting to the Wetlands Workforce Project Manager and the Director of Conservation Stewardship, the Wetlands Research Coordinator will join our headquarters team to implement a wetlands restoration effectiveness monitoring design, refine protocols, and oversee wetland inventory components for the WW project.
This is a full-time, contracted position starting from hiring date and ending December 15, 2021. Evenings, weekends and/or extended hours may be required to accommodate activities and events. At the current time, there is no clear opportunity for extension as this is a one-time fund.
You will be expected to primarily work remotely (e.g., home office), collaborating virtually with a headquarters team, field crews, partners, and First Nations communities. You will be expected to travel around the province during the field season to provide field training and participate in data collection. Applicants living outside of the Lower Mainland, but in British Columbia, will be considered.
Wage Range: $27-33/hour (To be reviewed based on experience)
Core Responsibilities
Develop and implement a wetlands restoration effectiveness monitoring design.
Create a wildlife monitoring design and protocols.
Collaborate with partners to refine study objectives and identify data requirements, where necessary.
Support maintenance tracking systems for maintenance conducted at restoration site throughout the year.
Set up and maintain smart data forms on field tablets through a cloud-based server.
Oversee and support data collation and analysis.
Provide reports and recommendations based on study findings.
Competencies and Skills
Work Experience
Experience coordinating and participating in remote field work.
Experience creating study designs and protocols for ecological data collection.
Experience working with large data sets.
Experience developing protocols for non-experts (e.g., Citizen Base Science) is an asset.
Experience training and mentoring other staff is an asset.
Charity/Non-Profit experience is an asset.
Experience working with First Nations is an asset.
Knowledge, Skills and Abilities
Strong knowledge of wetlands and riparian habitat.
Proficient in Microsoft Office Suite.
Self-starter, well organized, analytical, flexible, and detail-oriented, with the ability to manage multiple priorities and meet tight deadlines.
Strong knowledge in statistics and developing field research protocols that help answer questions.
Demonstrate ability in effective oral and written communications.
Knowledge of smart data platforms (e.g., FileMaker Go, FieldMaps) and data modeling is an asset.
Strong personal alignment with BCWF's mission, goals and values.
Education
Post-secondary degree in a related field of Environment, Ecology, or equivalent training.
How to Apply
To apply, send a combined PDF file including a current resume or CV, cover letter, salary expectation and references to: Jobs@bcwf.bc.ca
Please use subject line: WW Wetlands Research Coordinator Application
Please indicate you saw this posting at GoodWork.
Applications will be reviewed on a rolling basis and accepted until February 26th, 2021. Only applicants who are considered for an interview will be contacted. Due to Covid-19 restrictions, interviews will be conducted over video conferencing.
We kindly ask that applications be sent by email only – no fax, mail or phone calls please.