APPRENTICE POSITION
Position: Vegetable Farm Apprentice
Type: apprentice with room & board, monthly stipend, more (see below)
Farm: Heavenly Roots Farm
Location: Salt Spring Island, British Columbia
About Us.
Heavenly Roots Vegetable Farm seeks a dynamic and fun person to join our Farm Crew for the 2018 season. We are a gentleman and a lady in our early 30's who rent and operate a busy market farm business on three properties across Salt Spring Island; each of the properties has its own specialty.
We attend the Salt Spring Island Saturday Market, and the Tuesday Farmer's Market weekly, in addition to filling small wholesale orders to local retailers. In the beginning of the year we sell seeds through our booth and at a local Seedy Saturday. We're entering our 4th year of vegetable production and look forward to another great season.

We are motivated to farm through a desire to be more self sufficient and to provide a healthy indulgence to our customers. We grow our food organically without the use of inorganic fertilizers or pesticides, using small machines and hand tools. Our residence is located at Haywire Farm on Dukes rd, so often work involves a short commute via car.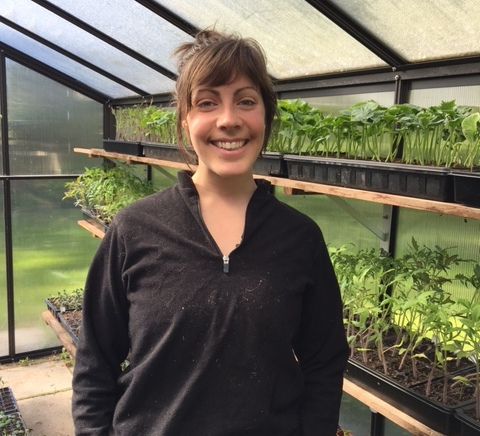 We have 1 dog, 1 cat, and no kids. We are very used to and enjoy living with guests from all walks of life. We also have a roommate, and host international travellers and WWOOF participants, so there will be many people coming and going through the season. We take our work seriously, but we are far from serious. We both love to share great meals with friends and meet new people. Our house is the space where we make our seasons worth of memories, laughs, successes, and friendships. Our house is your house.
About You.
We are seeking someone with a passion for vegetable production who wants a hands-on education. The successful applicant must be enthusiastic, hard-working and a strong communicator. You should be comfortable working at a fast pace in a detailed manner and be able to accept feedback gracefully. The ability to follow oral instructions and to seek clarification when needed is a must. After a few seasons we have adapted well to sharing our knowledge, compliments, and critiques. We are pleasant people, and nothing is ever so serious as to wreck a learning opportunity.
Previous experience farming and gardening is an asset, though we put interest and drive before prior knowledge of farming. We are a relatively new business that is learning all the time, and are happy to share the experiences and challenges we've had with building our business. If you are interested in starting your own farm some day, this would be a great place to learn the ins and outs.

The successful applicant will be supplied with room & board and a stipend of $400/month. The position is active from May-October and work is 8 hrs per day, 4 days/week. You will never be asked to work more than 32 hours per week, but if you choose to, we are grateful for your help. The days you work are fixed, but negotiable for travel or special incidents.

Accommodations are in one of two spare rooms on our property: A private room in the main house, or a private studio above the garage next to the house. You will have full access to the amenities in the main house including: living room, washrooms, laundry, wifi, kitchen, and telephone. Most meals are shared, and many are cooked by us, though sometimes we will be out of the house, or continuing working after you have finished and you will have to cook for yourself while we are away. During the season we cook primarily with farm food and eat mostly lacto-ovo-vegetarian meals. We also eat meat, but not everyday.

Throughout the season you will be involved with a diverse set of farm tasks including:
Preparing potting soil / Seeding / Caring for, potting up and transplanting seedlings / Preparing garden beds / Applying manure, compost and soil amendments / Weeding and thinning crops / Mulching / Harvesting vegetables / Cleaning, trimming, packaging and preparing produce for market
Additionally, according to your interest, you can expect to learn the basics around:
Organic weed and pest management / Crop rotation, planning, and cover cropping / Seed growing, harvesting and cleaning / Display and marketing techniques for vegetables / Business decisions in farming / Sourcing materials / DIY equipment and structures / Financing a new farm business

Be Prepared

Our work is laborious, repetitive and primarily spent outdoors regardless of weather. With this in mind, you should consider yourself physically fit and in good health, with a can-do attitude and mental resolve. You should also be able to tolerate listening to a 34 year old man yammer on for hours about the following things: Disc Golf, CBC Radio Hosts, Customers Vegetable Psychology, Pop Culture, Armchair Philosophy, Modern Hip-Hop, and the Free Will of Plants. There will be a 30 year old woman there to roll eyes with.
Appropriate footwear and clothing are essential to your good experience with us. Do not wear anything that you would be sad to see get dirty or torn, do not sacrifice comfort and ease of movement for style!Closed toed footwear, rubber boots, and a raincoat are especially recommended.
Apply
Application deadline is March 15th 2018
Contact us via email to:
heavenlyrootsfarm

gmail.com*
Or via telephone: 250-930-2580
Thanks for Reading and enjoy your Spring,
Ben and Kaleigh
When applying, please indicate that you saw this posting at GoodWork.ca.
*Email: The e-mail address above has been masked to prevent spam. Please copy the address or type it manually, add the @ sign, remove "mask" and any spaces.

Note: This posting is provided on an "As Is" basis and for general informational purposes only. People and Planet (also known as "GoodWork") is not responsible for the content, accuracy, timeliness, completeness, legality, reliability, quality or suitability of this posting. We do not screen or endorse the organizations or individuals involved. If you decide to accept an offer of employment, volunteering or any other arrangement, you do so at your own risk and it is your responsibility to take all protective measures to guard against injury, abuse, non-payment or any other loss. Please read our full Terms & Conditions.