JOB POSTING
Position: Bike Education Coordinator
Organization: HUB Cycling
Location: Vancouver BC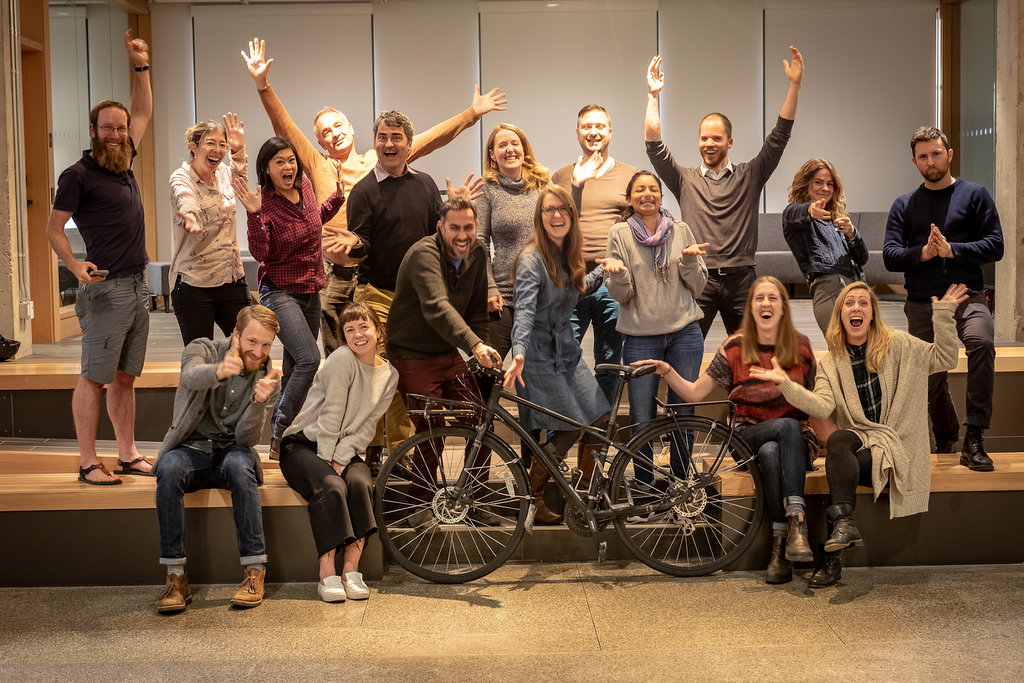 Join Our Amazing Team!
At HUB Cycling our aim is to get more people cycling, more often to create healthier, happier, more connected communities. The Bike Education Coordinator plays a key role in getting more people on bikes in Metro Vancouver through the organization of our education programs for thousands of adults and youth annually.
About HUB Cycling's Bike Education Programs
HUB Cycling delivers bike education programs to thousands of adults and youth across Metro Vancouver each year. Our courses are customized for various ages and skill-levels and are delivered by our team of trained instructors at schools, community centers, libraries and workplaces. Participants build the skills and confidence needed for safe and enjoyable urban cycling, and consistently report cycling more often after taking a course.
HUB Cycling has three primary education programs: Bike to School, courses delivered in elementary and middle schools along with our annual Bike to School Week event; StreetWise public courses covering a range of skill-levels as well as specialized group courses for families and newcomers; and Workplace Cycling Workshops delivered to employees in the workplace.
Position Summary:
We are seeking a highly organized person to join our growing Bike Education team. Under the direct supervision of HUB Cycling's Bike Education Program Manager, the coordinator will be responsible for the scheduling and coordinating of course logistics for programs in collaboration with the existing coordinator. The Bike Education Coordinator will be one of the lead staff personal responsible for communications between HUB Cycling and external community partners, schools and workplaces.
Primary Responsibilities:
Understanding all details of HUB Cycling's Bike Education program delivery, including course delivery, contract targets, and municipal school systems.
Outreaching to school and community contacts to schedule and organize programs including all program logistics, conveying the importance and value of bike education.
Scheduling programs with external / internal communications efficiently, using tools and systems such as WhenIWork, excel spreadsheets, and Google platforms.
Scheduling bike education instructors to deliver programs; ensuring they have all information needed to deliver high quality programming.
Coordinating storage and equipment for programs, including vehicles, bikes, helmets, activity materials, prizes, give-aways, and related items, including fleet maintenance.
Conducting follow-up communications with program contacts and participants to compile and collect feedback.
Coordinating longitudinal outcome surveys for programs as necessary.
Assisting the Program Manager in compiling and analyzing program data, and reporting.
Assisting with social media and website updates as necessary.
Supporting the hiring and training of new Bike Education instructors.
Supporting additional Bike Education program tasks as needed and as agreed upon with the Program Manager.
You are:
Highly organized, detail-oriented, and skilled at working with many moving parts and logistics to run effective and efficient programming.
Friendly, professional and an excellent communicator who enjoys being a central point of contact for internal and external contacts.
Flexible and able to adapt to the peaks and flows of seasonal programs.
Passionate about the role bicycles can play in building happier, healthier and more connected communities.
Required Qualifications:
Believes in the environmental, social, health and community benefits of cycling for transportation, and is able to promote cycling to youth and adults in Metro Vancouver.
Highly organized and detail-oriented.
Strong time-management and program coordination skills.
Exceptional interpersonal skills. Works positively as part of a close-knit team.
Proven verbal and written communication skills, especially via phone and e-mail.
Adaptable to seasonal workflow meeting both peak and slow times.
Confidence and efficiency in using computer programs including Google Suite.
Ability to travel to school sites around Metro Vancouver for program monitoring as needed.
Current criminal record check regarding working with vulnerable populations, or willingness to attain.
Preferred Qualifications:
Knowledgeable about / experienced with public school systems.
Familiarity with conducting program evaluation.
Have own cell phone and home computer for occasional work outside office.
Valid driver's license and eligibility to drive Modo carshare vehicles.
First aid certification.
Experience working in a non-profit organization.
Commitment to and enjoyment of bicycling in the city.
Perks:
Flexible hours
Friendly and supportive co-workers
A great office environment with regular wellness activities (and secure bike parking)
Getting paid to organize bike education programs!
Terms: This is a contract employee position. Anticipated start date is Monday, January 21, 2019 (with some flexibility). Contract to go until July 1, 2019 with the potential for extension.
Weekly hours: 32 hours/week. Note that there may be the opportunity to supplement these hours with cycling instructional hours for those candidates looking for additional weekly hours.
Pay: $20/hour with an additional 4% pay in lieu of vacation.
How To Apply: Please send a cover letter and resume (in one PDF document) to jobs@bikehub.ca with "Bike Education Coordinator Application" as the subject line. Please ensure the file name follows the convention: "BEdC18_Firstname_Lastname.pdf". Include your availability for a 15-30 minute phone interview on January 3rd or January 4th.

Deadline: Sunday, December 30, 2018. We thank all the applicants for your interest. Only those shortlisted will be contacted.
When applying, please indicate that you saw this posting at GoodWork.ca.