TORONTO TEACHING JOBS
Position: Gr. 5 - 8 Literacy/Resource Teacher
School: Tamarack West Outdoor School
Location: Toronto's Bloor West Village, Ontario
Start date: Mon. Aug. 29, 2022
Duration: from the start date through June 223, with possibility for extension
Hours: 3 - 5 days a week, 8:30am - 12:30pm
Wage: $24 / hour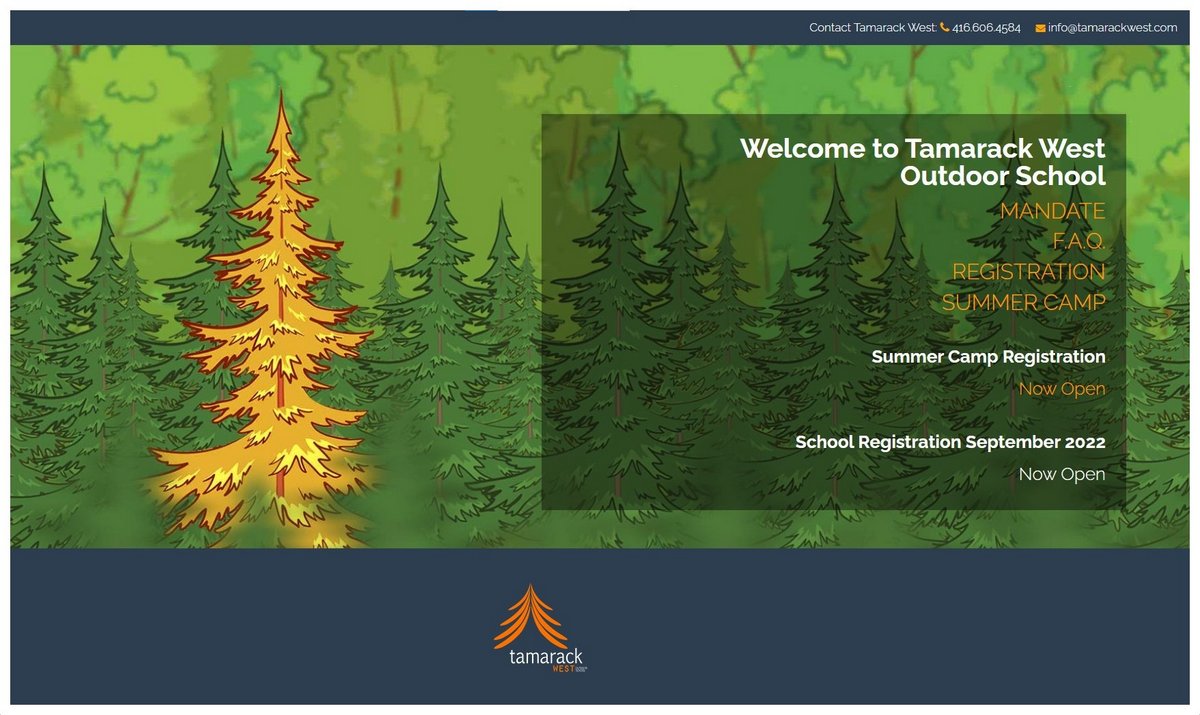 Intent of the Process:
We are looking for one Gr. 5 - 8 Literacy/Resource Teacher to support the homeroom teacher with a small class of approximately 9 students between Grades 5 - 8 for the 2022 - 2023 school year.
About Tamarack West:
Tamarack West Outdoor School is a full-time elementary school JK - 8 and is an accredited member of the Ontario Federation of Independent Schools (OFIS). Tamarack West's mandate is to provide a compassionate, challenging, and inspiring environment where kids feel safe to take risks and explore their potential. We are dedicated to helping develop resilient, confident, and passionate children with inquisitive minds and strong skills.
The school curriculum is guided by the Ontario Ministry of Education, enhanced by student inspirations, and excelled by Ontario Certified Teachers, Early Childhood Educators, mentors, school visitors, community members, and local experts.
Tamarack West recognizes incredible potential through experiential and inquiry-based learning by participating with the community at large.
Summary of Position:
As a Literacy Teacher, the teacher will teach a 45 min literacy period each morning, or two double-periods of Literacy per week (this is up to the teacher to decide and can change week-to-week).
As a Resource Teacher, the same teacher will be responsible for supporting the homeroom teacher with students who have been identified as requiring extra academic support.
The Literacy/Resource Teacher champions a compassionate learning community that celebrates different learners, allowing them to thrive and prosper. The Resource teacher has a strong and practiced background utilizing an inquiry-based, student-centred mentoring approach with students.
Duties and Responsibilities:
Support the classroom teacher by providing extra help to students who have been identified as requiring academic support
Develop and deliver curriculum, lessons, activities, that meets students where they are at and are appropriately challenging
Mentor and guide students throughout the year towards continual improvement and achievement
Assess and document student progress and report on individual student achievement
Collaborate with the homeroom teacher on ways to support the students
Being involved with all the students in the class where necessary (this may look like the homeroom teacher spending time with the students who need extra help, while the Resource Teacher supervises the other students while they work)
Integrate the school's mandate throughout all activities
Facilitate Family-Teacher Meetings (aka Parent Teacher Interviews) with the homeroom teacher where required
Champion a compassionate, positive, safe, and inclusive learning environment for students and all community members
Support families with open, ongoing communication about student progress
Maintain and handle sensitive situations/information with professionalism
Integrate and support student teachers, volunteers, and visitors into the school community
Ensure the safety and well-being of students at all times and abide by all Tamarack policies (including COVID-19 safety protocols)
Attend and participate in staff meetings where required
Attend and participate in staff training where required
Plan and prepare for absences in a timely manner wherever possible, including contacting the homeroom teacher
Perform other duties as assigned.
Qualifications:
A B.Ed or higher and Certificate of Qualification and Registration with the OCT (or equivalent) in good standing
Up to date Vulnerable Sector Screening
Up to date Standard First Aid and CPR-C or higher
The ideal candidate will possess the following:
Proven excellence in classroom management, time management, organizational, and planning skills
Strong communication, teamwork, and instructional skills
Curiosity and willingness to accept new perspectives
Compassion, and a desire to cultivate courage in students and their ability to nurture connection within themselves, with others, and their surroundings
Proven ability to use a wide variety of teaching and assessment strategies to meet the learning needs of all students
Adept at utilizing an interdisciplinary, student-centred, inquiry-based approach
Excellent interpersonal skills and ability to work and plan in close collaboration with colleagues, parents, and students
Excellent oral and written communication skills to handle confidential material and situations with discretion and sensitivity
Highly accountable with strong follow-through on commitments
Proven ability to work in an ever-changing environment (outdoors and indoors) as a supportive team player who is adaptable, able to learn quickly, and think on their feet
A state of health that allows you to safely lead classes over uneven and hilly terrain and under a variety of weather conditions, including winter programming
Models natural curiosity, a love for nature, and an appreciation for being outdoors rain or shine, snow or sleet
Experience as a classroom teacher or similar field (an asset)
Benefits:
Tamarack West Outdoor School offers an exemplary working environment that is exceptionally supportive, positive, inclusive, and compassionate with competitive compensation. This is an excellent entry opportunity towards a full-time teaching position at Tamarack. To qualified staff members, Tamarack offers competitive compensation equivalent to the Ontario Teachers' Pension Plan and health benefits to qualified staff members. We support and encourage ongoing professional development and leadership opportunities.
Application Procedure:
Please submit the following in a single PDF document via email to eileen.tamarackwest@gmail.com
Resume
Cover Letter
Copy of your Certificate of Qualification in good standing (please provide license number if pending)
Practice Teaching Reports (new teachers)
Most recent performance review(s) (experienced teachers)
Names, emails, and phone numbers of three (3) professional references (at least one of which must be a current principal/supervisor, if applicable)
PDF Filename: "Literacy/Resource Teacher: [Your Full Name]"
Email Subject Line: "Literacy/Resource Teacher: [Your Full Name]".
Please indicate you saw this posting at GoodWork.
We thank all candidates for their interest and kindly request no phone calls.
Only those selected for interviews will be contacted.
Tamarack West Outdoor School provides equal opportunity employment and encourages applications from people from diverse professional, cultural and educational backgrounds. Accommodations are available on request for candidates taking part in all aspects of the selection process. Information received will be addressed in confidence.
For further information about Tamarack West Outdoor School, please visit our website for more information at tamarackwest.com