SUSTAINABLE TRAVEL & TOURISM
Hiring: European Specialist Trip Planner
Company: Trufflepig Travel Inc.
Location: Toronto ON / Beaune France / or remote
What is Trufflepig?
Trufflepig is a Trip Planning company based in Toronto. 2024 will be the 20th year since we started. We're really good at what we do, which is to plan and operate complex, imaginative, carefully-orchestrated custom trips in many different countries around the world. Our clients are couples, families and groups of friends, curious about the world and looking for top notch travel experiences. We are known for the depth of our planning expertise, our attention to detail, and our highly personal customer-service.
Beyond our HQ in Toronto, we have a second office in Burgundy (France) and a number of home offices spread around the globe. Trufflepig currently employs approximately 35 full-time staff who work in a distributed fashion across those different locations. We operate in English.
Our Team Structure
The core of our team is made up of our Trip Planners, who are destination specialists, and whom we (and others) consider to be the best in the business. They are a varied and unique bunch of characters with personality to spare, all with years of different experience in their destinations, and all experts at planning travel. But they also excel at dealing with our clients who are smart, demanding, curious, and well-informed, and who expect the best at every turn.
Those planners are assisted by a team of dedicated Planning and Operations Coordinators who help them run the trips with precision. The Planners and Coordinators work in tight teams, and the Coordinator's role is to handle the operational aspects of trip planning, delivery and support. A Management Team oversees Finance, HR, Operations, Marketing and strategy.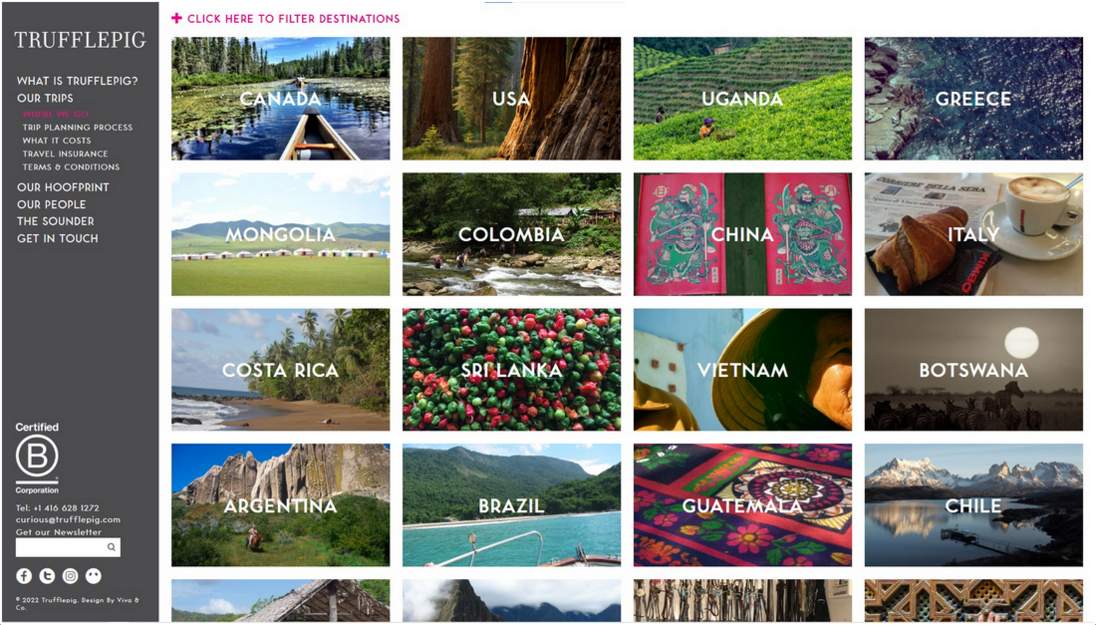 What Positions Are Open?
We intend to add three new Planners to our Trip-Planning Team:
Two European Specialist Planners, with previous experience designing and operating travel in Europe.
One Group Trips and Special Departures Planner, with previous experience designing and operating group trips and/or fixed departure trips.
Both positions are full-time positions.
The Planner role at Trufflepig is a complex role. The role is outward facing and suits someone who will enjoy the challenges of engaging directly and personally with our clients, learning how to listen to them, and to communicate with great clarity. Trip design requires both regional expertise and credibilty, with a focus on story-telling and the ability to share enthusiasm in writing and in speech. Working within a team requires precision, organisation and communication skills. Delivering unique customised trips requires an ability to problem solve, and to function well in unexpected situations. And finally the fit with our company values and ethos is important, to get the most out of working with an engaged team who are geographically spread out but who form a strong working community.
If wrangling the ingredients can sometimes be mundane, the end result is anything but. It matters to us that the people who travel with Trufflepig have the time of their lives. To do this job well, you need to care about the trips and about the people involved. At Trufflepig our aim is to establish not just transactional but long-standing relationships with both our clients and our suppliers, and that is a key part of how we try to show respect for the places in which we work.
What Does The Job Entail?
The essence of both positions described in this posting is the same. In short you'll be planning trips, and that means talking to each client, listening intensely, developing trip ideas with them, working those ideas up into fully detailed trip itineraries, and then operating the resulting trips flawlessly. All along, the relationship with the client is what makes or breaks the success of the trip, and so your ability to listen and understand is your first tool. Our clients demand real answers to difficult questions, extremely high quality work, and smart service.
The European Planners will be working primarily on custom trips for private clients visiting Europe, in a process closely resembling that described above. Our Europe trips make up roughly half of our business, and you'll be joining a team of 10 dedicated Europe planners who are all country specific.
The Group Trips and Special Departures Planner will help us with trips run through partners; with fixed departure trips which our clients can join; and with one-off departures and other unique trips. The process of engagement and of trip delivery may differ from case to case.
In both roles, you'll need to learn Trufflepig's internal processes and systems, and you'll be supported by our operations team and by our management, so that you benefit from our experience. We work closely together and these are not positions for a lone wolf.
On any given day, you might be doing the following:
Engaging with clients in person, by email and on the phone, to discuss their travel requests, present ideas, go over detailed itineraries, and prepare them for their trip.
Preparing carefully written trip ideas, itineraries or final documents.
Working with our operations team and using our Trip Planning tools to set-up, book and fine-tune the arrangements on individual trips.
Working with your planning colleagues on trips which cover multiple destinations.
Doing on-the-road research: visiting hotels, meeting people, digging into old or new regions and places, gathering contacts and knowledge to enable you to plan trips.
Engaging with existing suppliers and contacts to develop new ideas for trips, visits or activities.
Writing for our online magazine.
Updating our written materials or photo library.
Reviewing your completed trips and performance with your manager and looking for ways to improve.
Managing a heavy work-load and learning how to prioritise your precious time.
Position Details
There is no minimum education level required; this position is open to candidates of all ages. Previous work experience in travel may be considered a bonus but is not strictly required.
Based in our Toronto office, our Beaune office, or working remotely.
Reporting to the company Managing Directors
Salary range $60-90K per annum dependent on professional experience
4 weeks paid vacation
Generous benefits package
Start date December '23, flexible for the ideal candidate
How should you apply?
Please do NOT email us your resumé. We will not accept applications received by email.
Please use the following link to submit your application: https://forms.gle/bnskssU9w561XoGY9
This form enables us to perform 'blind' reviews of applications in round 1.
Successful applicants will be asked to submit a resumé and invited for interview.
Trufflepig Employment Statement
Please indicate you saw this posting at GoodWork.