EMPLOIS MONTREAL JOBS
Position: Greenhouse Supervisor
Company: Lufa Farms
Location: Montréal, Quebec
The Greenhouse Supervisor is responsible for the smooth and efficient day-to-day operation of the greenhouse. The Supervisor participates in the hiring, coaching, and evaluation of greenhouse staff, schedules work in the team's calendars based on operational needs, works alongside the team to ensure work is done, maintains high safety standards in the greenhouse, and schedules maintenance and repairs. The Supervisor also monitors all greenhouse activities to ensure the health of the plants and quality of the harvest is optimized. We welcome candidates with great supervisory experience to apply, even if they've never worked in a greenhouse! We can teach you that part.
Requirements:
At least 2 years experience managing a team;
An excellent coach and communicator;
Must be physically and mentally able to maintain cruising speed during 8 hours of physical labour in a hot and humid environment;
Capable walking, bending, lifting for extended periods;
Organized;
Must own a car and have a valid driver's licence.
Assets:
Experience with greenhouse labour.
Schedule:
Typical schedule is Monday to Friday from 7:00 am to 4:00 pm, 45 hours/week;
Please note that the schedule is subject to change, due to season, plant health, and crop changes.
Compensation & benefits:
Salary to be determined based on experience and knowledge of the candidate.
You'll be eligible to participate in the firm's health insurance, dental and disability programs after completion of the probationary period (paid 50% by the employee and 50% by Lufa Farms);
Access to TELUS Health Virtual Care (direct contact to health professionals by phone, video, or chat) and the Employee and Family Assistance Program (professional, short-term counselling, covering a broad range of interpersonal issues);
Discount on your Lufa Farms basket.
When you apply, be sure to include:
Name of the position you're applying for;
Attach your CV (no longer than one page unless you have a compelling reason);
Let us know what you're looking for in terms of compensation.
APPLY
Apply: Lufa Careers | Greenhouse Supervisor, Montreal
Please indicate you saw this posting at GoodWork.
---
About Lufa
Our mission is to create a better food system. Every day, we deliver directly to our customers (a.k.a. Lufavores) thousands of food baskets filled with our rooftop-grown veggies. We meet this daily challenge with a vision: to create a better food system, encompassing our rooftop farms and local agriculture in all shapes and sizes. This means farming on rooftops in cities, partnering up with local farmers and food makers, and creating a community of pick-up points to deliver all this food as directly as possible.
Our rooftop farms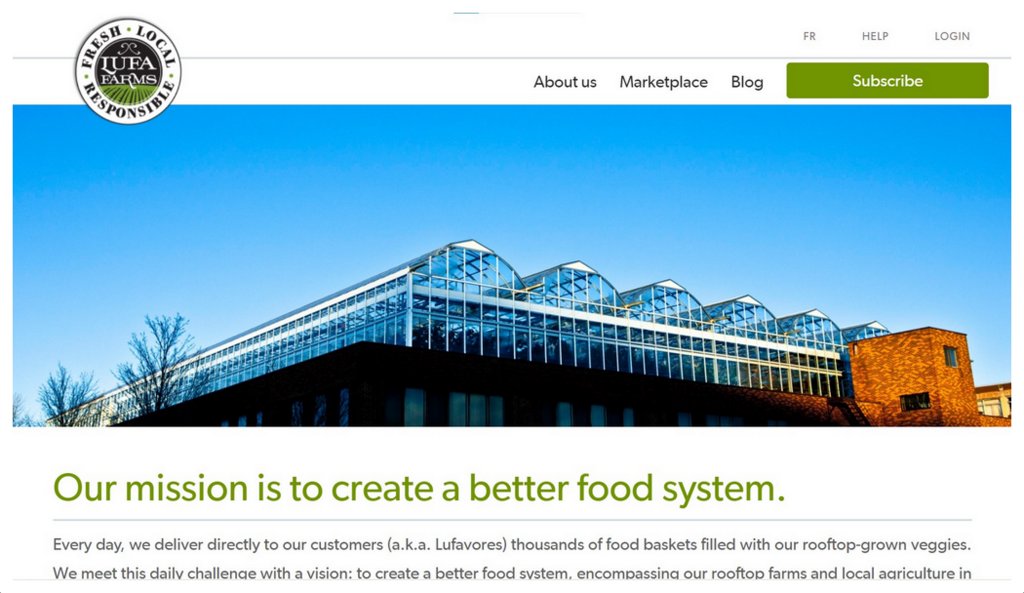 We built the world's first commercial rooftop greenhouse on an industrial building in Montreal, Quebec, to prove that high-yield, year-round farming is a smarter, more sustainable, and commercially viable way to feed cities. Since then, we've built new and bigger and better rooftop greenhouses, to grow more and more vegetables.
More... montreal.lufa.com/en/about