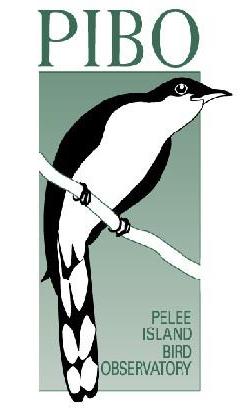 SUMMER JOBS
Position: Avian Field Assistant 
Type: student or youth position
Elig.: age 30 & under, post-secondary student or recent graduate (see below)
Organization: Pelee Island Bird Observatory
Location: Pelee Island, Ontario (with free housing, see below)
Anticipated start date: May 6, 2019
Anticipated end date: August 19 2019
Hourly wage: $14.00/30 hours a week
Job Description: PIBO's Field Assistant (FA) will carry out constant-effort mist netting and bird banding every morning during their stay on Pelee Island. Depending on experience, the FA will help conduct the daily census, extract birds from nets and band the birds, serve as data scribe, and other duties associated with PIBO's migration-monitoring program.
The student will also be responsible for helping with the daily chores at the PIBO cottage: cooking, cleaning, dishes, shopping, taking out compost, driving trash to the landfill, etc.
Perks/Conditions: Candidate will be provided with free housing but food and transportation to and from the island are the responsibility of the student. Candidates should bring their own field gear — rubber boots, mosquito hats/shirts and clothing for warm and cold weather, etc. Although this position starts in May, it can still be quite chilly on the island in the spring. Driver's license is not essential but helpful. Must be okay with snakes, spiders, variable weather and biting insects. Must be an early riser! Work starts almost every day before dawn. Must be mature and dependable. Most afternoons will be free time apart from data entry and station upkeep.
Qualifications/Requirements:
The Field Assistant will have some songbird banding and extraction experience, ideally, and be familiar with birds of the Great Lakes region.
The Field Assistant will assist with welcoming visitors at the banding station, data entry and proofing, and be familiar with at least excel data entry.
Assist with the upkeep of the PIBO staff cottage and field station, help with shopping, cleaning, etc.
Assist with PIBO island education programs and events – banding demonstrations, annual picnic, etc.
This position is contingent upon funding from Canada Summer Jobs. We are looking for a post-secondary student or recent graduate in the fields of biology, zoology or ornithology. Applicants must be between the ages of 15-30 at the start of employment. Must be a Canadian citizen or permanent resident and legally entitled to work in Ontario.
Please send cover letter and resume to info@pibo.ca by April 6th 2019
When applying, please indicate that you saw this posting at GoodWork.ca.