SOLAR ENERGY JOBS / TELESALES
Positions: Solar Sales Consultant | Sales Representative | Account Executive (Work from Home)
Company: EnergyPal
Location: work From Home, anywhere in Canada

Industry: Solar, Renewable Energy, Clean Energy, Home Batteries, Green
Products: Solar Panels & Batteries for Homeowners
Markets: USA and Canada
Compensation: Performance Based, Uncapped.
EnergyPal is growing!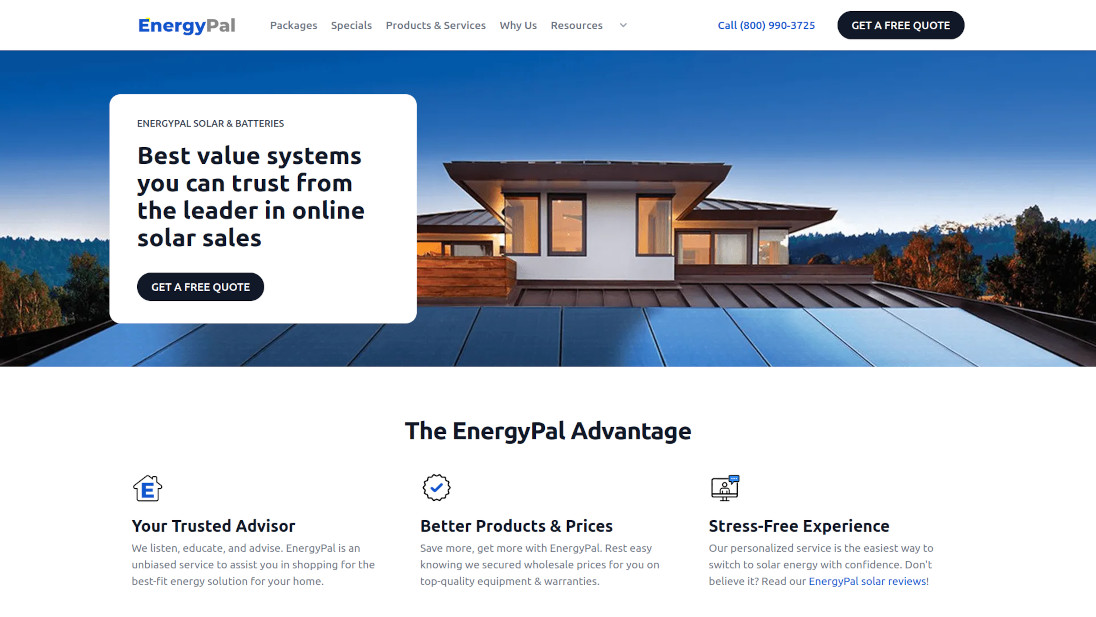 We're on a mission to power North America with 100% renewable energy. We help thousands of homeowners switch to clean power every year. Our team has designed and built the first ever propriety Cleantech Recommendation System™ that simplifies the process of going solar. Think of us like Netflix Recommendations for solar – helping customers cut through the complex decision making process by serving them the perfect deal on solar at Costco-like pricing. The leadership team has over 25 years' experience building solar, sales, finance & technology companies from scratch and take an active role in your success.
Credible Brands choose EnergyPal!
We are proud to be partnered with industry leaders such as National Geographic, David Suzuki Foundation and Mike Holmes (#1 trusted home contractor of HDTV), to promote the adoption of clean energy across Canada & USA. We provide our sales personnel with high-quality brand trusted inbound leads.
We are building a better future!
You will be helping homeowners join the clean energy movement and benefit from producing clean, solar energy from their roof. Solar panels eliminate the pain of rising home energy bills, reduce our carbon footprint and increase the value of the property. We have secured group discounts on solar & battery packages to ensure customers see real economic value from solar.
We are looking for the brightest and best solar sales representatives to take advantage of our platform and grow with us. We support all of our Solar Sales Consultants with:
Customized online sales software to maximize efficiency and performance
Full calendar of pre-qualified online consultations with interested solar customers
High quality solar & battery products at amazing pricing to beat the competition and deliver value to customers
Real-time training, support and collaboration
Day to Day Expectations:
Working remotely from your home, your day will consist of phone conversations with potential customers, delivering online solar consultations, helping to objectively compare options, and closing digital solar contracts. Your sales opportunities will come from inbound warm transfers of live customers, pre-set appointments, and generating referrals from your happy customer base.
If you know you have what it takes, start by applying. Applicants will be sent a short PerfectJob test by email to check your remote office setup. Then the recruiting team will contact qualified candidates for interviews.
Requirements
Top performer in sales, telesales
Excellent communicator on the phone & by email
Highly proficient with computers, CRM systems
High speed internet, quiet remote working environment
Determination to become top earner
Motivation to connect with dozens of homeowners by phone/email/sms each day
Capability of explaining basic financial concepts
Interest in clean energy, solar, helping customers go green and save.
Benefits
Health Plan
Work from Home
Work from anywhere in Canada, must be authoriozed to work in Canada.
How to apply:
https://energypal.zohorecruit.com/jobs/Careers/606090000002298086/Solar-Sales-Representative-for-EnergyPal?source=GoodWork
Click on the I'm Interested section and follow the instructions, including taking the short assessment.
Please indicate you saw this posting at GoodWork.ca.