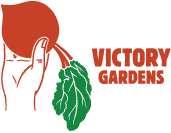 GARDENING, LANDSCAPING & FARMING JOBS
Position: Seasonal Food Grower, Educator, Landscaper
Organization: Victory Gardens Co-op
Location: Vancouver, BC
Victory Gardens needs your help! We are looking for fellow plant and food comrades to join our team and help people design, build and maintain productive, sustainable and beneficial landscapes. In addition, we're excited to connect with folks inspired to share knowledge with individuals and organizations to become more self-sufficient.
Are you a person who is committed to creating a positive impact towards a more sustainable food system? Are you driven to provide an opportunity for people to connect to their food source in a fun and accessible way? Do you want to work in an environment that is meaningful and innovative? We feel you! By joining the team at VG, you'll not only be playing an active role in making Vancouver more healthy and sustainable, you'll have the opportunity to work with a dynamic and driven team while getting hands-on experience with a growing social enterprise in an environment that is team-focused, supportive and spreads a positive message!
The Position
We're looking for stellar folks to build, maintain and educate in edible, productive and beneficial gardens in Vancouver, BC. You will have the opportunity to build organic vegetable gardens in all kinds of spaces, maintain ecological landscapes and grow food in our region. Not to mention you'll get to work outside all summer long! Who needs the gym?
About Victory Gardens:
WE HELP YOU GROW FOOD: We build. We teach. We grow.
Victory Gardens is a Vancouver based worker cooperative founded in 2012 that is motivated to transform landscapes to become productive, beneficial and beautiful. Our model removes the barriers to all types of production, such as: Annual vegetable, perennial fruit and berry, pollinator, native and xeriscaped gardens and ensures the gardens thrive through education and maintenance. All garden activities are organic and are intentionally focused on ensuring continuity with existing landscapes and adding to local biodiversity.
Responsibilities:
Ecological Landscaping:
Expert Food Grower:
Garden Installation:
Assist with the delivery/pick-up of all inputs necessary for installations
Provide manual labour to move a variety of materials including: Wood, garden beds, rock, soil
Ensure tools and supplies are organized
Ensure job sites are tidy through-out installation
Building Garden Infrastructure:
Operational Duties Including:
Potentially taking inventory at headquarters
Restocking and tidying at headquarters
Watering the greenhouse
What We're Looking For::
Exceptional attitude and interest in working alone and with a team
Enjoys working outdoors (and has good rain gear!)
Physically capable and okay with regular heavy lifting
Self-starter attitude and exceptional time management skills
Flexibility and openness to adapt to an ever-changing schedule
Professional and reliable
Experience growing food in an urban or rural environment
Some landscaping experience (lawn maintenance not required)
Comfortable driving a truck
Terms:
$21/hr to start
February or March (pending weather) start until the season slows between July and September, with possibility of full time hours during busiest periods (32-40 hrs approx)
Longer days are common, with an averaging agreement in place to minimize over-time
Preference to those with flexible working schedules to accommodate for changing workload
Potential for access to benefits after 3 months of full-time employment
Class 5 license is required and a vehicle is an asset
How to Apply:
Submit a resume and cover letter with the subject line: VG Job Application to team(at)victorygardensvancouver.ca . Applications will be reviewed on a rolling basis.
Please indicate you saw this posting at GoodWork.ca.