SOLAR / RENEWABLE ENERGY
Remote Call Center Associate | Lead Qualifier | Solar Energy Customer Service Representative
Job Opening: Solar Lead Qualifier (Work from Home)
Company: EnergyPal
Locations: Work from home in Canada
Industry: Solar Energy Technologies, Renewable Energy
Products: Solar Panels & Battery Storage for Homes
Markets: Canada, USA
Compensation: $17.50 CAD per hour with flexible shift scheduling. Benefit of being able to work from the comfort of your own home!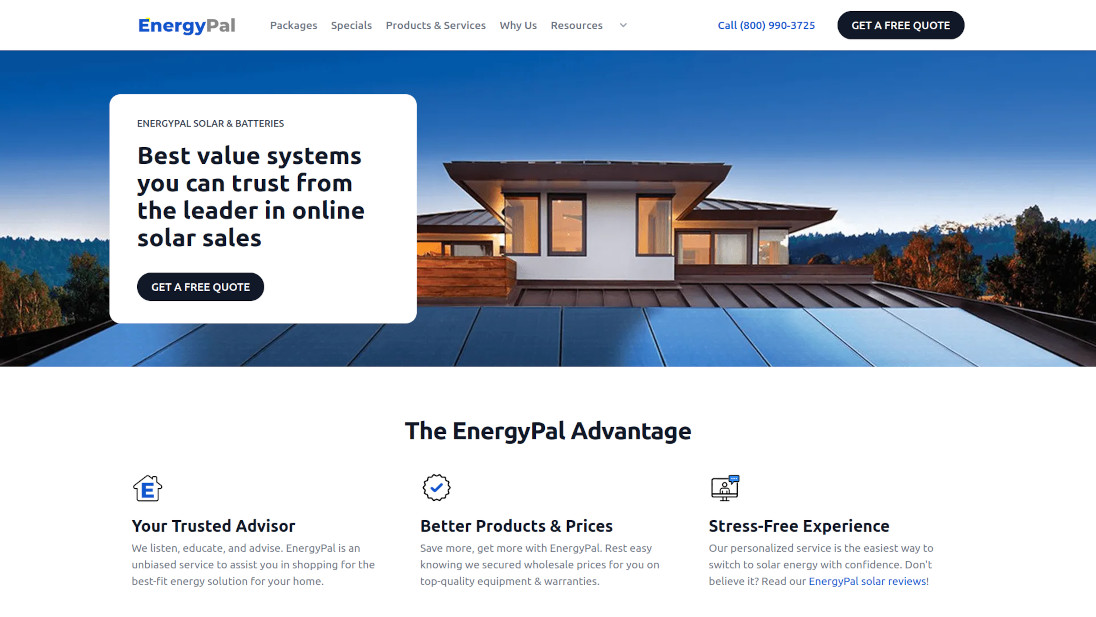 EnergyPal is growing!
We're on a mission to power Earth with 100% renewable energy. EnergyPal has helped over 3,000 homes and businesses switch the clean power in the past few years. Our team has designed and built the first ever propriety Cleantech Recommendation System™ that simplifies the process of going solar. Think of us like Netflix Recommendations for solar – helping customers cut through the complex decision making process by serving them the perfect deal on solar. The leadership team has over 25 years' experience building solar, sales, finance, technology companies from scratch.
Credible Brands choose EnergyPal!
We are proud to be partnered with industry leaders such as National Geographic, David Suzuki Foundation and Mike Holmes (#1 trusted home contractor of HDTV), to promote the adoption of clean energy across Canada & USA. We provide our sales personnel with high-quality brand trusted inbound leads.
We are building a better future!
You will be helping homeowners participate in the Clean Energy Movement, and get rewarded for producing clean, solar energy from their roof. Solar panels eliminate the pain of rising home energy bills, reduce your carbon footprint and increase the value of your property. We have secured various financing, leasing, owning packages to ensure customers see real economic value from solar.
We are actively seeking talented, motivated and smart call center experienced candidates to help us continue bringing the best solar deals and exceptional customer service to North America. As a Call Qualifier, you will help educate & qualify warm leads for solar options.
We will provide you with all the training and support required to succeed at your career:
Extensive EnergyPal University Training in Solar Energy, Lead Qualification, and Customer Service. You will start with a comprehensive 1-week training program, followed by weekly training and coaching from your direct Manager.
Leads from Credible Sources with an interest in learning about solar energy and home improvement. No cold calling required!
Access to our Proprietary software platform to improve your efficiency and help you achieve greater results.
Duties and Responsibilities
Daily activities include handling inbound leads, educating customers on solar energy benefits, answering FAQ's, collecting and analyzing project information such as utility bills, energy usage and roof orientation.
We are in growth mode to support our expansion into new markets, and we're looking for experienced call center talent to join our growing team.
Qualified applicants please submit your resume and cover letter to start the selection process. You will then receive an email from PerfectJob to take a short test to assess your remote office setup. Qualified applicants will then be contacted for interviews by the EnergyPal recruiting team.
Requirements
Team player willing to work hard for a rewarding career in the booming clean energy/solar industry
2-years call center/customer service experience
Reliable high-speed internet connection, and home computer less than 3 years old.
Self-started, motivated, organized
Strong verbal communication and on-phone etiquette
Proficient computer skills, use of call center or CRM software
College or University educated preferred
APPLY
Apply here: Remote Call Centre Agent | Careers
Please indicate you saw this posting at GoodWork.ca.