REGENERATIVE FARMING
Hiring: Regenerative Farming Apprentice/Associate
Farm: Empress Acres farm; P&M Lewis Enterprises Inc
Location: Cedar, near Nanaimo BC / Vancouver Island
Housing: see below
Farm operations, setting, what we produce, sales channels, equipment
Empress Acres farm is a 69 acre farm in Cedar on Vancouver Island. We produce vegetables, strawberries and flowers on a 6 acre fenced field, pastured chicken eggs, and pasture-raised meat chickens, turkeys and pork on a 15 acre field. In the fall we'll be planting garlic on 2-3 acres of farmland that is currently being improved by the pastured pigs. We are also growing 10 acres of Empress trees as a source of sustainable lumber and carbon-drawn-down on the same field that is housing the pastured poultry. We sell our farm products through an on-site farm store at the entrance to the farm, at 2 local Farmers Markets, to local food industry businesses such as organic grocers, picklers, restaurants, chefs and orders through social media. We also rent the farm venue as a wedding and event venue for up to 10 events per year in the warmer months. This year we'll be having a Grillmaster corporate event, a 50th wedding anniversary celebration and a few weddings here.
We use a 47 HP Kubota tractor with various attachment (tiller, plough, sub-soiler, box cutter, field cutter, rake, bucket, seeder, fork lift), quad and trailer, a Husquavarna riding mower and wagon and a manual tiller. We're currently building a walk-in cooler and veggie wash station housed in a building.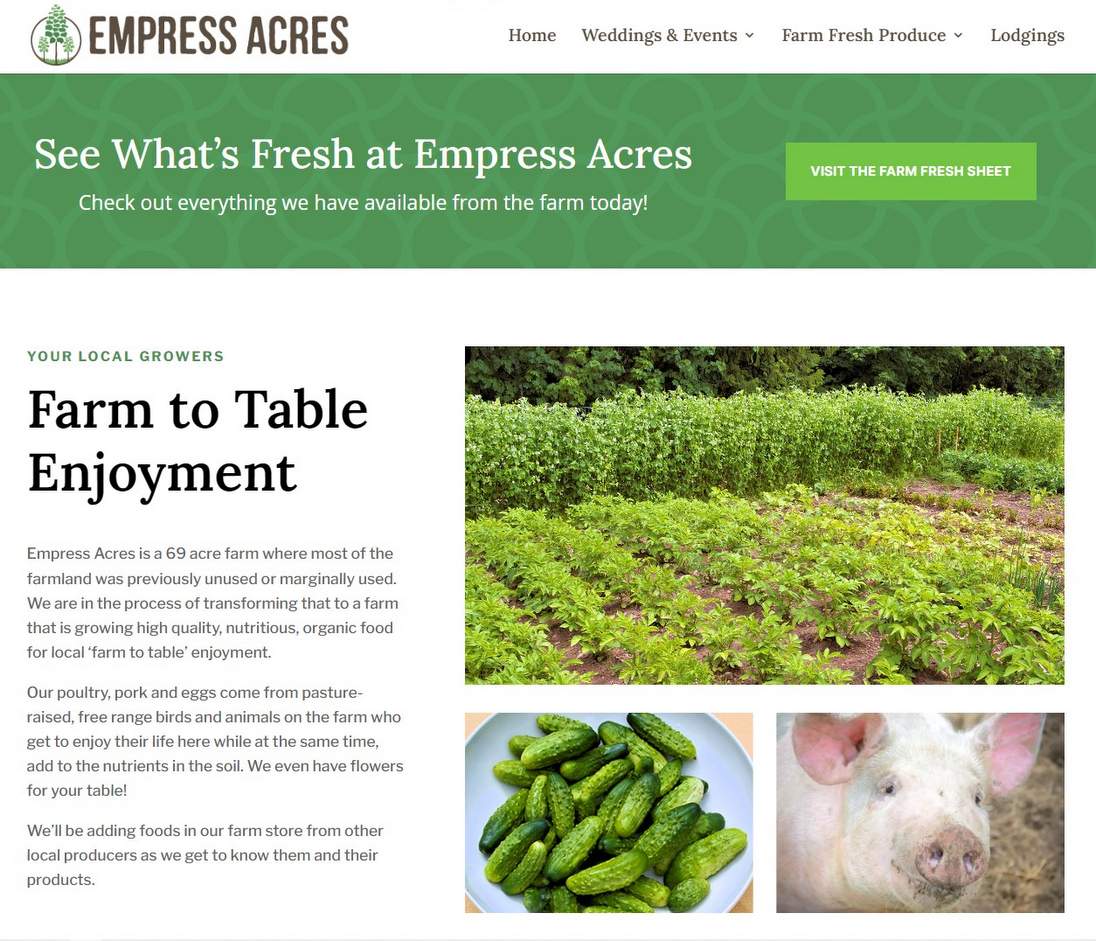 The farm operations are directed and overseen by a highly skilled farm manager with 10 years of experience with farming produce, birds and hogs.
Vision, values
Only about 4% of the food eaten on Vancouver Island is grown or raised on the Island. There are 62 acres of marginally used or unused farmland on this farm. Our vision is to have all of that land producing healthy and nutritious food for local consumption. We are in year 2 of a 5 year farming plan to expand land use, improve soil fertility through organic, regenerative farming practices, enhance carbon draw-down through agro-forestry and produce organic crops, eggs and meat for local consumption, reducing the consumption of fossil fuels to transport food products, reducing transportation and storage times and improving food flavour and nutrition. We have applied for organic certification and expect to have that in place by spring 2024.
Qualities of employee
We are looking for someone who is passionate about farming using regenerative farming methods to improve the soil and environment overall and enjoys the poly-culture farming done here. The successful candidate can work outside in all kinds of weather conditions and has the physical health to carry out the farming tasks. The successful candidate wants to learn, attends to the big picture and the detail, likes working as part of a team, communicates effectively, shows initiative, is organized, safety-conscious, manages time to complete a task and enjoys the challenge of resolving challenges. Farming, permaculture and/or horticulture training and experience is an asset.
Job Duties
The employee will be expected to carry out regenerative farming and agro-forestry activities in the following areas as needed with the direction, mentoring and oversight of the farm manger;
bring your particular area of interest and expertise in agriculture to this farm to reduce the environmental footprint of the farm, improve air, land and/or water quality and enhance local food security.
feeding and rotational pasturing of chickens
collecting, washing and packaging of free-range eggs
seeding and planting flower, vegetable, and fruit crops
applying irrigation that makes best use of scarce water resources
weeding
harvesting, washing and packaging of produce
care of U-pick cucumber field, directing U-pick cucumber customers to appropriate areas, and managing cucumber sales to customers
applying procedures and documentation as needed to meet organic certification requirements.
care of approx 600 Empress trees to attain maximum growth; this includes, pruning, irrigating, weeding and mulching around tree base
re-planting native trees where land is most conducive for that purpose
property care to keep the farm looking beautiful for everyone on the farm to enjoy
cover cropping the Empress tree field to improve soil fertility and provide a safe field for the chickens to pasture as well as a beautiful field and vista for events held at the farm.
Start Date and Duration
The start date is April 1 or sooner, 2023. The duration is end-Nov and possibly longer, potentially a permanent position.
Salary and Benefits
Salary is $17 -$20/hr, depending on training and experience plus CPP and EI contributions and vacation benefits.
35 hours/week
Housing
Room and board is not included. Accommodation on the farm might be available in the warm months. Accommodation for the 1st month might be available while the successful candidate looks for and finds accommodation.
Food from the farm that is not suitable for selling will be given to the people working on the farm...it is still amazingly delicious and nutritious!
What to submit
Resume and cover letter; unofficial transcripts of post-secondary education if applicable, to: simonnattrass@gmail.com
Please indicate you saw this posting at GoodWork.ca.