SUSTAINABLE TRANSPORTATION
Position: Program Manager
Organization: pointA
Location: remote/work from home / bonus points for candidates Located in (or able to relocate to) Greater Toronto & Hamilton Area.

# of Positions: 2
Start Date: As soon as possible
Position Type: Full Time (40 hours/week)
Compensation: $50,000 plus comprehensive benefits plan
About Us
pointA (pointa.ca) is a non-profit that envisions sustainable transportation options for everyone. Our goal is to connect people to the places they want to go. We aim to give people and businesses transportation options that benefit the environment, the economy, and the well-being of our communities. In collaboration with our funders, partners, and clients, we facilitate transportation demand management (TDM) programs to reduce the number of single occupancy vehicles on the road and to encourage commuters to try more sustainable modes of transportation such as cycling, walking, and public transportation.
Our core activities include developing, launching, and monitoring TDM programs for medium- to large- sized organizations primarily through the Smart Commute program. We promote a menu of options for commuters, such as transit, ride-matching, shuttle buses, vanpooling, telecommuting, cycling, and walking.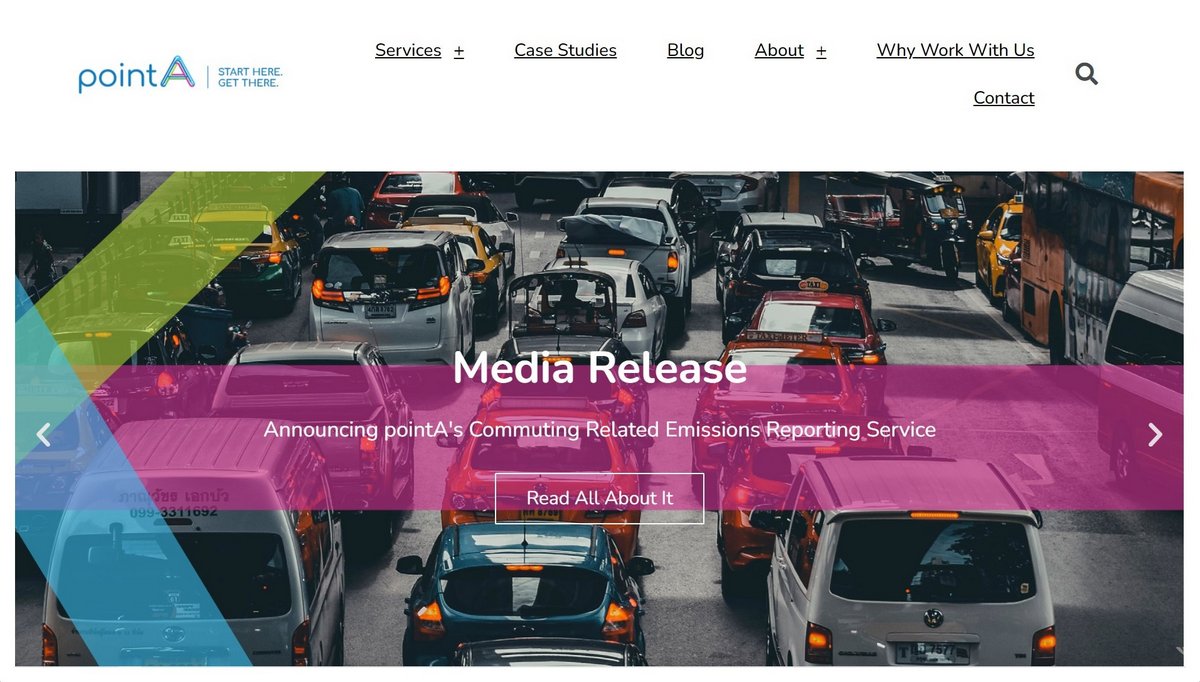 Summary of Position
Reporting to the Senior Program Manager, the Program Manager will be focused on bringing on and onboarding new clients to expand existing pointA programming, particularly the Smart Commute program and also working with existing clients to execute activities and events that encourage employees to commute more sustainably. The Program Manager should have a passion for (and preferably experience in) sustainable transportation from the demand side, as well as have strong project management, collaboration, and client service skills.
You have
At least 2 years of related experience in program and project management within a fast-paced work environment. Sales/client service experience is considered a strong asset.
An undergraduate or graduate degree in urban planning, environmental studies, geography, public policy, business, or a related field, or equivalent experience.
Strong interpersonal and customer/client service skills, including presentation skills. Experience with outreaches and events are an asset.
Strong organizational skills to manage many competing priorities and client demands at one time and capacity to both work independently and demonstrate initiative in a team environment.
Familiarity and interest in sustainable transportation; knowledge of environmental management, urban and regional planning, and transportation demand management issues.
A growth mindset, and a strong passion for making a difference and helping people.
Willingness to travel to client locations (depending on public health measures) locations across Toronto and Vaughan.
Bonus points for
Knowledge and experience in GIS applications, such as ArcGIS.
CAN-BIKE Level 4 or instructor training.
A valid G-class driver's license.
Located in (or able to relocate to) Greater Toronto & Hamilton Area.
You will
Develop and monitor client workplans, contracts, and program and project delivery as part of the Smart Commute and shuttle programs. Program work could entail:

Designing, planning, and delivering outreach activities and events.
Providing commuting advice to employees and members of the public.
Applying individualized and community-based marketing across social media and other platforms in coordination with the pointA marketing and communications team as well as funders and other partners.
Developing and delivering commuter transportation surveys and analyzing data.
Writing reports on results for clients and recommend actions and funders to report on progress.

Integrate pointA's KPIs with data reporting of Smart Commute program, GHG Protocol, and accountability measures.
Liaise with program funders and other program delivery agents to collaborate on the development and delivery of programs, projects, and activities.
Manage staff and volunteers involved in programming and outreach initiatives.
Other duties as assigned.
What we offer
A passionate team environment where innovative thinking and creativity are valued. Our workspace is open and collaborative even while fully remote.
Fully remote work environment with opportunities to work close to your home.
Flexible hours and work arrangements.
Competitive vacation and benefits package.
Application Guidelines
Please submit your cover letter (addressed to Donald Wiedman, Senior Program Manager) and resume in a single PDF by Wednesday, August 17, 2022 at 11:59 PM EDT. Email your package to careers@pointa.ca .
Please indicate you saw this posting at GoodWork.ca.