JOBS & SUMMER JOBS
Work Integrated Learning Placement
Hiring: Garden Assistant and Farm Hand
Eligibility: currently registered post-secondary student (see below)
Organization: Glenora Farm / The Ita Wegman Association of BC
Location: Glenora Farm, near Duncan, Vancouver Island, BC
Accommodation: Private, 10' x 10' timber frame cabin (see below)
Duration: 8 weeks guaranteed. Start and end dates are flexible.
Glenora Farm is a 97-acre mixed organic and Biodynamic farm on mostly sandy loam soils, consisting of 35 acres of pasture and hay fields, a flock of East Friesen dairy sheep, a small herd of Dexter beef cattle, chickens, turkeys and ducks, a 2 acre intensive mixed annual vegetable and perennial garden, two hoop houses, large compost facility, herb garden and greenhouse, and an onsite day program for adults with special needs.
Glenora Farm is owned and operated by the Ita Wegman Association of British Columbia for Curative Education and Social Therapy and is one of two Camphill Communities in Western Canada, where adults with Special Needs (Companions) live, work, and learn together with their caregivers (Coworkers). All Companions develop skills, efficacy, and confidence through empowering day program "workshops" (classes/activities involving farming, life skills, arts, and culture) provided daily Monday – Friday.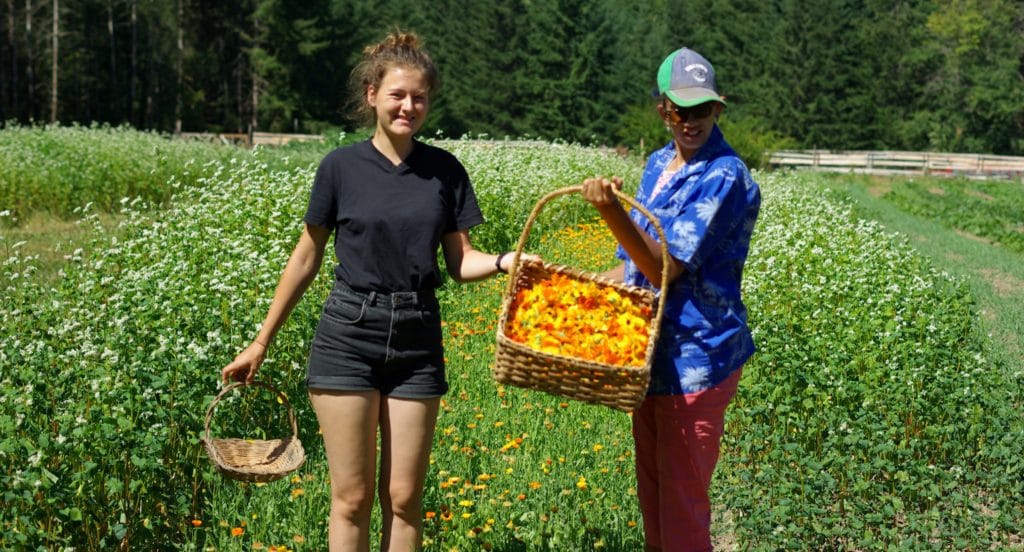 The Farm and Gardens primarily support the food needs of this onsite community of ~50 people. We market our products at the local farmers' market, through a local online farmers' marketing cooperative (Cow-op.ca), and to various local grocery stores, restaurants, and food carts.
The Neighbourhood: We're located on relatively flat land, surrounded by trees, gentle hills, and small acreages. Within walking distance (2km) is a swimming lake (Keating Lake), hiking trails, a trailhead to the Trans Canada trail for endless walking/biking, and a corner store and cafe. In 6km you'll be in downtown Duncan with great food, entertainment, shopping, daily needs such as post office, drug stores, public library etc., and other amenities. All around Duncan are river swimming holes, beaches, trails, wineries, micro breweries, and striking natural beauty. We're 65 km from Victoria to the south, and 57 km to Nanaimo in the North.
This Work-Integrated Learning position is partially funded by the Student Work Placement Program (SWPP) through the Canadian Agricultural Human Resource Council. To be considered for this position, you must be considered an eligible student. Student eligibility is as follows:
Registered as a domestic student in a recognized post-secondary institution in a full-time or part-time program.
Undergraduate, graduate, diploma or certificate programs eligible.
Canadian citizens, permanent residents, or persons to whom refugee protection has been conferred under the Immigration and Refugee Protection Act
Legally entitled to work in Canada in accordance with relevant provincial or territorial legislation and regulations
Undertaking a placement recognized as a Work-Integrated Learning component by the student's institution in connection with a course, degree, certificate, diploma, or other recognized program offered by the institution.
International students are NOT eligible
Duties:
You will work alongside the Herb Garden Workshop Leader, Farm Manager, and a crew of 4-8 people of diverse abilities. Main duties include:
Seeding, transplanting, field prep, amendment application, irrigation set-up, weeding, harvesting and post-harvest processing.
Small equipment and hand tool operation (including use of a walk-behind tractor).
Design/build raised beds, sheds and other projects as needed.
Be part of a large project to transform our medicinal herb garden to be more accessible.
Processing medicinal and culinary herbs and making herbal products, including teas, salves, and tinctures.
Help with daily chores with dairy sheep, cattle and poultry and moving rotational electric fencing.
Compost turning and spreading.
Helping support Companions, Coworkers and Volunteers in their garden and farm work.
Qualifications:
Considered an eligible student (see student eligibility above)
Prior farm, and/ or gardening experience and/or keen interest in farming and medicinal herbs.
Must be physically fit and enjoy outdoor work in all weather conditions.
Basic trades experience is an asset.
Excellent communication and conflict resolution skills.
Ability to balance efficiency and thoroughness in all tasks and to maintain a fast work pace.
Attention to detail, cleanliness, and good aesthetic sense.
Highly self-motivated, positive attitude, adaptable and organized.
Ability to work calmly, prioritize tasks, and complete them under deadlines.
Ability to work well alone and in a team.
Ability to troubleshoot problems with sometimes limited supervision.
Willing and able to work respectfully alongside community members, including adults with special needs and families with children.
Valid Drivers' license an asset.
Must submit to and obtain a clear Criminal Record Check.
Tractor operation skills and experience are an asset but not required.
Terms:
Hours: 7 hours/day plus one-hour unpaid lunch, 5 days/week, includes some "off-hours" work as needed. Possibility of part time. Early mornings may be required. 4% Vacation pay on each biweekly pay cheque.
Term: 35 paid hours/week for 8 weeks guaranteed. Possibility of part time for an extended work contract. Start and end dates are flexible.
Funding: This position is funded in part by the Student Work Placement Program via the Canadian Agricultural Human Resource Council.
Wage: $16.75/hour plus employer-paid contributions (EI, CPP, Work SafeBC BC, 4% bi-weekly vacation pay).
Accommodation: Private, 10' x 10' timber frame cabin on site with electricity, gas cooktop, bar fridge, loft bed, aux. heat. Full kitchen shared with Farm Manager and Garden Manager in a nearby house. Shared bathroom, laundry, kitchen, and WiFi in nearby "Big house". $250/month rent, incl. utilities.
Food: Option to either buy all your own groceries or share food costs and/or cooking with our Farm Manager and Garden Manager. You have access to free garden produce, some farm meat and eggs for purchase, and the other houses on-site will occasionally invite you for meals.
COVID-19: We are a licensed health care facility working with a vulnerable population. You must be willing and able to adhere to all health orders as mandated by the BC Health Authorities and our provincial funder. Full COVID-19 vaccination status is mandatory. While employed by the Ita Wegman Association, the Garden Assistant and Farm Hand will be required to adhere to our organizational Covid Safety Plan. PPE will be available to you on site at no charge.
Other: Bring your own vehicle or share a ride to town with another person from Glenora Farm. Bikes are available for use as well.
Apply
Please send your resume and cover letter to:
ojackson@glenorafarm.org
Please indicate you saw this posting at GoodWork.