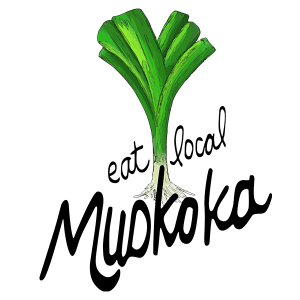 ORGANIC FARMING
Positions: Local Food Box Coordinator and Harvest Helper
Organization: Eat Local Muskoka
Location: Fenelon Falls, Ontario 
Housing/Transportation: We are a 10-20 minute drive from Fenelon Falls and Lindsay, where there are plenty of rental options. On farm accommodation available and can be negotiated.
Eligibility: age 30 & under (see below)
Are you an enthusiastic, physically able person? Do you love good food? Do you care about the environment? Do you like working outside? If so, we are hiring for two positions!
We are seeking 1 full time employee and 1 part time harvest helper to join our team this fall to help with general farm operations. As well the Local Food Box Coordinator will manage our Fall and Early Winter CSA (Community Supported Agriculture) pick-ups, and also to help develop new marketing outlets, with room to grow in 2020.
Eat Local Muskoka is a farmers' co-operative working with eight organic vegetable farmers in Muskoka and Kawartha Lakes. Our goal is to improve our local food system while inspiring our customers to explore the wonders of seasonal produce.
Now in our fourth year of operations, we're looking for staff to assist with growing, harvesting and distributing for our CSA program. Since building relationships with the people we feed is really important to us, most of our produce is sold through our CSA, supplemented by some local farmers market, restaurant & retail sales. We operate our home farm on a beautiful 100 acre off-grid property near Fenelon Falls. Here we have 2 acres of intensive 'Market Garden' vegetable production, and ½ acre of strawberries. We have 2 seedling greenhouses and 1 high tunnel. We work with draft horses and a BCS tractor to compliment the hand tools and physical labour needed to grow high quality, organic produce.
Requirements
Applicants would ideally have at least 1 full season's experience on a vegetable farm, proficient computer skills with excel and google docs, efficient field skills, and great stamina. Previous farm experience is preferred, but we will consider candidates with experience in physical work and logistics management, like tree planting, landscaping, or other complementary skills.
Must have quick hands, positive attitude, strong observation skills and ability to see tasks through start to finish. Experience with market garden tools & BCS tractors are valuable assets. Expect the work to be physically and mentally demanding, with long hours outdoors in all weather. Strong back and knees are essential as the work involves plenty of lifting, bending, crouching and kneeling. Most tasks require quality work at a quick pace, often under pressure.
Responsibilities include:
Planting, weeding, harvesting and washing/packing vegetables
lift and carry 40-50lb bins regularly
Data entry into excel, using formulas and formatting
Co-ordinating weekly mailchimp newsletter and routine communications with members
CSA packing, distribution, and delivery
Hours & Remuneration
40 hr/wk Mon-Fri, typically 7am-4pm. Occasional evening and weekend work for chores and special events.
Full Time Local Food Box Co-ordinator: $18/hr, 4-6 mth contract mid-August or September to December or February, depending on availability
Part Time Harvest Crew: $14/hr, 2 mth contract for 10 - 20 hours per week mid-August to mid-Oct on Mondays, Tuesdays, and Wednesdays.
Extras: 2 off-farm learning days for professional development, and plenty of vegetables for personal consumption. As this is a paid position, we do not offer official education, but on-farm learning is inevitable and we have a network of experienced farmers to learn from. You can learn about best harvest and postharvest handling practices, crop-planning, pest management, fertility and irrigation methods and more. There is an extensive library of books to learn more in the off hours if you choose!
We would like to keep employees on board from year to year, if all parties feel comfortable, our goal is to retain the same people for 2020.
To Apply
Send resume and letter outlining your relevant work and farming experiences, as well as your motivations for working with us to Colin Sober-Williams:
Funding for the full-time Local Food Box Coordinator position is provided in part by Agriculture and Agri-Food Canada. To qualify, an eligible employee must be:
Between the ages of 15 and 30;
A student, unemployed or underemployed
Have not participated in any other Youth Employment Strategy programs (ie. Agricultural Youth Green Jobs Initiative);
And be a Canadian citizen or permanent resident.
Please note that to meet grant timelines, it is preferred that applications are received by August 12th at noon, and we anticipate completing interviews and finding a suitable candidate by August 16th.
Housing/Transportation
Please note: We are a 10-20 minute drive from Fenelon Falls and Lindsay, where there are plenty of rental options. On farm accommodation available and can be negotiated.
Please indicate you saw this posting at GoodWork.ca.