INTERNSHIP POSITION
Position: Organic Farm Interns
Type: full time with room, board, stipend, more (see below)
Organization: Three Oaks Farm
Location: Mt Newton Valley, near Victoria BC (with accom., suitable for one or a couple, see below)
Work Period: March or April till end October 2018 
Work days: Mon-Fri 9-5pm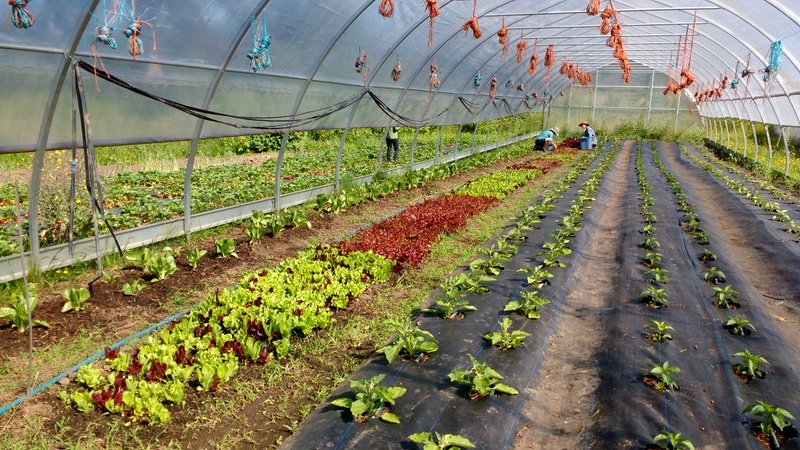 Our 2 acre certified organic farm is part of a 5 acre piece of land in the beautiful Mt Newton Valley, located 30 mins from Victoria and 5 mins from nearby commercial centres. We grow 40 different veggie crops and specialize in Spring and Fall veggie seedlings, salad greens, carrots, tomatoes, eggplant, peppers, strawberries. We sell our produce through a marketing partnership (Saanich Organics) to several restaurants, a CSA box program and 2 vibrant farmer markets in Victoria. Apprentices have opportunity for paid work at one of the markets.
Rachel has 20 yrs experience and is passionate about food security issues and ensuring the farm is financially as well as ecologically sustainable. She takes apprentices' education seriously. Each apprentice will have an area of responsibility and weekly discussions will involve you in planning and troubleshooting. Learn all aspects of market gardening and commercial production; seeding, succession planting, irrigating, weeding, harvesting, packaging, seed saving, planning, record keeping, selling, eating and enjoying. Your days will be full, diverse, and satisfying. We have 4 greenhouses as well as plenty of field crops, and there are goats and chickens on the property. We also have 2 kids, ages 9 and 14. Rachel works closely with other farmers in Saanich Organics and will emphasize the business side of running a farm if apprentices indicate an interest. There will be opportunities to engage with the larger farm community during monthly enrichment workshops offered by participating farms.
The accommodation is suitable for one or a couple. It is a comfortable room in an outbuilding with an outdoor, covered kitchen, cob oven, composting toilet, and you can shower in our house. We either take turns cooking shared lunches in the main house, or we cook our own lunches and eat together; it depends on the will of the group. You will have full access to farm veggies all the time. Full board and a stipend of $400/mo ea is provided.
You may also come on a daily or part time basis if you have your own housing. We are located near the ocean, the hiking trails of John Dean Park, and 10 mins drive from lakes for swimming. Ideal apprentices are physically fit, mentally stable, self motivated, eager to learn and willing to embrace all farm practices. Good communication is a must, as is use of common sense, the confidence to make decisions and a willingness to go above and beyond. Please make contact if you are positive, self-motivated, respectful of others, a hard worker, a non-smoker, and are seriously considering organic agriculture in your future!
Please apply to:
rachel@saanichorganics.com
or phone 250-652-8662. Email preferred.
When applying, please indicate that you saw this posting at GoodWork.ca.