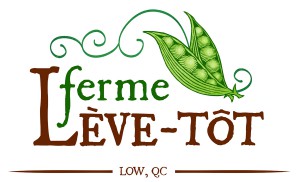 ORGANIC FARMING JOBS
Position: Organic Vegetable Farm Production Assistant
Farm: Ferme Lève-tôt
Location: north of Wakefield, Quebec (near Ottawa-Gatineau)
Ferme Lève-tôt is a certified organic, horse-powered market farm founded in 2010 and located north of Wakefield QC. With 5 acres and 3 greenhouses in production we supply our 120-member CSA and our busy stall at the Wakefield Market. Our small farm is a well organized and respectful place to work, with a reputation for quality produce. We are proud members of CAPÉ and Family Farmers Network.
Job Description:
Field and greenhouse production – soil preparation, seeding, transplanting, pruning, trellising, cultivation, weeding
Harvest and post-harvest– picking, washing, packing, and record keeping
Deliveries and sales – at the CSA drop-off and market stall
Machinery – we have a tractor and BCS rototiller as well as hand tools and horse-drawn equipment. We do not offer formal training with the horses, however there are opportunities to work alongside them throughout the season.
Priorities:

The ideal candidate has an energetic disposition and a positive attitude, is in good physical condition, is bilingual, has completed at least one season on an organic market farm or equivalent, and has the capacity to work quickly and efficiently in all weather conditions. A drivers' license is required.
The work is fast-paced, diverse, dynamic and usually fun. We look forward to sharing our passion about farming with you! Youth eligible for ESDC employment programs and/or Canada Summer Jobs are encouraged to apply.
Salary: $15 and up depending on experience
Hours: Weekdays and some Saturdays, 40h/week
Preference is for a full-time employee but part time hours could be negotiated.
Dates: April 19 to October 29, 2021
Contact:

Richard Williams and Charlotte Scott
fermelevetot@gmail.com
http://www.fermelevetot.ca
Please indicate you saw this posting at GoodWork.ca.