WINNIPEG JOBS
Position: Greenhouse Manager
Organization: Heart Acres Farm
Location: 25 minute from central Winnipeg (carpooling), Manitoba
Housing: affordable rental housing available in Winnipeg
Term: 30-40 hours/week mid April – mid October
Wage: $15/hour
The workers of Heart Acres are what makes our business what it is. We aim to provide quality employment to those who may struggle to find comfortable work environments in small farming because of racism, homophobia, transphobia, for example.
JOB DESCRIPTION
Greenhouse Manager Duties
Starting and transplanting vegetable seedlings in greenhouse.
Keeping track of seeding & transplant schedule.
Managing ecological fertilizing schedule.
Monitoring plant health & recording any relevant information.
Making soil mixes.
Keeping greenhouse organized.
Working alongside & communicating with Field Manager, Operations Manager & Harvest Manager to keep farm operations moving smoothly.
Flexibility with changing priorities throughout the season.
Other Farm Duties
Working alongside other staff for bed prep with broadfork, wheel hoe and other hand tools.
Weeding by hand and with hand tools.
Planting transplants in the garden.
Harvesting, cleaning and sorting veggies.
THE IDEAL CANDIDATE FOR THE JOB IS SOMEONE WHO:
Has prior experience working on a farm, particularly in an ecological/ organic farm operation.
Interested, knowledgeable and passionate about no-till and/or ecological farming.
Self-motivated and able to take charge to get a task done if they see something that needs doing.
Creative problem solver.
Able to perform repetitive tasks.
Physically able to perform tasks including bending, lifting, kneeling, standing.
Able to work in inclement weather & various conditions: very hot, windy, rainy, cold.
Able to follow direction, ask questions, and complete tasks efficiently,
Able to communicate openly and honestly.
Works well with others in a small closed system.
Has a good understanding of farm operations.
Likes working with and is knowledgeable with plants.
Has a valid drivers license & access to a vehicle for commute to farm.
ADDITIONAL THINGS TO NOTE
A successful candidate for this position will mostly work in the greenhouse. This specific position can be tailored to work with folks who have physical limitations.
We do not live on the farm, but rent the land from a family that lives on the farm property. Unfortunately we cannot offer on farm accommodation because of this.
We would love to find someone interested in joining our team at Heart Acres long term. So further career options are always a possibility.
On accessibility: the farm is not wheelchair accessible. We do not have a 4 season indoor space, air conditioning or heat.
TO APPLY
Send your resume and cover letter to:
heartacresfarm@gmail.com
http://www.heartacresfarm.com 
http://www.facebook.com/heartacresfarm 
@heartacresfarm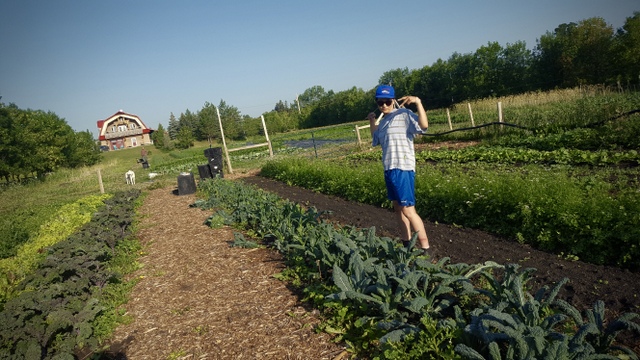 Please indicate you saw this posting at GoodWork.ca.