JOB POSTING / INTERNSHIP
Position: Organic Gardener Intern
Type: paid position with a one month work-exchange training in the beginning, including organic food and accommodations; then paid position to follow (see below)
Organization: Chuckleberry Community Farm
Location: near Nelson, BC
Start Date: August 15th , 2017
We are a community of inspired clear minded individuals creating a relational centered, sustainable lifestyle that we have found naturally catalyzes the evolution of human consciousness. We are enabling the old paradigm to fade away by not fighting against life as it is. We are allowing a practical yet magical nature to guide our way. From our earthy off grid organic farm setting in the Selkirk Mountains we supply the West Kootenays with organic Microgreens. We grow year round in our annualized geo solar greenhouse that is predominantly heated and powered by the sun.
Even though we grow a wide range of nutrient dense organic vegetables and microgreens, our primary crop that brings us the most fulfillment is the evolution of human consciousness. This crop we cultivate daily through our choice of presence with our feelings and perceptions. We are learning to relax into our uncomfortable feelings and own the projections that often stem from these feelings.
We provide healthy lifestyle choices and limit choices that are less supportive to our intention of nourishing the inspired evolution of consciousness. We intend to fully inhabit our lives in all of their beauty and their challenges. We choose not to medicate our uncomfortable feelings but rather to develop our capacities to fully welcome all of the learning that comes through honestly facing all that's inside of us. We cultivate presence, awareness and a sincere interest in our own self-discovery.
We provide a smoke, drug and alcohol free environment.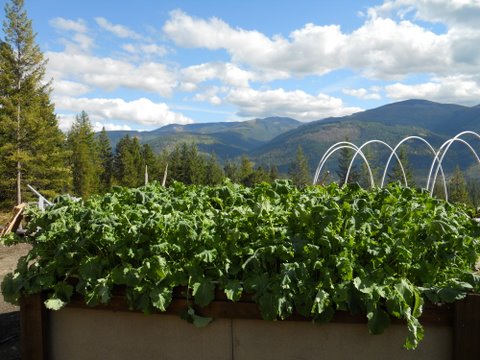 Our lifestyle supports presence with ourselves through practices of Yoga, Pranayama and Meditation, as well as sharing meaningful work together that also creates greater sustainability and food security. We believe that we are rapidly coming into a time on our earth where our capacity for presence with enormous change, as well as the ability to provide for ourselves will be essential.
People come to Chuckleberry not just to learn about sustainability and organic food production. People are encouraged to learn how to relax into all of what they are feeling, and are supported by example and by in-house workshops to embrace uncomfortable feelings and learn through them.
When people come to Chuckleberry they are choosing for the time that they are here to experiment with attending to all of what is inside of them, this means refraining from avoiding or medicating what arises from within. Through this process we have found that people make deeper contact with their own simple, magical nature that guides them.
Chuckleberry Community Farm provides a simple, quality, organic, vegetarian diet, some of which comes from our gardens and greenhouse.
We are located on a pristine 23-acre property in the Selkirk Mountains, 7 miles west of Nelson, in the West Kootenays, British Columbia.
The land is south sloping supporting great organic gardening, orchards and an annualized Geo Solar Building.
We have organic gardens, some of which are 30-inch high-insulated raised beds to preserve our gardener's knees and backs. These beds have hoop houses on them that allow us to garden in unheated greenhouses right through the winter.
We have an 1800 sq ft annualized Geo Solar Greenhouse that is designed to heat itself all winter long from the stored solar gain of the summer season.
This building is designed to be fully off-grid with a 7 kw solar system backed up by a not yet completed methane/propane generator.
Use of Internet and phone is available with some restrictions. Bring your own computer. Free laundry facilities are available.
We are 10 minutes from great beaches on the Kootenay Lake or a 5 minute walk to the base of 40' waterfall.
We are seeking a community minded individual or couple with a sincere interested in personal/spiritual growth and exploring their deeper nature while developing a sustainable lifestyle on an Off-Grid Organic Farm. We require an individual with good communication and relationship skills as well as a natural enjoyment of efficient, productive work that is very physical. A generous amount of experience in Organic Gardening is Required.
Duties would include:
Greenhouse work:
Planting, daily care & harvesting of micro-greens
Maintaining Bokashi compost system
Garden work:
Bed preparations
Composting, weeding, fertilizing
Harvesting
Seed saving
Preserving, drying & canning
Attending local farmers markets with produce
Approximately 30 hours a week of work.
We require a minimum commitment of 1 year. A wage of $10.85/hr. will be paid with organic food & accommodation deducted from each montly payment.
Please email your resume and application, including Interview Questions below to:
chuckleberrycommunity

gmail.com*
Thank you.
Chuckleberry Interview Questions
1. Do you comprehend English sufficiently so that you can follow detailed verbal instructions accurately?
2. What are your three best qualities?
3. What are your three greatest weaknesses?
4. Do you have any physical or mental challenges that we should be aware of?
5. What is your relationship to marijuana, alcohol and drugs?
6. Please let us know what kind of skills you have in the following areas.
Additionally, please rate each area between 1 and 5 indicating your level of skill.
(1 = little experience and 5 = expert skill)
• Greenhouse / garden work?
• Construction / maintenance work?
• Computer / office work?
7. Could you provide us with two references we could reach by phone? *English speaking please.
8. When would be the soonest you would be available to join us and for how long are you free to stay?
Please send a picture of yourself(*) and a phone number that we could reach you at with these questions to:
chuckleberrycommunity

gmail.com*
*We find that from a picture we can often get a real feeling sense of a person that does not necessarily come across in their written words.
Thank you for your time!
When applying, please indicate that you saw this posting at GoodWork.ca.

*Note: The e-mail address above has been masked to help prevent spam. Please copy the address and replace "mask" with @ .
Note: This posting is provided on an "As Is" basis and for general informational purposes only. People and Planet (also known as "GoodWork") is not responsible for the content, accuracy, timeliness, completeness, legality, reliability, quality or suitability of this posting. We do not screen or endorse the organizations or individuals involved. If you decide to accept an offer of employment, volunteering or any other arrangement, you do so at your own risk and it is your responsibility to take all protective measures to guard against injury, abuse, non-payment or any other loss. Please read our full Terms & Conditions.