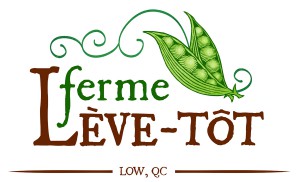 ORGANIC FARMING JOBS
Positions: Farm Assistant
Farm: Ferme Lève-tôt 
Location: Alcove, just north of Wakefield, Quebec & Ottawa-Gatineau
Region: Outaouais, Western Quebec
Ferme Lève-tôt is a certified organic market farm, located north of Wakefield QC (45 minutes from Ottawa/Gatineau). We grow approximately 3 acres of vegetables on our 18-acre farm, supplying a 115-member CSA and our stall at the Wakefield Farmers' Market. Work is carried out by hand, tractor, and with the help of our team of draft horses. 2019 is our 10th year of operation. The work is fast-paced, diverse, dynamic and fun. We look forward to sharing our passion about farming with you! We are an inclusive and respectful workplace.
We are currently hiring 1-2 farm assistants. Our preference is for full-time work however part-time work is an option. On-farm accommodation may be available. Youth eligible for Canada Summer Jobs and/or ESDC employment programs are encouraged to apply.
Salary: $13 and up depending on experience
Hours: Weekdays and some Saturdays, hours according to season, 40h/week
Dates: June – October 2019
Job description:
The farm assistant will work with the farm managers in all aspects of vegetable production and marketing, including:
Harvest, packing and record keeping for CSA and farmer's market.
Greenhouse work: seeding, watering, and maintenance
Field work: weeding, seeding, transplanting, irrigation, cultivation, trellising, etc.
CSA deliveries and farmer's market
Qualifications and assets:
A positive attitude and willingness to learn is a must!
Interest in working on an organic farm
Strength and endurance
Prior work on a farm and/or equivalent outdoor physical work
Experience with tools and building materials
Ability to work well with others and on your own
Bilingualism is an asset
A driver's license is an asset
Contact:
Richard Williams and Charlotte Scott
fermelevetot@gmail.com
Please indicate you saw this posting at GoodWork.ca.