FARMING APPRENTICESHIPS
Position: Organic Farm Apprenticeship
Type: March 15 - Oct 31 with stipend, accom., more (see below)
Organization: Bullock Lake Farm
Location: Salt Spring Island, British Columbia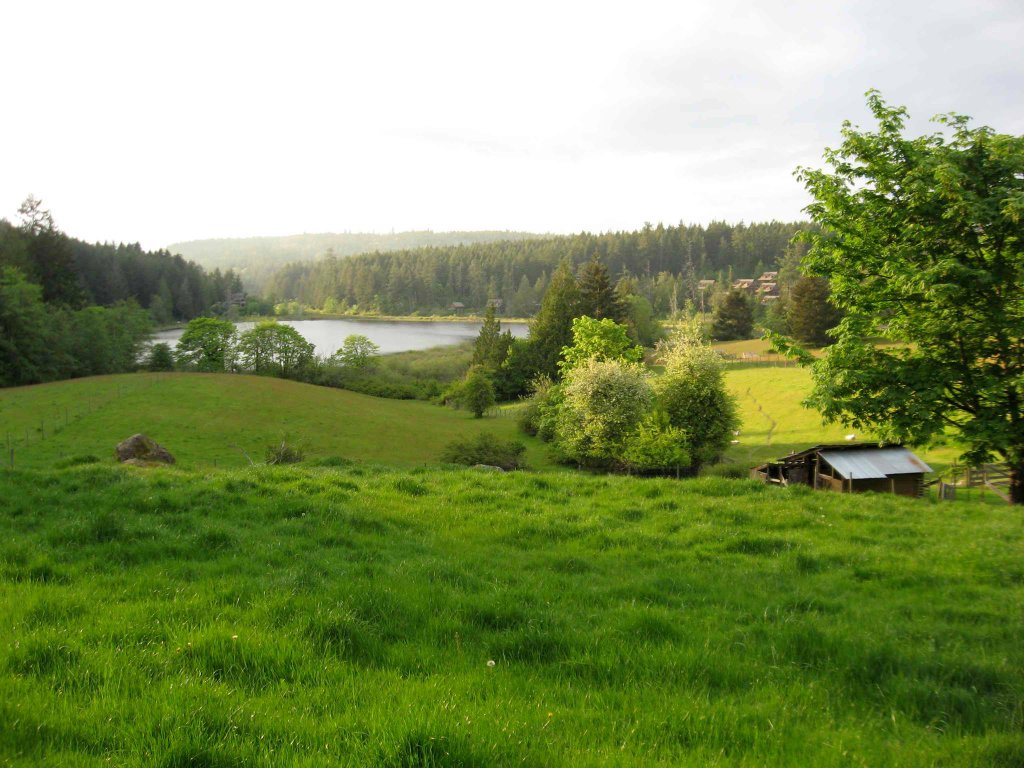 About the farm
Bullock Lake Farm is a diversified 25 acre farm on beautiful Salt Spring Island. The farm produces a huge variety of vegetables and cut flowers for a growing CSA and the Salt Spring Saturday Market, as well as farm events such as dinners, concerts (http://www.pitchforksocial.com) and workshops. With core values of community, ecological farm stewardship, culture, education and fun, the farm strives to produce and provide many ways for our local community to engage, enjoy delicious organic produce, and gather with their neighbors.
We cultivate 2.5 acres of organic vegetables, cut flowers, and berries in a bio-intensive semi-permanent raised bed system. The scale of our farm, tools, and systems are designed to match this approach. Additionally, we raise garden-integrated and pastured livestock on a small scale, including heritage breed pork, poultry, and lamb.
The farm is situated on Bullock Lake, approximately 2 km from the town of Ganges. We sell our products through a 70-member CSA, two weekly farmers markets, grocery store contracts, and specialty flower orders. This is a high energy farm that is run by a dedicated young farm family and is a hub of community activity. We work hard but we also strive to have fun. This is our eighth year farming on this land after three years of our own apprenticeships in this region.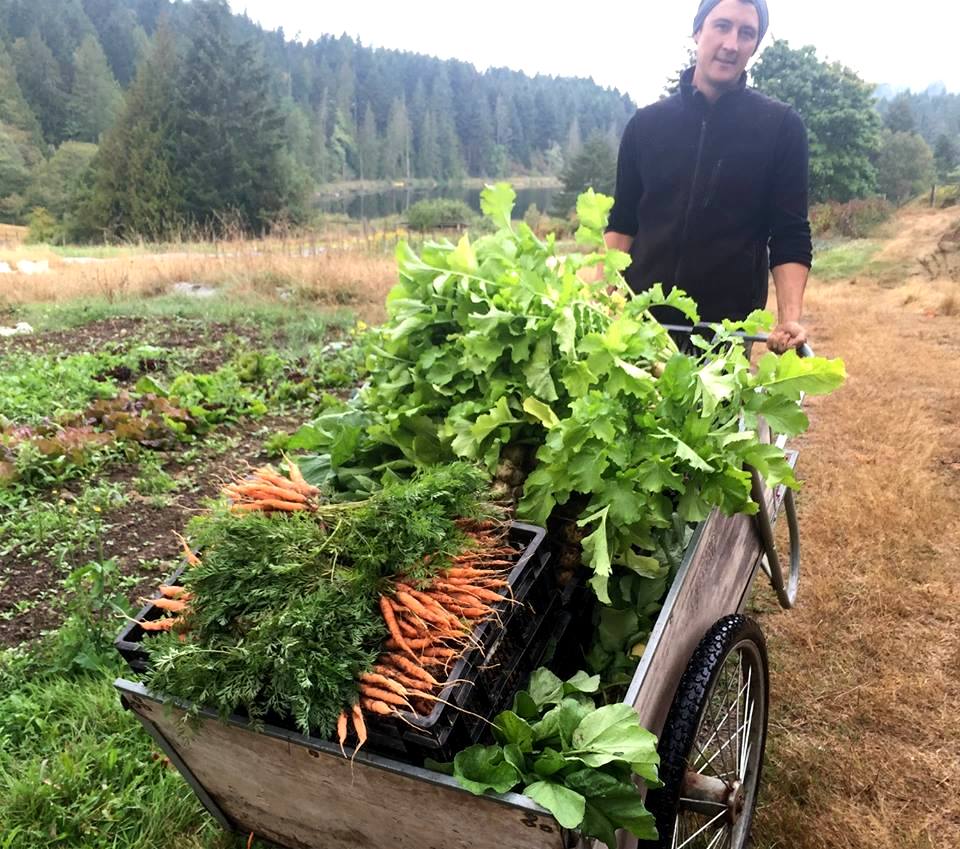 About the Apprenticeship
The apprenticeship lasts from March 15 until October 31, with possible extra opportunities on either end of these dates. There will be a two week trial period to ensure a good fit for all.

Apprentices will participate in all aspects of the farm. This includes preparation of seeding and potting mix; care of nursery seedlings; sowing and transplanting of crops; irrigation; soil health and fertility management; bed preparation; cover cropping; weed management; animal husbandry and care; pasture management; harvest and post-harvest handling; direct marketing through farmer's markets, CSA, and wholesale; there will be possibility for participating in value added processing; food preservation; general land care; and infrastructure maintenance.
The emphasis will be on learning by doing, general discussions on theory, and mentoring with the farmers. The work is diverse and rewarding but can also be stressful at times, particularly during the height of summer harvest and garlic season. Our typical workweek is 40-50 hours, five days per week, with at additional two farmer's markets per month. We usually work from 7:30 or 8 am until around 5 pm with an hour lunch break. Harvest days during the summer are often longer and we finish as a team when the work is done. Animal care is a daily responsibility that will be rotated through-out the season, with each intern taking on an area of full responsibility as the season progresses.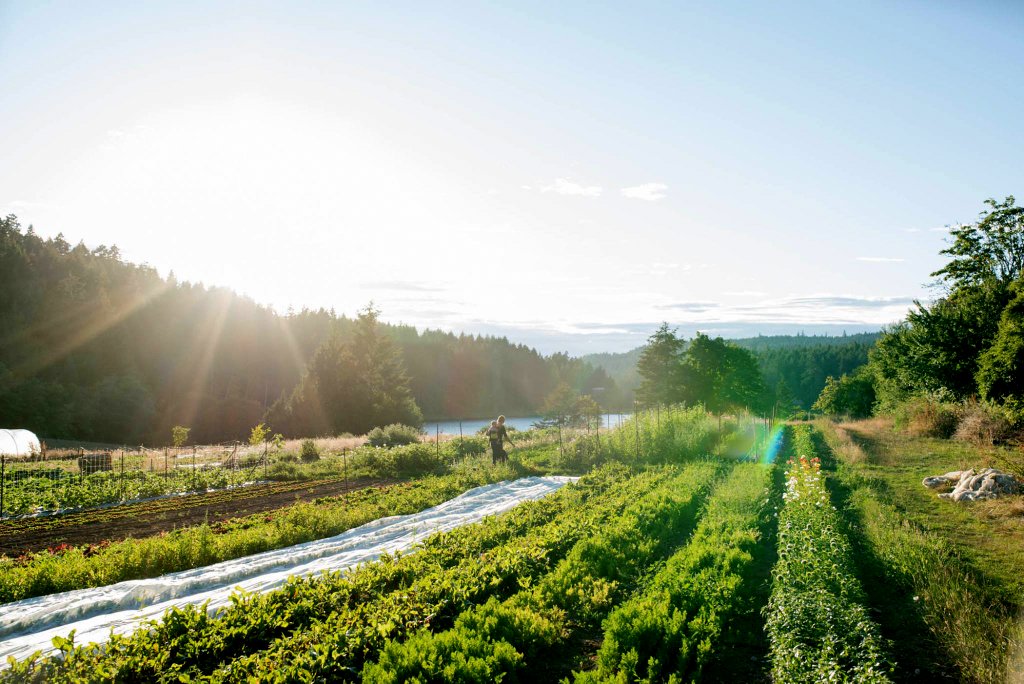 Apprentices will be expected to become more efficient and responsible for various aspects of the farm as the season progresses. We will do a weekly farm walk to talk about goals, assess crops, and and stay connected to areas of the field we may not all be paying attention to daily. As skills are developed, apprentices will be given increasing responsibility for farm operations and will ultimately take turns as crew leader for a week or more. We have found this to be a huge learning opportunity for past apprentices.
The ideal apprentice will be a self-motivated, positive, and physically fit person who is able to work well in a team as well as independently. You must be able to lift 40 lbs. Farming will challenge and teach you—the ability to take constructive feedback and a good sense of humor are a must.
Apprentices have a few housing options. One is a suite attached to the main farmhouse with a full kitchen, full bathroom, lake-view balcony, sleeping loft, and private bedroom. This space doubles as the common space and primary apprentice kitchen and bathroom. There are other sleeping options, including a converted craft studio near the house, and a small cabin tucked away in grove of small cedars. There are several nice outdoor spaces on the farm for fires and gatherings, and the farm has a private dock for farm use.
We offer a $600 monthly stipend as well as limited meat/eggs from the farm and all the veggies you can eat. We encourage our apprentices to enjoy cooking with the huge diversity of options available to them. It's one of the biggest perks of this job! Apprentices will have five work days off during the farm season. These days will need to be coordinated with other team members.
About the Farmers.
We are a young farm family with a 3-year-old and a new baby.
Molly has a background in Environmental Studies and agroecology. She completed her degree at the University of California Santa Cruz. She is the master organizer, succession planner, and business administrator as well as the farm's flower wizard and weed control captain.
Zack studied sustainable design and Social Ecology at Burlington College in Vermont. Here he completed his Permaculture design certificate and found the joys of growing food to feed others.
He has found farming to be the perfect combination of design, ecology and delicious reward. He is the field preparation, infrastructure, and animal guy. He is also always scheming up fun activities for farm free time, like his famous downhill slip and slide.
We both believe in the concept of Right Livelihood and in the importance of farmers making a good living and living an enjoyable life. We take our work very seriously but try not to take ourselves too seriously.
To Apply
Send a resume and three references to info@bullocklakefarm.com . All emails will be answered and candidates that seem a good fit will be asked to interview over the phone or Skype. If possible a visit in person is always the best.
When applying, please indicate that you saw this posting at GoodWork.ca.

Note: This posting is provided on an "As Is" basis and for general informational purposes only. People and Planet (also known as "GoodWork") is not responsible for the content, accuracy, timeliness, completeness, legality, reliability, quality or suitability of this posting. We do not screen or endorse the organizations or individuals involved. If you decide to accept an offer of employment, volunteering or any other arrangement, you do so at your own risk and it is your responsibility to take all protective measures to guard against injury, abuse, non-payment or any other loss. Please read our full Terms & Conditions.