ORGANIC VEGETABLE FARMING
Co-Manager Position
at the Hudson Heartbeet Community Farm 
Position: Farm Co-manager
Organization: Hudson Heartbeet Community Farm
Location: Hudson, near Vaudreuil-Dorion and West Island Montreal QC
About the Hudson Food Collective
The Hudson Food Collective (HFC) is a non-profit organization in Hudson (Quebec).
The HFC works to build knowledge, skills, and relationships around food that is ecological, healthful and just. The mission of the HFC is to foster a thriving community food system.
The HFC works toward the vision of regenerative and resilient food systems.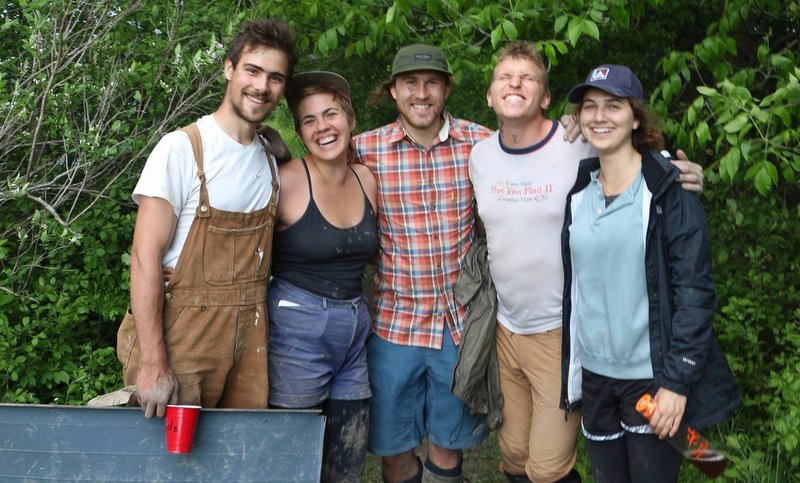 About the Farm
The Hudson Heartbeet Community Farm is a project of the Hudson Food Collective in partnership with the Town of Hudson (QC). The Heartbeet is located on municipal land and is a commercially viable farm that integrates the community in it's activities. The vision is for the farm to provide a wide variety of organically grown vegetables, fruits, flowers, herbs; educational opportunities to learn about organic farming; a social reinsertion program; community events; and celebrations.
About the position
Co-managing, with 1 other person, a 2.5 acres organic vegetable production in Hudson, Qc. In 2018 we had 80 baskets, 1 market, 4 restaurants and 1 stand at the self-service farm. According to the business plan, revenues should increase by 30% in 2019. We are looking for somebody (or a duo) with significant farming and some managerial experience to co-manage the community farm for 2-4 years. This position is meant as an opportunity for somebody to deepen their experience, knowledge and understanding of running a small scale organic farm, while perpetuating the mission of the Heartbeet through coordinating educational programing and community activities. Our ideal candidates are those who plan on starting their own farm but would like to trial with an established one.
After 2 years of rapid growth at the farm we are at the point of investing in succession planning, and the development of healthy processes for the long term sustainability of the project. The current farm team will work hand-in-hand with the Hudson Food Collective team through the 2019 season to consolidate our growth and build a stable foundation for the future of the farm, exploring the role it will play in building community engagement, farmer succession, food security and social inclusion. The 2018 farm managers will be acting as mentors as needed throughout the season after initial training in the winter.
Key Responsibilities
Production management (all aspects from crop planning, to greenhouse production, to field work, soil fertility management, and harvest)

Grounds and equipment maintenance (tunnels, irrigation system, BCS Tractor, etc)

Administration (budgeting, expenses and record-keeping)

Distribution (supplying the restaurants, market days, weekly baskets, farm store)

Managing the farm intern and work exchangers

Bring the perspective of the daily farm reality to longer-term farm development planning processes

In addition to the farm manager role; participate in Hudson Food Collective responsibilities such as staff meetings, hiring committees, event planning, and other collaborative projects, as seasonal work load permits.

Interact with the public on the farm site.

Manage the organic certification with EcoCert Canada.
In order to apply for this position, you must meet the following requirements:
Passionate about bringing to life the Hudson Food Collective mission and values at the farm

Minimum 2 years experience in diversified organic vegetable production

Experience leading small teams with diverse levels of experience

Experience with seeing a project through from beginning to end (in an agricultural or non-agricultural setting)

Driver's license

Oral bilingualism (French & English)
Please include in your application which of the following interests, skills and experiences you have. Experience may be acquired through educational, lived experience, volunteer experiences or paid employment.
Understanding of the basics of organic vegetable production management (crop planning, fertilization, field prep, irrigation, etc)

Experience with agricultural production on an area greater than 1-acre.

Experience operating and maintaining farm machinery and equipment (tractors, rototillers, seeders, vehicles)

Experience within the community sector or with consensus-based decision making

Experience with administrative elements of farm management, including budgeting.

Experience with volunteer coordination in an agricultural setting

Well-developed understanding of food politics, food sovereignty and how they relate to small-scale agriculture.

Ability to leverage opportunities, innovate and hold a global vision of the farm.

Attention to details and workplace safety.

Willingness to lead by example while engaging in physical labour and working outdoors in all types of weather.

At ease with working under pressure while maintaining a supportive atmosphere for volunteers and colleagues.
Contract Details
This is a full-time paid position starting March 1st 2019. There is an unpaid training and planning period in January and February (you can have another job or engagement during this time) but otherwise it is a paid position from the 1st of March until the end of November with a yearly salary of 21,600$ and yearly salary increase of 1.7%; it is based on $15/hr, 40 hours/week from the 1st of March to end of November. The hours vary depending on the time of year. There is also a possibility for bonuses based on performance. We ask for a minimum commitment of 2 years, and candidates who are interested in a longer-term commitment (3 – 4 years) will be preferred. Please note that commuting to the farm daily (from March to November) may be time consuming for those who do not live near Hudson.
Start date (full time): March 1st 2019 (With planning responsibilities and training in January and February)
How to apply
To apply, please send a CV and cover letter detailing your relevant experience and interest in the position to the farm email at hudsoncommunityfarm@gmail.com . The deadline to apply is Sunday, October 21st at midnight. Please include the trial farm day that you will be available for in your email (see below). After an afternoon at the farm only candidates chosen for the interview process will be contacted for an appointment on November 2nd or 3rd. For more information on the farm you can consult the website at hudsoncommunityfarm.com . You can reach us at 514-358-8320 or by email at hudsoncommunityfarm@gmail.com with any questions or clarifications.
Due date to apply: October 21st at midnight, 2018
Trial farm days options: October 23, 25 or 27th from 1-5pm
When applying, please indicate that you saw this posting at GoodWork.ca.