APPRENTICE POSITION
Position: Apprenticeship (22 -25 weeks)
Type: full-time with room & board, $100/wk honorarium, more (see below)
Farm: Wheaton River Gardens
Location: 1 hour south of Whitehorse, Yukon
Date: ideally late April to mid Oct, 2020
Are you interested in a full season on a wilderness homestead in the Yukon, learning rejuvenative growing methods, small livestock skills and many basic homestead skills? Are you interested in exploring a simpler way of living on the planet, growing, eating and preserving your own food? I have been on my homestead for 40 years, have worked out a lot of the bugs and have been sharing my experience for the last 13 years with 22-25 week apprenticeship. Experience what one or two people can do on a small holding to live sustainably, make a modest living and have a life of your own.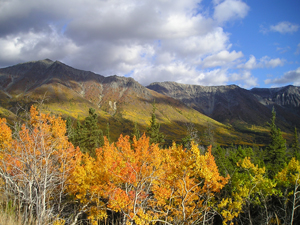 Wheaton River Gardens is an off-grid small holding that uses organic and reguvenative methods. I have Icelandic X Freisan sheep for meat, milk and wool, small scale chickens, geese, a horse, dogs, cats. I sell market vegetables, value added ferments, and felted artwork to make a living. We participate in 2 farmers markets, one in Whitehorse and one closer to home in Mt. Lorne. A large part of the farm is educational, with art, foraging and gardening workshops. I also participate with KIDS ON THE FARM programming spring and fall, which brings school kids to the farm to experience organic gardening and small scale farming in the Yukon.
I look for one apprentice each season, ideally late April to mid Oct. We work hard and eat well. A fulltime outside kitchen allows us to live outside, though you also have a private cabin with basic kitchen and wood stove, one day/ week off, $100/wk honorarium. No email or cell on site, but a great weekly sauna. Usually some other volunteers join us throughout the summer. Learn many homestead skills; milking, felting, sawmill, preserving, foraging, livestock (from birth to butcher), forest garden and veg production.
Please contact me by phone 867-668-5964 for a conversation. Or email sjalexandrovich@gmail.com (it may take a few days for a response).
Deadline for application Feb.25 2020. Must be a Canadian or Permenant Resident of Canada.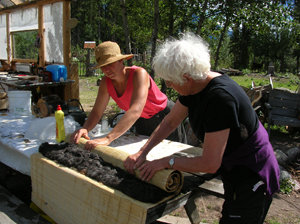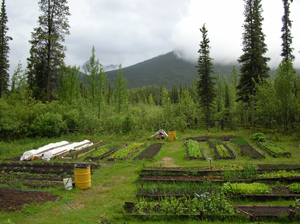 Please indicate you saw this posting at GoodWork.ca.