NATURAL HABITAT CONSERVATION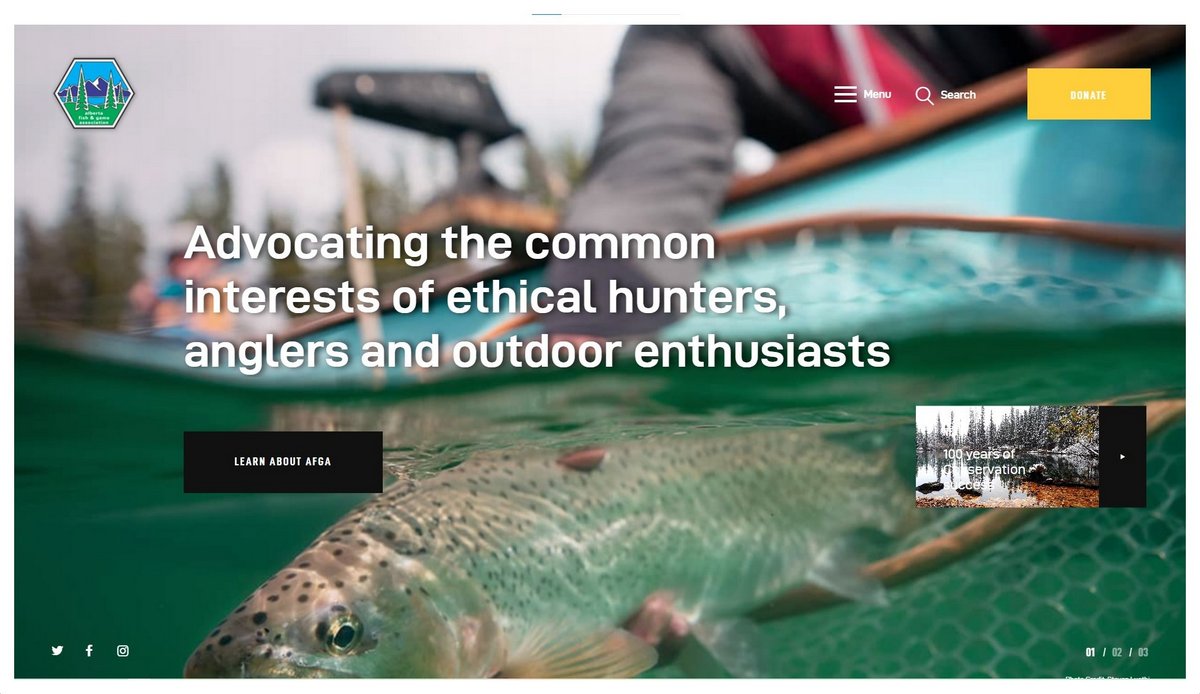 Position: Executive Director
Organization: Alberta Fish and Game Association
Location: This is a hybrid position with offices based in Edmonton Alberta, with the ability to work remotely part of the work week.
Apply here: Apply. Please indicate you saw this posting at GoodWork.
Have a direct impact in the conservation of natural habitats in Alberta
Build a career as a senior leader of an independent charity
Be rewarded with a competitive $95k-115K salary, plus benefits
About the Alberta Fish & Game Association
Founded in 1908, The Alberta Fish and Game Association (AFGA) is the oldest, completely independent conservation organization in the Province of Alberta, and one of the founding members of the Canadian Wildlife Federation. We are an outdoor lifestyle organization focused on habitat stewardship and education to the benefit of anglers, hunters, and recreation enthusiasts.

The AFGA is a volunteer based, registered charitable organization. We have over 70 Affiliated Clubs through the province representing 17,000 members, and we are recognized by all levels of government as the official spokespersons for hunters and anglers with a vested interest in the conservation of fish and wildlife in the province. Through our flagship project, the Wildlife Trust Fund, we hold title to over 50,000 acres of important fish and wildlife habitat which we protect on behalf of all Albertans.

For more information about the Alberta Fish & Game Association, visit our website.
About the Opportunity
An exciting opportunity exists for an Executive Director to join the AFGA on a full-time, permanent basis. This is a hybrid position with offices based in Edmonton Alberta, with the ability to work remotely part of the work week.
Reporting directly to the Executive President, you will be responsible for the execution of the Association's strategic objectives. As a natural leader, you will provide guidance and mentorship to team members, and work closely with the Executive Committee chairs, Zone Directors, and key stakeholders, including the Government of Alberta. The leadership, oversight, and delivery of the programs, member services, and initiatives of the organization will be under your direction.
This is a great opportunity to contribute to the vision of the AFGA, as you help lead the way to the future. Your innovative thinking and out-of-the-box ideas will help ensure the longevity of the Association by securing new funding, and taking the helm of our rejuvenation plan.

While no two days are alike, your key responsibilities will include:
Being responsible for the Association's overall organizational effectiveness, with strategic direction formally approved by the Board Executive, while ensuring compliance with all federal and provincial legislation, and relevant regulations, including adhering to our objects/statements of purpose as a registered charity
Creating and maintaining positive relationships with key stakeholders, including Zone Directors and Affiliated Club representatives, donors, partners in conservation, members of the community, and government officials
Coaching staff members and providing them with support as needed, while allowing them autonomy in their own roles
Developing fundraising initiatives to support long-term sustainability for the organization
Financial risk management - collaborating with the accountant, auditor and the Finance, Audit and Risk Assessment Committee of the Executive to adhere to financial controls and provide clear reporting on the state of the organization
Sitting as an ex officio member of all Executive standing committees
Leading the creation of new policies and procedures to improve our current documentation and record-keeping
Liaising with our stakeholders throughout Alberta
About You
To qualify for this position, you will need a minimum of 8 years of leadership experience, ideally working for non-profits, charities, and government agencies or at the helm of a small-medium private enterprise. You will have a strong working knowledge of the governance and financial function of an organization, and have demonstrated experience reporting to Boards or key stakeholders as to the state of the organization. Post-Secondary education in Business Administration, Conservation, or related fields, is an asset.

You will have strong interpersonal skills - particularly showing a tactful, diplomatic, and empathetic approach with diverse stakeholders. Effective communication, public presentation, and organizational skills are essential, as is working knowledge of Microsoft 365. Your strong financial acumen will include a demonstrated track record in fund planning and development.

As an assertive leader, you will join us with extensive experience in mentoring and coaching others, with great prioritization and delegation skills. Previous experience with policy development is an asset. Lastly, you are an outdoor enthusiast whose values are rooted in habitat conservation.
About the Benefits
In exchange for your hard work and dedication, the successful candidate will be rewarded with a competitive $95,000 - $115,000 annual salary that is commensurate with your skills, experience, and qualifications. In addition, you will also have access to a variety of employee benefits:
Market competitive health benefits plan
4% contribution to an RRSP
Paid vacation starting at four weeks annually
Upon joining the AFGA, you will be welcomed into a passionate community and have the opportunity to make a real difference in Alberta Conservation. Don't miss this unique opportunity. APPLY TODAY!
Apply: https://scouterecruit.net/jobs/157137
Please indicate you saw this posting at GoodWork.
We thank all applicants interested in this position, however, we will only contact those applicants being considered for the role.